Formula One racer Lewis Hamilton has issued a passionate plea urging fans to adopt a vegan diet as it's "the only way to truly save our planet".
The 34-year-old, who is on the verge of winning a sixth F1 world title, shared his feelings about the state of the world in three emotive Instagram story posts, where he said he felt like "giving up on everything" due to his concerns about the environment.
He called on his followers to "research" and "recognise" how what they eat keeps "the meat and dairy industry flourishing and therefore deforestation, animal cruelty, our seas and climate decaying on a daily basis" and added that going vegan "can be done so quickly, all you have to do is put your mind to it".
His impassioned Instagram story has garnered strong opinions from all corners of the internet. While some fans have praised the racer for speaking out about climate change and the impact it's having, others have been less than sympathetic, suggesting his career choice and travel habits are not very sustainable.
Hamilton switched to a plant-based diet in 2017 and in September this year helped launch a vegan burger restaurant in London.
"I'm sad right now with the thought of where this world is going," he wrote in his latest Instagram posts. "Extinction of our race becoming more and more likely as we over use our resources. The world is a messed up place. World leaders either uneducated or don't care about the environment at all.
"Agriculture farming is the largest pullutant (sic) we currently have by over 50 per cent, far more than our travel industry combined. I'm sad to see so many people, even close friends ignore what is happening daily.
"Education is key and we were taught that eating animal products was good for us but we've been lied to for 100s of years."
Hamilton said it had taken him 32 years to understand the impact he was having on the world, adding he was "figuring out daily" how to "play a better part".
"Honestly up until now my life's had no meaning," he wrote. "Being a part of the issue is not meaningful. Being part of the solution is and I'm striving to do better." He signed off emotionally: "I'm going to take a moment away to gather my thoughts. Thank you to those of you who do give a damn about the world."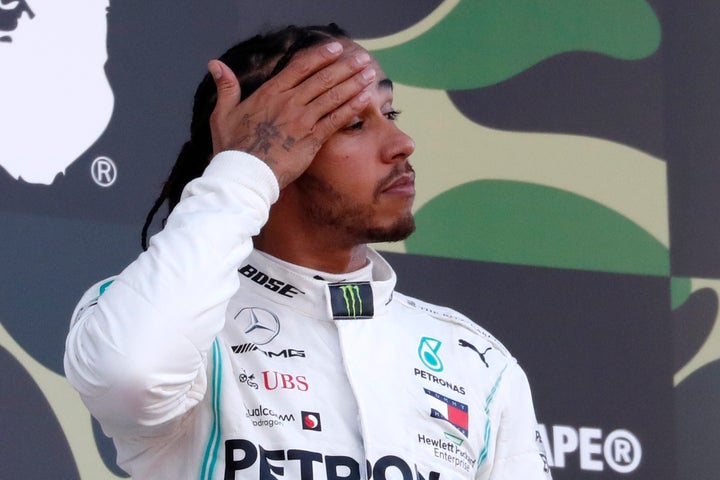 Hamilton's comments do have scientific weighting behind them. Earlier this year a United Nations report suggested switching to a plant-based diet could be one of the most crucial ways we can collectively tackle climate change.
Eating less meat could save millions of square miles of land from being degraded by farming, the report said. Cutting food waste and encouraging more sustainable farming are some of the key ways we can also protect the planet.
And while the racer has been subjected to abuse because of his social media posts, there are plenty of fans who are fighting his corner.
People have been quick to comment that the racer also has a private jet, although Sky News reported that Hamilton sold it earlier this year.
Meanwhile, Formula 1 says it is taking steps to make a push towards synthetic fuels and reduce carbon emissions in attempts to be more sustainable.
In August, series chief Chase Carey told Auto Sport: "You'll see between now and year end the sustainability issue becoming much more front and centre.
"It's part of our story, and actually something we've talked with in private with a number of our partners, and they're quite excited about it."