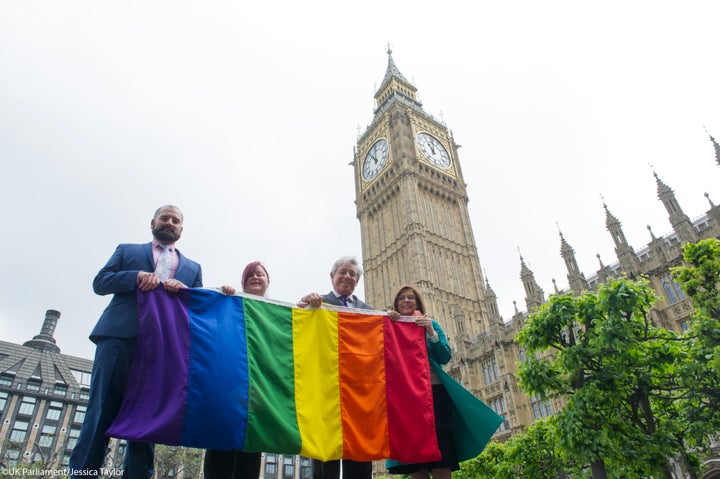 Parliament is to set a reach a fresh milestone on equal rights when next month it raises the rainbow LGBT pride flag above the iconic building.
The famous symbol of the lesbian, gay, bisexual and transgender community will fly proudly abovePortcullis House on Friday June 24 to coincide with Pride Weekend.
Today, the flag was given to the Speakers of both Houses of Parliament as a gift from the ParliOUT group.
ParliOUT, which paid for the 6ft by 12ft flag through its members and fund-raising events, was set up in 2010 to champion equality issues in Parliament and involves MPs, Lords, and staff on the parliamentary estate.
A parliamentary spokesperson said: "The Houses of Parliament will join the Pride in London celebrations by flying the LGBT rainbow flag from the top of Portcullis House for the entire Pride weekend.
"This is the very first time the rainbow flag has been flown from Parliament and we are delighted to mark the occasion in this way."
The Palace of Westminster was built in 1835 but major LGBT rights reforms have only been introduced in the latter half of the 20th century.
In 1967, homosexuality was decriminalised. Section 28 of the Local Government Act, which prohibited local authorities from "promoting" homosexuality was revoked in 2000.
In 2004, the Civil Partnership Act gave same sex couples the same legal rights as married heterosexual couples, and three years ago Parliament passed the Marriage (Same Sex Couples) Act - which introduced civil marriage for same-sex couples in England and Wales.