A group of people who came to the rescue of a busker being harassed by a woman in Liverpool city centre have been praised for restoring people's "faith in humanity".
Footage recorded at the scene shows a musician playing an electric guitar outside Primark when a woman approaches him, standing between him and his donations bag.
The woman speaks to the man, although it is not clear from the video exactly what she says.
The busker signals for the woman to leave him alone, but she refuses.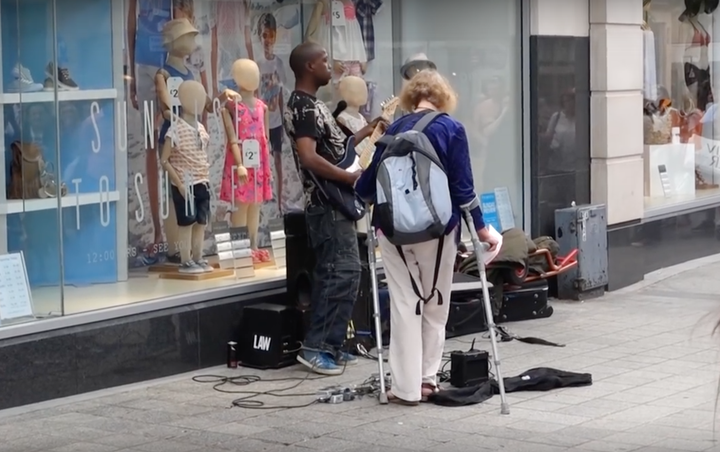 As the woman continues to stand close to the busker, nearly treading on his wires, the crowd starts yelling at her.
Dozens of people are seen approaching the pair dropping coins into the busker's bag.
An argument then ensues between the woman and members of the public who tell her to leave the musician alone.
One supporter can be heard telling the women: "Leave him alone, he's trying to make some money. Go away."
A young boy also shouts: "Before a young boy starts shouting: 'Get out, get out."
The video was filmed by John Walker and uploaded to YouTube.
"A woman was causing this busker all sorts of problems by disrupting his act.
"The crowd were enjoying his performance until she came along.
"There was nearly a riot as the crowd joined forces and backed the busker with cheering and money."
Many shared their joy at the actions of the people who chose to support the busker.
The busker was performing Bob Marley's No Woman, No Cry.
Eventually the woman moved away from the performer and the video ends with her arguing with other members of the public.