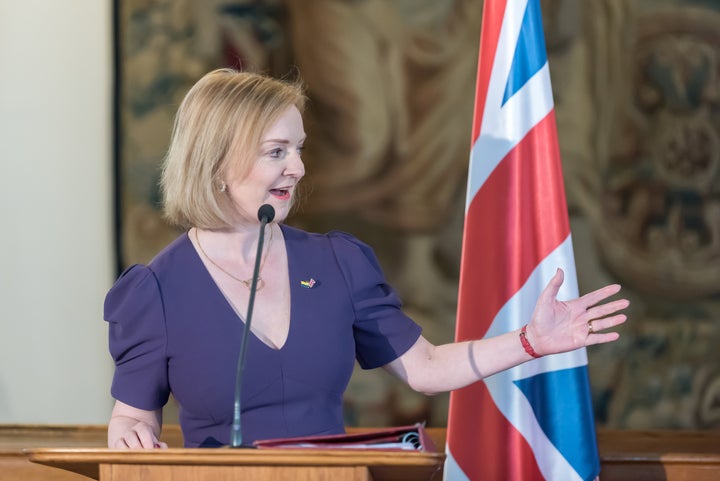 Liz Truss has refused to name a single human rights issue she has raised with governments of a Gulf state.
The foreign secretary has said the UK must end "strategic dependence on authoritarian regimes for our energy".
But the government has recently launched trade talks with the Gulf Cooperation Council (GCC), made up of Bahrain, Kuwait, Oman, Qatar, Saudi Arabia and the UAE.
Appearing at the Commons foreign affairs committee on Tuesday, Truss was asked if she viewed the Gulf states as authoritarian.
"I would describe the Gulf states as partners of the UK," she said. "Is every country that we work with exactly in line with UK policy on everything? No they are not. But they are important allies of the UK."
Truss added human rights concerns were "raised regularly" with Gulf state leaders and ministers and said she had done so "personally".
Labour MP Chris Bryant asked Truss to name the last human rights issue she had raised.
Liz Truss: "I'd have to come back to the committee on the precise timing of that."

Chris Bryant: "Well tell us anything you have said on human rights?"

Truss: "I certainly have raised it."

Bryant: "Go on, tell us one now."

Truss: "I am just trying to remember my recent most visit. But I can assure you I have raised it and I will write to you with the dates."

Bryant: "You can't remember a single human rights issue you have raised with a Gulf state leader?"

Truss: "I have raised particular issues when I have been in the Gulf about human rights issues."

Bryant: "Well name one?"

Truss: "I'm not going to go into all the details of private conversations which I will come back to in due course."
The foreign secretary told the committee her focus was on the "number one" threat to the UK which was Russia.
She said: "We need to make sure we have alternative energy sources and one of the key sources of energy is the Gulf region. We are not dealing in a perfect world."
Saudi Arabia recently executed 81 people in one day. Mohammed bin Salman, Saudi Arabia's leader, also stands accused of approving the killing of journalist Jamal Khashoggi in 2018, something the crown prince has denied.