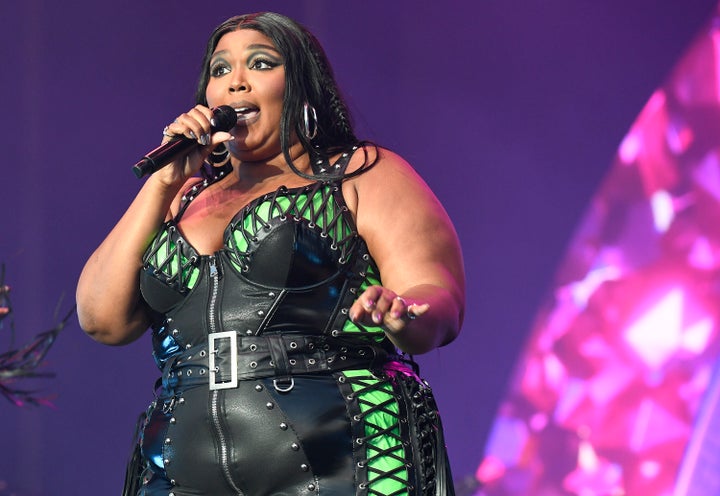 Lizzo's lawyers have denied the allegations that her former dancers brought forward in a lawsuit against her last month.
On 1 August, Arianna Davis, Crystal Williams and Noelle Rodriguez filed a lawsuit against Lizzo, alleging that she had weight-shamed, sexually harassed and physically threatened them.
The suit detailed the dancers' accounts, including one claim that the singer had pressured them to touch nude performers at a club in Amsterdam's red-light district.
Lizzo's attorneys filed a document in Los Angeles County Superior Court on Wednesday night outlining more than 30 defences to the dancers' allegations. They also said that Lizzo had "legitimate business reasons" for her alleged actions, according to a copy of the document viewed by HuffPost.
The filing is the first time Lizzo's lawyers have formally responded to her former dancers' lawsuit.
"This is the first step of a legal process in which Lizzo and her team will demonstrate that they have always practiced what they've preached — whether it comes to promoting body positivity, leading a safe and supportive workplace or protecting individuals from any kind of harassment," said Stefan Friedman, a spokesperson for Lizzo, according to NBC News.
"Any and all claims to the contrary are ridiculous, and we look forward to proving so in a court of law."
The dancers' lawyer Neama Rahmani dismissed the filing from Lizzo's legal team as "boilerplate objections that have nothing to do with the case" in a statement on Thursday. But a "key takeaway" Rahmani identified in the document was that Lizzo has agreed to a jury trial, which the ex-dancers had requested.
"We look forward to presenting our case in court and letting a panel of her peers decide who is telling the truth, Lizzo and her team who continue to shame the victims or the plaintiffs and so many others who have come forward sharing very similar stories of abuse and harassment," Rahmani said in the statement.
Lizzo has described the dancers' allegations as "unbelievable," "outrageous" and "sensationalised stories." Since the lawsuit was filed last month, more former employees have come forward with accusations against her.
The singer's former wardrobe designer Asha Daniels made similar allegations last week in a lawsuit against Lizzo, her touring company and wardrobe manager Amanda Nomura, accusing them of sexual and racial harassment, assault and failing to prevent a hostile work environment on tour.