By midday, 22 arrivals and 29 departures had been cancelled.
A number of others were diverted or delayed.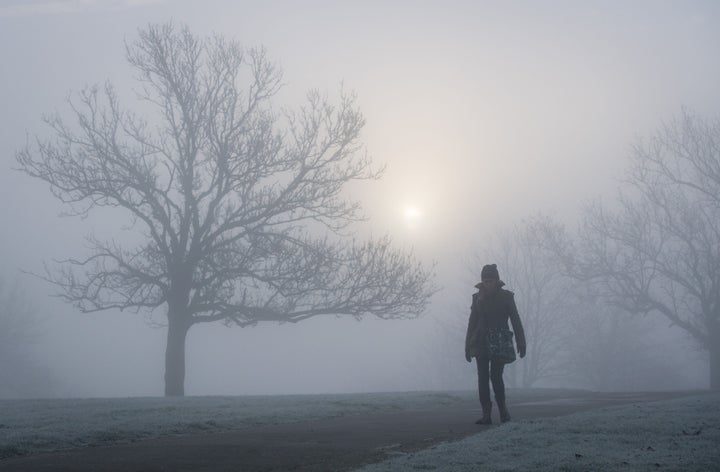 A warning on the airport's website said: "Due to current weather conditions flights are experiencing delays, cancellations and diversions.
"Passengers are advised to contact their airline for the latest flight information."
Aerial images showed the thick fog which covered much of the capital:
Many Londoners shared images of the fog on Wednesday morning...
After mild temperatures in the run-up to Christmas, the mercury has plummeted over the past few days.
The coldest night of the winter so far was recorded overnight in Topcliffe, North Yorkshire at -7.2C.
The rapidly cooling weather has prompted Public Health England to issue a Level Three cold weather alert for north west England, Yorkshire and the Humber, West Midlands, East Midlands and the east of England.
Dr Thomas Waite, consultant in Extreme Events and Health Protection at Public Health England said: "The effects of cold can be severe, in particular for those who are over 65, have a long term illness, or are not mobile. Our advice to these groups is when indoors, have plenty of warm food and drinks and try to maintain indoor temperatures to at least 18C. If mobility isn't an issue, keep active as best you can. If you need to go out wear lots of thin layers and shoes with a good, slip-resistant grip to prevent any accidental falls. It is particularly cold at night this week, so drawing the curtains at dusk will keep the heat in.
"This is also the time to think about how the cold temperatures may affect your friends and family, particularly if they are older or very young or have long term health conditions as they are particularly at risk from the ill-effects of cold. Think now what you could do to help them.
"Cold does kill, even in places where the temperatures aren't at their lowest. Most of the practical advice on keeping warm in cold weather may seem like common sense, but it's important that we all help each other to stay well this winter."
Andy Page, chief operational meteorologist at the Met Office, said: "Cold weather is likely over the next few days with high pressure allowing fog and frost to form overnight. The fog may be slow to clear from some inland central and southern areas leading to low daytime temperatures, with some places struggling to rise above freezing."
Images from the scene showed poor visibility at the crash site.
Popular in the Community