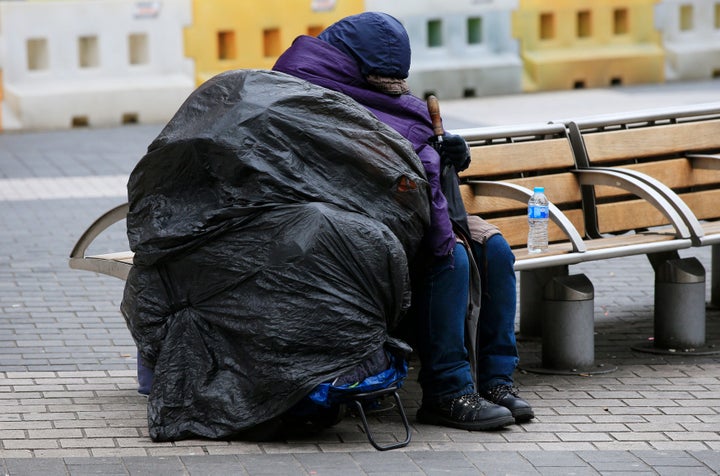 London has England's highest homelessness rate despite being one of the wealthiest parts of the country, a report has said.
A new analysis by charity Shelter also placed Luton, Brighton and Birmingham high on the list, and put the country's total at 255,000.
Shelter used government statistics, freedom of information requests, and other published homelessness data to compile the estimate, calling it a "bleak and desperate picture".
In the London borough of Westminster 1 in 25 people were without a home. Newham had the second highest rate, at 1 in 27, then Haringey, at 1 in 28, then Kensington and Chelsea, at 1 in 30.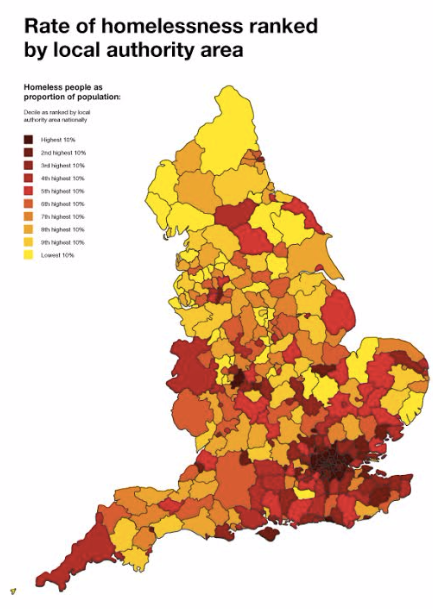 Shelter researcher Jenny Pennington told HuffPostUK the country's real total was likely higher, and said London's relative affluence only worked to increase the homelessness problem.
"Areas with larger private rented sectors, and which are associated with higher incomes have particularly high homelessness", she said.
"In these areas housing costs are high and rising, which makes the renting situation insecure.
"The whole city of London is very expensive now. People on low incomes just can't find something, because landlords won't rent to people who look like they may not afford it."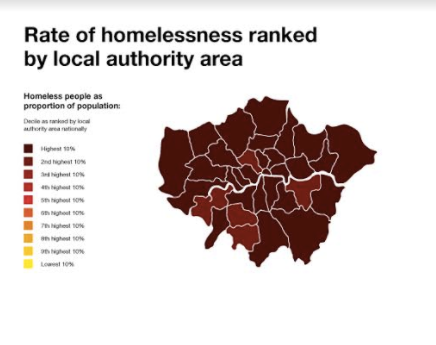 She said the key causes of families losing their homes were fewer social homes, an unstable housing market, and cuts to housing benefits.
"Really critical is the cut in housing benefits. When you cut housing benefit you limit people's ability to to compete in the rental market. We are really worried about that," she said.
And while renters were willing to make "major sacrifices" for a roof over their heads, landlords fear welfare cuts would leave some people unable to pay. A Shelter survey from 2015 found two thirds of landlords were unwilling to rent to people on housing benefits.
Shelter's chief executive Campbell Robb said the findings showed a "modern day housing crisis is tightening its grip on our country".
"Hundreds of thousands of people will face the trauma of waking up homeless this Christmas. Decades in the making, this is the tragic result of a nation struggling under the weight of sky-high rents, a lack of affordable homes, and cuts to welfare support," he said.
"We all face the consequences when so many in our country grow up without a place to call home. It breaks up communities and wreaks havoc on family life. For the sake of future generations we must pull together to end this crisis, and refuse to rest until every child has a place to call home."
Case study: Mandie was renting a flat in Luton with her two daughters, but after being made redundant she fell behind on the rent and was evicted. Since becoming homeless, the family has been surviving by either sofa surfing, or living in emergency hotels or temporary accommodation.

Mandie says: "It's terrifying how quickly you can lose everything – first my job, then my home, and almost my children. Our last real home was a damp, expensive two-bedroom flat, but at least it was ours. After we were thrown out, I went to stay with a friend for a couple of weeks but we needed a place of our own

"The council put us in emergency accommodation and I had to apply for housing benefit to pay for it. But it took ages to come through and by the time I had the money, the council said I was "intentionally homeless" and they didn't have to help anymore. They referred me to social services, who threatened to take my children off me. It was horrifying.

"But finally the council agreed to house us again. We stayed in a hotel for months and now we're in temporary accommodation. I don't know where we'll end up next, or when we'll be able to have a home to call our own.

"This year my daughters agreed to cancel Christmas. They're normally hyped about it, but I think they're trying to take the pressure off me. The only thing they asked for was whether we could still have a turkey dinner."
Case Study: Glenn split up with his partner and became homeless when he moved out. Since then he has been living in temporary accommodation in Watford with his son.

Glenn says: "We are in an upstairs classed as an average double sized room. Two single beds in here, there is one wardrobe, and a desk. That's basically the facilities."

"You put the oven on for half an hour, an hour, to make some food, and then the room is boiling for the rest of the night."

"There's also people who are alcohol dependant. A person downstairs, below me, he got raided. They were selling drugs from the room downstairs."

"It's £150 a week. So that's £600 plus you pay, £660. They wanna take the money but give very little back for what you are getting. The important things, the health and safety things, there are a few families downstairs, and one of the light fittings actually fell down and hit them on the head."