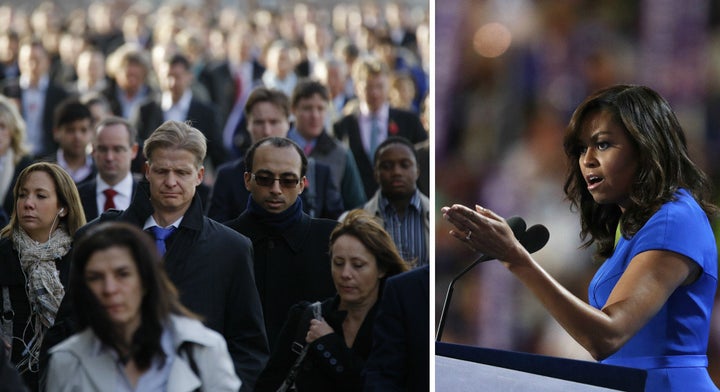 London Underground staff have injected some much-needed motivation into commuters normally mundane journey into work - by offering them life advice from Michelle Obama.
After the success of her address to the Democratic National Convention (DNC) in the US last night, two inspirational quotes from her featured on Tower Hill underground station's 'Quote of the day' board.
They were taken from her 2011 speech in South Africa to thousands of people gathered outside Soweto's Regina Mundi Church, when she hailed the bravery of schoolchildren who stood up to apartheid.
"You may not always have a comfortable life and you will not always be able to solve all of the world's problems at once.

But don't ever underestimate the importance you can have because history has shown us that courage can be contagious and hope can take on a life of its own."
The quote was displayed at the tube station a day after her address to the DNC, the nominating meeting where her husband, Barack, was twice previously picked as the party's official candidate to fight in the presidential election.
Obama left thousands of delegates at the convention in awe as she gave an emotional plea for Democrats to rally round Hilary Clinton - the woman vying to become her husband's successor in the White House.
Former president Bill Clinton was caught on camera mouthing the word "wow" as he watched, while President Obama later wrote on Twitter: "Incredible speech by an incredible woman."
She added that the election would also determine who will give hope to the next generation, or instil fear, and made clear who she was backing.
"Every word we utter, every action we take, we know they are watching," Obama said. "We as parents are their most important role models."
She added: "I want a president who will teach our children that everyone in this country matters.
"I want a president with a record of public service, someone whose life work shows our children that we don't seek fame and fortune for ourselves."
Taking a jab at Donald Trump and others who have questioned her husband's citizenship and his faith, Obama repeated the advice she and the president have shared with their children.
"When someone is cruel or acts like a bully, you don't stoop to their level," she said. "No, our motto is: 'When they go low, we go high.'"
Despite the speech taking place in the US, many Brits were quick to praise Obama for her moving speech. David Baddiel described it as "amazingly emotive".
"I think it'd be best for everyone if she became president," one Twitter user quipped.
READ MORE: