Dramatic footage has emerged of the moment a man saved a woman and her dog from drowning as their car became fully submerged in Louisiana flood waters.
Seven deaths have been reported so far and more than 20,000 people have had to be rescued since Friday as the US state deals with some of the worst flooding it has ever seen.
David Phung, a local reporter, was on a boat with a television crew in flood-hit Baton Rouge when they saw the tail-end of a car disappearing under the water.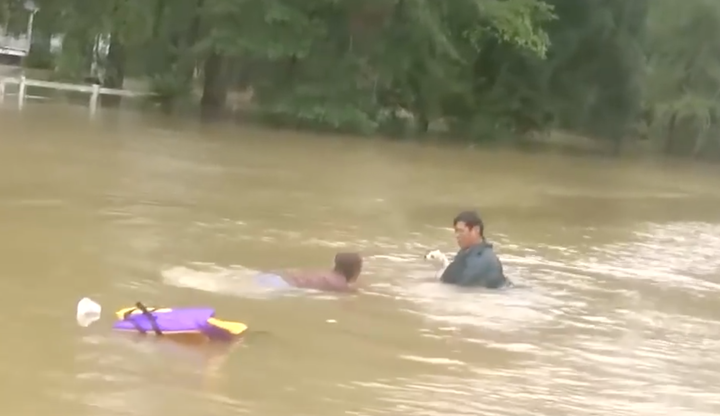 A woman can be heard inside the car, saying: "Oh my god, I'm drowning."
Rescuers try desperately to break the window, but as the car becomes fully submerged, Phung jumps into the water.
He is then able to pull the car's soft top off and save the woman from the sinking vehicle.
As soon as she is free, she pleads: "Get my dog."
Another man tells the woman that her dog is "gone", the woman responds: "No, she better not be."
At which point Phung resurfaces, clutching her beloved - and drenched - pet.
The three of them then make their way to the boat.
In a state more accustomed to hurricanes, forecasters said the rains were nearly off the charts in intensity.
Meteorologist Ken Graham of the National Weather Service's office in Slidell, near New Orleans, said forecasters had alerted people days ahead of the rain.
Yet the forecasts Thursday were for 8 inches of rain, with higher totals expected in some areas.
One town, Zachary, received more than 2 feet of rain in a 48-hour period that ended Saturday morning.
Another, Livingston, had nearly 22 inches over the same stretch. Rivers in the region reached historic highs - occasionally shattering old records dating to 1983 floods.
As the scope of the disaster became clear, churches, schools and other places opened to take evacuees.
Shelters filled up so fast that some slept on the floor because not enough cots had arrived. And some shelters had to shut down when they also took on water.