The severity of the Louisiana floods has been laid bare in these macabre pictures.
Coffins were washed down the road from a graveyard as floods lashed the state.
At least seven people have died and more than 20,000 were rescued as the region was inundated with water.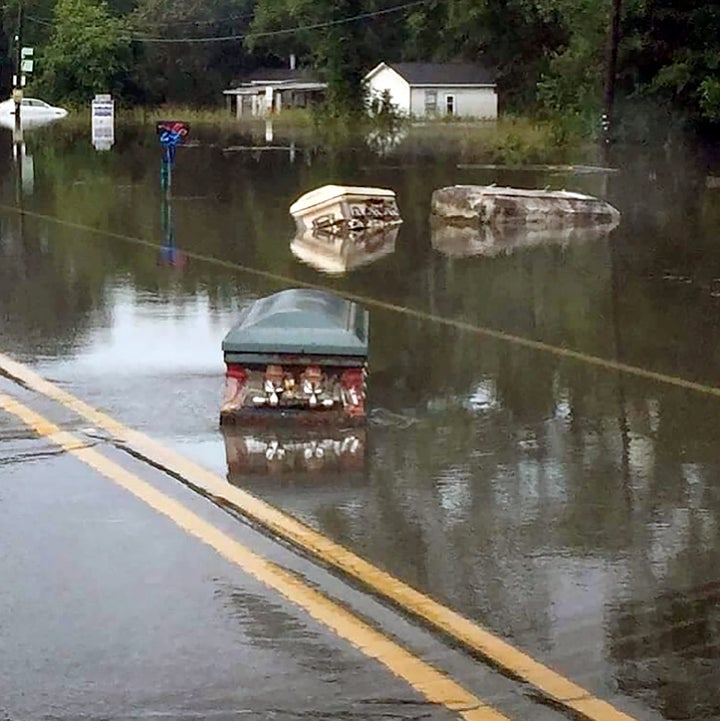 A state of emergency was declared in the region with the capital Baton Rouge particularly badly effected.
Anna Johnson, from Denham Springs, near Baton Rouge, took these pictures on Sunday which showed the eerie sight of caskets uprooted from the sodden soil and floating down the road.
She said: "We have never seen anything like this. It's worse than Hurricane Katrina, my husband is on rescue missions right now. He has a boat and he's helping the local sheriff's department."
Johnson took several pictures around her neighbourhood showing roads and residential areas covered in flood waters as well as her former high school.
She also used her own drone to take these aerial images of her neighbourhood inundated with flood waters.
In just 24 hours it was reported as much as 11 inches of rain fell on Baton Rouge and as much as 17 inches elsewhere in the state in Livingston.
The Comite and Amite Rivers, near Baton Rouge and Denham Springs, were both predicted to reach record levels over the weekend, with the heavy rain starting on Friday and continuing throughout the weekend.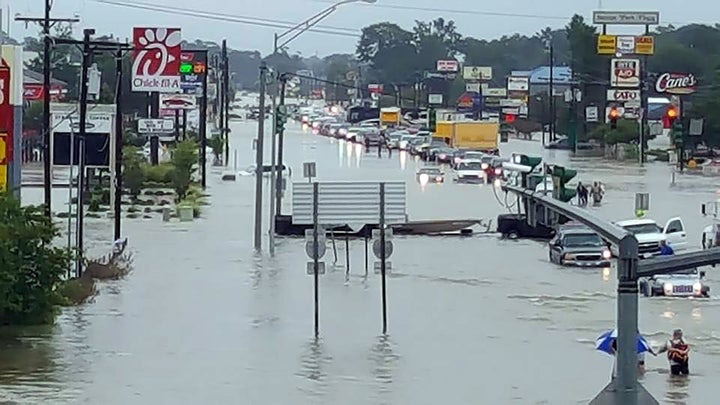 State Governor John Bel Edwards announced that the federal government declared a major disaster for the state of Louisiana.
The initial federal declaration was for Tangipahoa, St. Helena, East Baton Rouge and Livingston. The governor's office said additional parish declarations will be made as further damage assessments are conducted.
Governor Edwards said: "I have traveled to affected areas and have seen the destruction caused by this unprecedented flooding.
"We are thankful for the federal government's quick response to our request for an emergency declaration."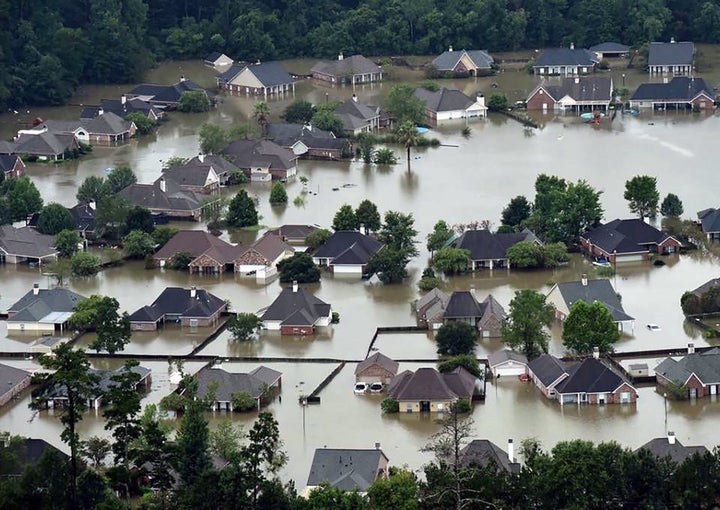 As of Tuesday the waters were beginning to recede in parts of Baton Rouge, with some residents struggling to return to their flood-damaged homes.
Rivers and creeks were still dangerously bloated in areas south of Baton Rouge as people filled sandbags there to protect their houses, bracing for the worst as the water worked its way south.
Related