Another day, another meat-based product with the word 'love' popped in front of it. This time, Sainsbury's is getting everyone hot under the collar with its summer edition 'Love Burger'.
Each pack contains two heart-shaped burgers, with carefully moulded medium-mature cheddar melts on top – also in a heart shape.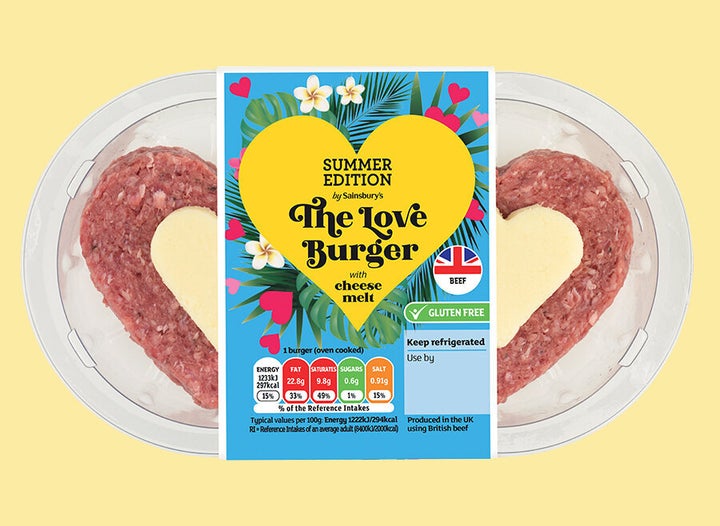 "Those hungry for love, or simply looking to up their grilling game, can enjoy the juicy burgers no matter the British weather," Sainsbury's said about the product.
"Cooking up a storm with the heart-shaped burger is easy, with only minutes needed on the grill or oven before it becomes perfectly succulent, with a sweet, chargrilled flavour."
As you can imagine, the innuendo went down an absolute treat on Twitter.
But will the Sainsbury's 'Love Burger' be as popular? The supermarket recommends you serve it up in a soft brioche bun (preferably also heart-shaped, otherwise why bother with the heart-shaped patties?) with a helping of lettuce, tomato relish and cajun fries.
Charley Meredith, product developer for Sainsbury's, added: "It's often said the best way to someone's heart is through their stomach, so we wanted to offer our customers something a little different this season, yet still promising high quality, delicious flavour."
We all work hard to earn our money – so it shouldn't feel like hard work to spend it well. At HuffPost Finds we'll help you find the best stuff that deserves your cash, from the ultimate lipstick to a durable iron to replace the one that broke (RIP). All our choices are completely independent but we may earn a small commission if you click a link and make a purchase.