If you didn't manage to get your hands on a love sausage this weekend, worry not, because there are plenty more novelty meat dishes to go around this Valentine's Day. We're not quite sure who's asked for them, but the supermarkets are set on delivering.
After becoming a viral talking point last week, the M&S love sausage became the retailer's "fastest-selling sausage" (quite the accolade, don't you think?), with shops reportedly selling out of the heart-shaped pigs-in-blanket dish in minutes. Now, the retailer has promised fresh deliveries to stores every morning up until Valentine's Day.
Keen to get in on the act, Morrison's has stepped the ridiculousness up a notch, revealing its sweetheart steak – a ribeye steak in, you guessed it, a heart shape. Yum.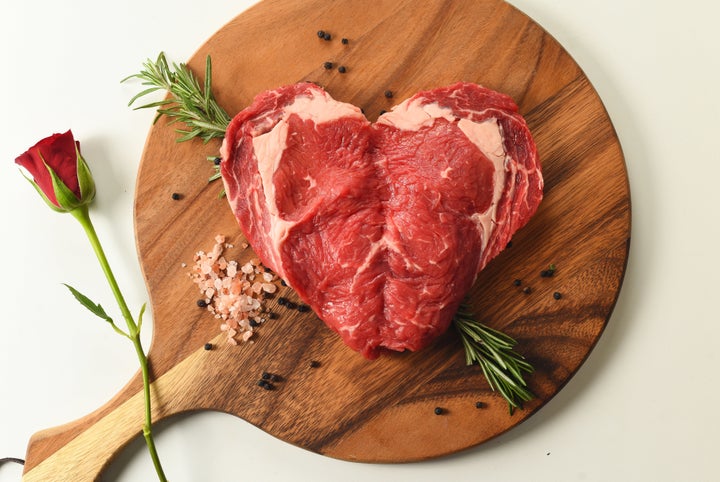 The supermarket's butchers will be creating the steaks in stores using traditional butchery skills so that minimal meat is wasted.
Allowing "carnivorous couples to show their love", the spokesperson's words not ours, you'll be able to buy a sweetheart steak for £20/kg, available in stores until the 16th February.
Paul Robinson, butchery specialist at Morrisons, says: "This is the perfect Valentine's Day food for customers that are looking to impress. Before you even cut into it, this steak sends a romantic message." Sure it does, Paul.
However if the idea of meat turns your stomach, M&S has also got a meat-free option with its vegan heart 'beet' burgers for £3.50. Though we suspect they won't be quite as popular.
We all work hard to earn our money – so it shouldn't feel like hard work to spend it well. At HuffPost Finds we'll help you find the best stuff that deserves your cash, from the ultimate lipstick to a durable iron to replace the one that broke (RIP). All our choices are completely independent but we may earn a small commission if you click a link and make a purchase.