It might come as no surprise that Luisa Omielan, the stand-up comedian who pulls her trousers down on stage and dances to Beyonce, is pretty body confident.
Growing up Omielan describes herself as "really skinny", despite eating whatever junk food she wanted. As such, she never really thought about what she looked like until her late twenties, when she was trying to make it in comedy.
She was trying to find a new manager, when she learned that one had rejected her because they thought she was "too fat and too old" for stand-up. She was a size 12.
"I'd never been called fat in my life," she tells The Huffington Post UK.
"So, I went on stage at my next audition and said: 'Apparently, I'm too fat for you lot.' I took my trousers down, grabbed my belly and said: 'Bite me bitches, bite me.'"
For the first time in ages, she got a laugh from a potential manager. Her comedian brain kicked in and she knew she was onto something. The rest is, as they say, history.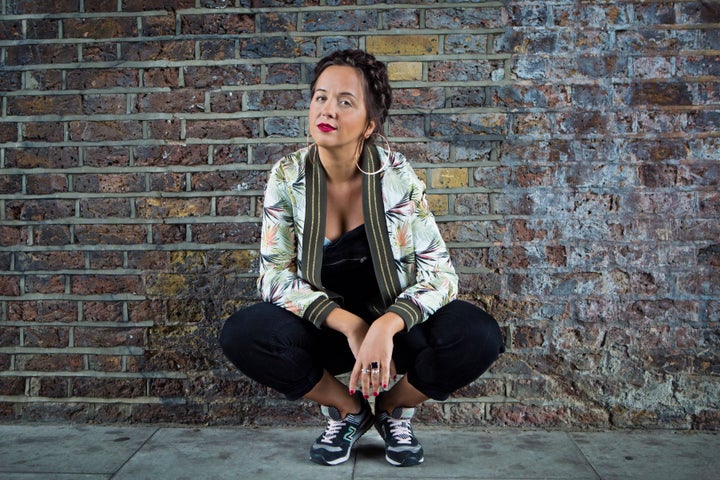 Her debut show 'What Would Beyonce Do?' is "the most successful stand-up show" to come up out of Edinburgh Fringe Comedy Festival, with sold-out shows across the UK. It was described in The Guardian as "one of the biggest stand-up shows of the decade".
In it, she talks about overcoming a devastating break-up, strips down to a fetching pair of nude Spanx and takes life lessons from Beyonce's back catalogue of hits.
"When I started doing the joke, women would come up to me and thank me," she explains. "I realised that I'm in a position to talk about this - because I have a stage and a microphone - and while I may not have body image issues, lots of women really, really do."
As a result, she's amassed a legion of female fans and is in many ways the voice of a generation, tackling issues such as body image and anxiety, along with a healthy dollop of female empowerment. She is the comedian young British women have been waiting for.
Her follow-up show 'Am I Right Ladies?' is as critically-acclaimed as her first and features her 'Thigh Gap' joke, which went viral with more than three million views and counting. She has a DVD to her name and has just released her first book, a memoir, using the mantra that launched her career: 'What Would Beyonce Do?'
But despite all this, she still hesitates when asked about her success.
"I feel like I've made myself successful, but I don't think the industry has done much to help me," she explains.
Despite sell-out runs, Omielan has still had to fund many of her own shows and book her own venues.
Earlier this year, she took out a £10,000 bank loan to hire The Forum in Kentish Town, London, to put on a Valentine's show with an afterparty for 850 people.
"Valentine's Day is hard for some people, so I wanted to have a party. My audiences are unique, I get standing ovations and people want to dance and go out."
The venue cost £11,000 and she made £11,300 back. "I made a profit. I'm a good business woman," she laughs.
But this, she says, is just one example that proves women have to work twice as hard as men to succeed.
"If I was a man and my debut show had been as successful as mine, I'd be on everything right now," she says. "Instead they keep asking: 'What next?'"
This might come as a surprise to the hoards of 20-something fan girls, dancing in the aisles at her shows.
When Omielan started out, a fellow stand-up female comedian warned her: "You need to remember women don't like women. When you go on stage all of them will hate you. Don't wear too much makeup, don't wear anything too revealing, women are there to judge you."
"I was like that is such a weird insecure thing for her to say," Omielan recalls. "I just remember thinking 'nah, bitch, women are there to judge you I'm alright'."
Omielan knew then, as she knows now, that perpetuating this myth that women are jealous and catty wasn't going to help anyone.
"I love women," she says. "I've built a career of women liking women. I have such strong women around me, from my mum to my close friends. The sisterhood is so powerful, I'd like to see more of it."
Recalling the relationship that inspired 'What Would Beyonce Do?', she says: "Imagine not eating for three weeks and seeing a cake. He was my cake. So rather than being cool and just having a slice, I devoured the cake. And then obviously when the cake's over, you're the one who's violently sick."
She has learned a lot about how to approach relationships and self-love, partly through her show but also through therapy.
She urges women to remain independent and not to settle.
"I want women to go into relationships as equals. I'm tired of seeing women and friends who make it all about guy: his career, his passions. What about your career? What about your drive?
"I want to meet someone who matches me on an equal level and we can build together. It's so easy to find a guy who is wrapped up into himself and I'm tired of seeing my friends mould around waste men."
But just before things get too serious, she adds: "I mean, a woman didn't jump in front of a horse for you to suck boring guy's dick."
As a young woman who speaks her mind about women's issues, she has been pigeon-holed as a "feminist comedian doing women's comedy".
"I've been labelled a 'feminist comedian' and, to be honest, I'm bored already," she says. "If they said 'there's a bitch up here who loves women and you're gonna dance all night and it'll be epic', they'll be like: 'I wanna see her'."
She is a proud feminist, but she is perturbed that feminism and the female experience is seen as the other.
"By making me a feminist, it becomes my responsibility to lift the sisterhood. But really, I am normal and others are misogynistic. It should be everyone point of view to be normal, to remove ourselves from patriarchal bullshit."
Related