A charity is warning parents about the "high-risk" situation of falling asleep with their baby on their chest.
Lullaby Trust, an organisation providing expert advice on safer sleep for babies, said this position can increase the risk of sudden infant death syndrome (SIDS) by up to 50 times.
SIDS - sometimes known as 'cot death' – is the sudden, unexpected and unexplained death of an apparently healthy baby.
"Sleeping on a sofa or in an armchair with your baby is one of the most high-risk situations for them," a spokesperson told HuffPost UK.
"Not only is there the risk of accidents or suffocation but it can increase the risk of SIDS by up to 50 times."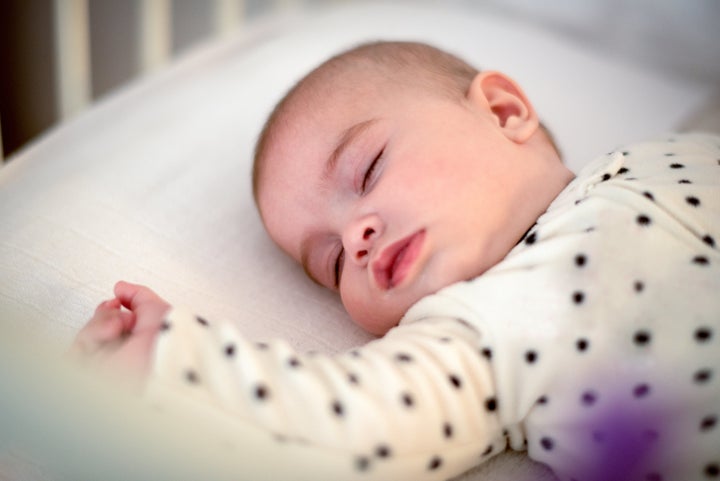 The spokesperson from Lullaby Trust has issued guidance to parents to avoid this situation.
"If you think you might accidentally fall asleep with your baby on the sofa, put the baby down in a safe place to sleep, for example in a separate moses basket or cot using a firm, flat waterproof mattress," they advised.
"If you are breastfeeding on the sofa, it can help to have someone else stay up with you, breastfeed in a different position where you are confident you will not fall asleep, or feed the baby somewhere else."
The charity's comments came after a dad recently spoke out about how he tragically lost his son after falling asleep on the sofa with him.
Dr Sam Hanke, from Kentucky, US, fell asleep on the sofa with his four-week-old son Charlie in April 2010. He woke up, hours later, to find his son was no longer breathing.
"We were just hanging out and I nodded off. A couple hours later I woke up and Charlie was gone."
Issuing further guidance on safer sleep for babies, the Lullaby Trust said parents should never co-sleep with their baby in bed if:
Either you or your partner smokes (even if you do not smoke in the bedroom)

Either you or your partner has drunk alcohol or taken drugs (including medications that may make you drowsy)

You are extremely tired

Your baby was born premature (37 weeks or less) or was of low birth weight (2.5kg or 51/2lbs or less).