British athlete Lynsey Sharp has defended comments she made regarding how "difficult" it was competing with athletes such as Caster Semenya after she came sixth in the women's 800 metre final last night.
South Africa's Semenya has faced increased scrutiny after it was revealed that she has higher testosterone levels than most women due to a medical condition called hyperandrogenism.
The International Association of Athletics Federations (IAAF) believes hyperandrogenic athletes should not be allowed to compete unless they take action to suppress their naturally high testosterone levels.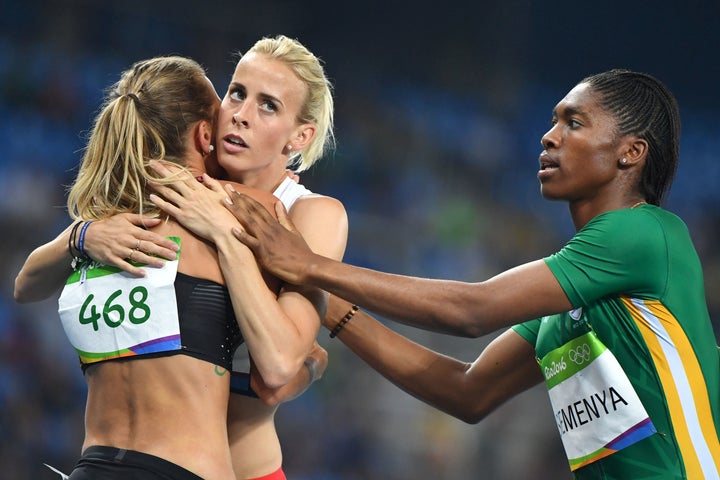 But the Court of Arbitration for Sport disagrees and says the IAAF needs to produce evidence proving exactly how much of an advantage hyperandrogenic runners have over everyone else.
Semenya won a gold medal on Saturday night, with Sharp coming in sixth.
In an interview moments after the race, the Brit said: "I have tried to avoid the issue all year. You can see how emotional it all was. We know how each other feels.
"It is out of our control and how much we rely on people at the top sorting it out.
"The public can see how difficult it is with the change of rule but all we can do is give it our best."
Sharp's comments angered many viewers:
But some people defended Sharp's comments, pointing out that she is very knowledgable about hyperandrogenism.
The athlete defended what she told the BBC, saying that she had a "tremendous amount of respect" for her opponent and that she felt her response was "honest and diplomatic".
She said in a statement posted on Twitter: "The mindset of an athlete is always to strive for more than you achieve. I would have been disappointed with anything other than a medal last night, something which is always going to be difficult in such a strong field.
"But to run faster than I ever had before in the Olympic final is the best I could do. I have come a long way in the last 4 years. I'm incredibly proud of that.
"I have a tremendous amount of respect for Caster. She is someone who I talk to regularly on the circuit. I have known and competed against her since 2008. Media and politics should not distract from her performance.
"When asked on live TV, I felt I gave an honest and diplomatic response. I refused to answer questions from any other media on the topic.
"As you can imagine, it's frustrating to finish a race to be asked about your competitors performance."
It is not the first time Sharp has sparked controversy with her comments regarding Semeneya.
Before Rio 2016 Sharp said that there were "obvious" athletes with heightened testosterone.
"If you take away the obvious ones it's actually really competitive," she added.
"For me, it's not a new thing running against those girls. I've competed against Caster since 2008 so it's nothing new for me."