'What's the for dinner tonight?' is probably a question we're all sick of hearing. Being in lockdown, it's hard to think of creative ways to feed the family every day and every night – and let's face it, we're all getting tired of our own cooking.
Luckily, M&S has just launched its first cookbook that's full of fast, fresh and easy recipes that'll shake up family meals. Using shortcuts and storecupboard staples, and if you don't have all the ingredients simply swap for your favourite meat or veggies.
Try this foolproof speedy one-pan wonder that's ready in less than 30 minutes.
Italian meatball and mozzarella bake
Serves: 4 | Prep time: 5 mins | Cooking time: 25 mins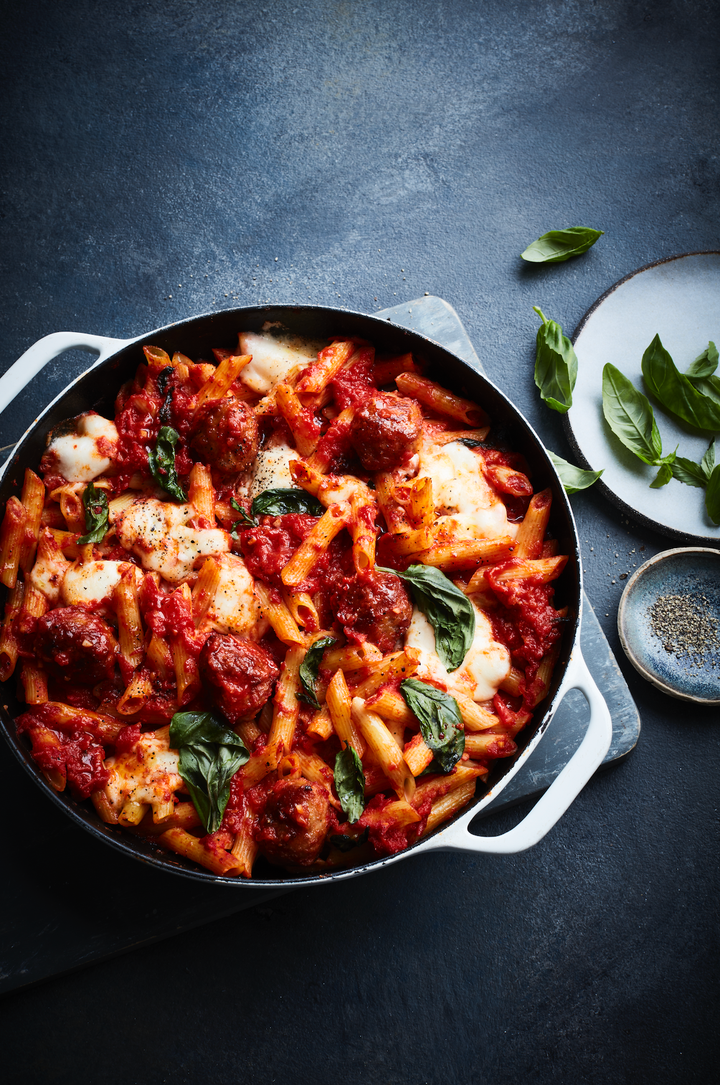 Upgrade your pasta bake with the addition of M&S roasted red pepper paste for your best pasta sauce yet. Use this versatile paste to marinate meat or veg, add to dressings, top on pizza, simply serve as a dip, or use in this pasta recipe for the ultimate family supper for four.
Ingredients:
Handful fresh basil leaves
190g jar Cook with M&S roasted red pepper paste
690g jar M&S Italian tomato passata
1 fresh mozzarella ball, drained and torn into chunks
Method:
1. Preheat the oven to 200°C/180°C fan/gas mark 6.
2. Bring a large saucepan of lightly salted water to the boil and cook the pasta for 8 minutes. Drain and set aside.
3. Heat the oil in a flameproof casserole over a medium heat. Drop the meatballs into the oil and fry for a few minutes, until golden brown all over.
4. Add the garlic and half of the basil leaves to the casserole and fry for 1 further minute. Add the Cook with M&S roasted red pepper paste and the passata and bring to the boil. Remove the casserole from the heat, stir in the cooked pasta and season.
5. Dot the mozzarella chunks over the top, drizzle with oil, and scatter over the remaining basil leaves. Place in the preheated oven for 5 minutes, until the cheese has melted. Serve.