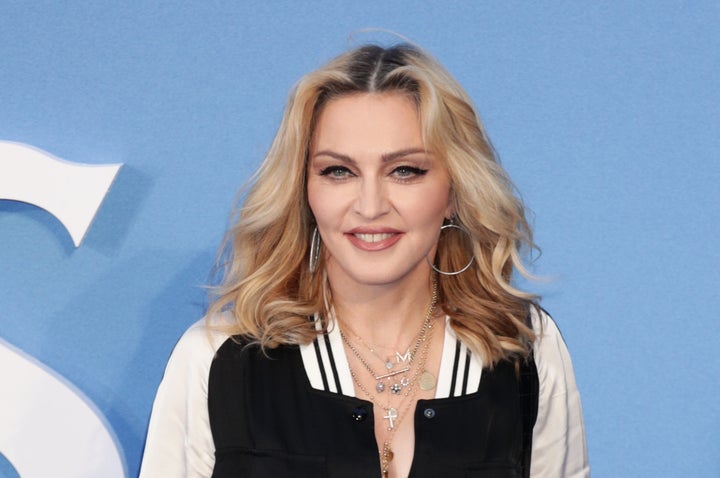 In February 2015, Madonna fell on her arse. You saw it. I saw it. It was splashed over every magazine, newspaper and gossip site for days afterwards. Everyone had an opinion on it, whether you were laughing it up, dying of embarrassment or just feeling downhearted to see a woman once heralded as the saviour of pop music dragged to the floor live on television. Suffice to say, it was a moment the whole world was talking about.
Four years earlier, in a slightly brighter moment for Madonna, she had been hand-picked to perform at the Super Bowl half-time show. The performance was a triumph and a landmark moment in her career, which also wound up making a few headlines when M.I.A. flipped the bird live on pre-watershed television, with millions of American families watching at home. Again, a moment the world was talking about.
What the world regrettably wasn't talking about were the singles Madonna was promoting on both of these occasions, 'Give Me All Your Luvin' in 2012 and 'Living For Love' in 2015.
Despite being attached to two of the most undisputable water-cooler moments of the 21st Century, 'Living For Love' wound up debuting at number 26 here in the UK. As a lifelong Madonna fan, it pained me to admit that she was probably never going to have another hit single in her lifetime.
But also, I soon realised this might be a good thing. After all, in times of difficulty, Madonna has always delivered her most intriguing and celebrated work, whether it was following the confusing and at-times-messy 'Bedtime Stories' era with 'Ray Of Light' or bouncing back from the public bashing she got for her 'American Life' album with 'Confessions On A Dance Floor', which cemented her place as the Queen of Pop.
These hopes were fuelled even more when, in an unexpected move, Madonna announced in summer 2017 that she and her children would be moving to Portugal.
Suddenly, I had visions of a new, earthier Madonna settling down in a new country and adapting to a whole new culture and lifestyle, before returning to the music scene to try something new and experimental with the best untapped pop resources Portugal had to offer.
I was anticipating her new album would offer a sharp take on Trump's America, from the point of view of a woman approaching 60, who had always spoken her mind, infused with some Portuguese folk samples and maybe a few waiting/hesitating rhyming couplets thrown in for good measure.
It was all looking rather promising, especially given that Madonna's last three studio albums, 'Hard Candy', 'MDNA' and 'Rebel Heart', have all had, to some degree, the flavour of someone chasing a hit rather than setting any kind of agenda.
Unfortunately, this dream looked less likely to be realised at the end of last year, when Madonna said she was ready to get back in the studio and ditch the "soccer mom in Portugal" in favour of the pop icon "coming back" for the crown. I hadn't realised they weren't the same person.
This brings us nicely up to the present day. Things had all gone a bit quiet on the "new Madonna" album front, until Madonna's manager, Guy Oseary, posted a special message on his Instagram page last week, commemorating 20 years since the release of 'Ray Of Light'. Two days later, Madonna herself showed up in the comments, and she did not sound happy.
"Remember when I made records with other artists from beginning to end and I was allowed to be a visionary and not have to go to songwriting camps where no one can sit still for more than 15 minutes…"
Now, I'm not saying that anyone is above a "songwriting camp". Some of my favourite hit singles of the last few years have come together when writers being paid by the hour put their heads together in a bid to collectively answer the question: "How do we get middle America to stream this over and over again?"
But the idea of Madonna, now well into her fourth decade in the music industry, trying to put some of her new-found Portuguese wisdom over the top of a beat that has already been turned down by Selena Gomez and Camila Cabello is not a scenario that brings me a great deal of comfort.
This is not what I want for one of the most important, influential and game-changing artists of the past 100 years, particularly someone who has so many times pushed the envelope, set the trend and is about to celebrate her sixtieth birthday.
Instead, whoever it is that is making Madonna (against her will, seemingly) sit through these "songwriting camps" with a group of people for whom '4 Minutes' is considered "vintage Madge" should listen up. The world is not interested in Madonna's take on 'Havana' or Madonna's take on 'Shape Of You' or Madonna's take on 'Despacito'. Young people don't want it, casual listeners don't want it, and Madonna's fans certainly don't want it.
Maybe, safe in the knowledge that no amount of Julia Michaels, Ed Sheeran or even Sia co-writes are going to give Madonna a hit in the streaming era (and that no matter what, a full Madonna album and world tour are always going to make money), you should take a look at her pretty spotless track record and leave her to her own devices this time around.
Let her roam around Portugal, meet with some underground musicians, raid her daughters' music collections, see what's out there that people haven't heard yet. Could it all wind up being an unlistenable racket? Very possibly. But as someone who's been listening to Madonna as long as I've been aware of recorded music, I can say with confidence I'd much rather hear something she was proud of and could stand by, than a radio-friendly three minutes and thirty-three seconds song that came out of a meeting of 25 songwriters who would rather be working with Meghan Trainor or Shawn Mendes.
And who knows? When those Spotify users get a whiff of authenticity and actual enjoyment from the result, Madonna could shock us all once again... and end the 2010s with an actual hit.