In our video above, he shares his own memories of the last time he, like every honest man, shed some tears.
It makes a change from his most recent incarnation, Doctor Strange's antagonist Kaecilius – although Mads is quick to defend his single-minded warrior.
"He simply wants a better world, he wants to have a life without suffering and pain, and a long life, and that makes sense in my book.
"I can defend his goal, obviously his means aren't what most of us can't accept, but that happens all the time. Everyone's fighting for something."
For Mads, a lifetime comic collector and self-professed fanatic, the chance to participate in a Marvel movie on this scale was a dream come true, particularly when martial arts got thrown in too. With a career that can turn so quickly from his native Danish indie scene to a Cannes Best Actor award for 'The Hunt' via Bond villain Le Chiffre and Hannibal on the small screen, he is understandably happy of a cinema scene that can sometimes seem overwhelmed by the big-budget super-hero offerings.
"These films are so well-made, they are attractive for actors. And it's a wonderful world," he exclaims.
"They have given life to something that for a long, long time could exist only on paper, but the techniques have become so much better, it can finally appear on screen. How many superhero films do we have a year? One or two. There's something for everyone.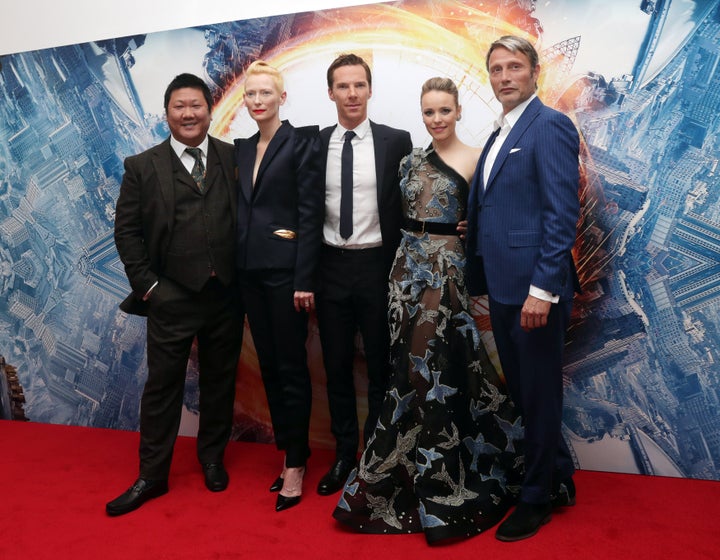 "It's like when people complain that someone is in everything. No she's not, she's in two out of a thousand. And you have the right to go and watch those 998 other films."
Mads' co-star in 'Doctor Strange' is Benedict Cumberbatch, a man Mads says he admires but doesn't envy with his fans peeking around every corner.
"Nobody wants that. I have the ability to forget it every day, I simply forget it and then I spot someone spotting me, and I remember… but I don't fear it, I'm not trying to hide behind sunglasses.
"I'm starting to get recognised here as well, not on the same scale, but the secret is to keep moving. If you stand still for a second, that's like opening the door. It's happening here a bit, but not as much as back home."
Back home is Denmark, where Mads (along with his brother, Lars) is revered as one of the godfathers of the country's film and TV renaissance. He scoffs when I tell him how many of his Danish peers cite him as a founding influence.
"It's weird because I have literally been the youngest in everything I've done in my life – the youngest in my class, the youngest in the handball team, constantly.
"But I did have a hunch, when I was doing a film called 'The Royal Affair', two young actors kept asking me for advice, and I kept looking over my shoulder, thinking it can't be me… but so be it, I'm not the youngest any more"
One of those two young actors was Oscar winner Alicia Vikander – must have been good advice.
For Mads, the future is as busy as ever, despite the end of TV series 'Hannibal' a year ago, a show he's still attached to, and with no plans to replace it on his roster.
"That was radical," he says approvingly. "That was sharp corners, interesting, and it's a little hard to go from something like that to something rounder. For now, it was fantastic, so there's still an aftermath of it in my head."
'Doctor Strange' is in UK cinemas now.
Popular in the Community