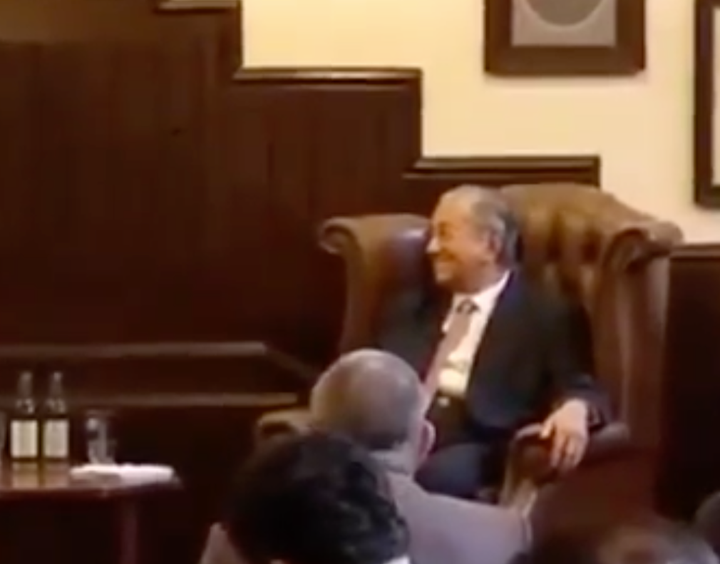 Cambridge Union has been criticised for hosting an event which saw an audience laugh at comments about "Jewish people" made by Malaysia's prime minister, Mahathir Mohamad.
Former presidents of the debating society have described its decision to host Mohamad, who has previously said "Jews rule this world by proxy", as "appalling".
Mohamad, 93, claimed during his address on Sunday evening that he had some "very good" Jewish friends who were "not like the other[s]".
When challenged about his previous anti-Jewish statements, he told an audience at the world's oldest debating club: "I have some Jewish friends, very good friends. They are not like the other Jews, that's why they are my friends."
He claimed he was entitled to freedom of speech in order to speak "against the Jews".
In a video of the address posted online by the Union of Jewish Students (UJS), some members of the audience are heard laughing.
But the Cambridge Union said in a statement that those laughing were part of Mohamad's delegation, rather than its student members.
The premier's latest comments were criticised by the UJS, which said on Twitter: "Freedom of speech is not a joke when it incites hatred against one people."
UJS Campaigns Organiser, Daniel Kosky, added: "[We] are dismayed, but not surprised, that the Malaysian Prime Minister Mahathir Mohamad was allowed to use the prestigious platform of the Cambridge Union to espouse hatred.
"It is chilling to see a crowd of students laugh off flagrantly antisemitic comments. Freedom of expression is not a joke when it incites hatred against one people."
Adam Cannon, a former Cambridge Union president, said on Twitter that the comments were "absolutely appalling".
Human rights barrister Adam Wagner said: "This is unreal. Cambridge Union should be ashamed."
While lawyer David Wolfson said he had resigned his membership of the Union over the situation.
Mohamad spoke at the Oxford Union debating society earlier this year.
The Cambridge Union said in a statement: "Yesterday we hosted an event featuring the Malaysian prime minister, Tun Dr Mahathir Mohamad, during which our members were able to scrutinise the prime minister's record and indeed they did so.
"As a society, free speech and student welfare are equally important to us, therefore we invited the Cambridge Jewish Society to attend the talk to ask questions to the prime minister and we also allowed them to hand out flyers to the audience.
"With regards to the clip in question, the laughing originated from the middle section, which was composed of the prime minister's delegation. The prime minister was scrutinised on his record throughout the event both from the moderator and the audience."
The Malaysian Embassy in London has been approached for comment.