A man with spinal muscular atrophy is refusing to let his disability stop him from travelling the world, even if it means becoming a "human backpack".
Kevan Chandler will visit France, England and Ireland during a European tour, all on the shoulders of his friends.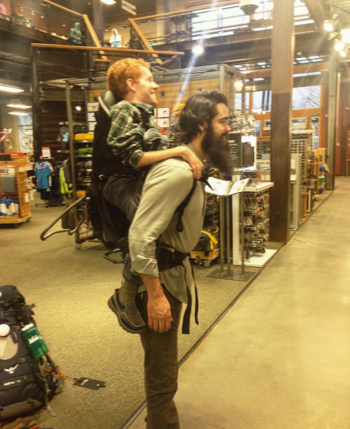 For three weeks Chandler, whose disease causes his muscles to progressively weaken, will see the sights from a specially-adapted seat.
"I have a dream to visit Europe and explore the history and amazing sites that are there but as you can guess a lot of that is really difficult with a wheelchair involved,
"We are all broken in some way or another, and so we all need our burdens to be held up and carried by each other, and the only way that's going to happen is if we help each other out, and that requires sacrifice of self," he said.
Chandler, who relies on a wheelchair to get around, will be carried from country-to-country by his friends, but says he needs a little extra to help him set sail.
"We have little money of our own, but with your support, we will return with a story to share unlike the world has ever heard before. The journey will result in a documentary film, at least one book, and countless songs," it says on the GoFundMe page set up for the project named "We Carry Kevan".
The page has so far raised over $9,650 (£6,707), but aims to reach $35,000 (£24,324).
The page has a breakdown of the funds raised, most of which will go towards airfares and accommodation.