Greater Manchester police have been alerted to a number of social media posts appearing to warn of the suicide bombing which has claimed 22 lives.
Islamic State supporters were quick to celebrate the atrocity and two tweets sent hours before the bombing appeared to have warned about it.
At 10.35pm, at the end of a concert by US singer Ariana Grande, a lone male attacker detonated an explosive in the foyer area of Manchester Arena as the concert ended.
Children were said to be among the dead, as is the attacker, and 59 people were injured in what police are treating as a terrorist incident.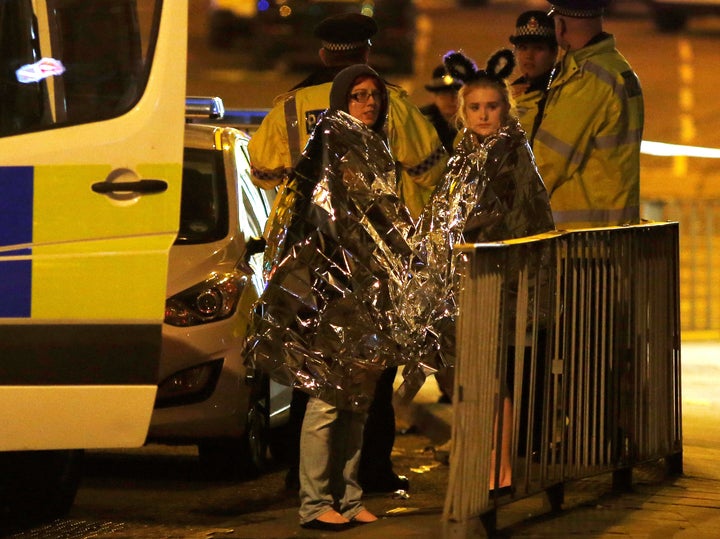 Four hours before the attack a now-suspended Twitter account appeared to predict the tragedy. The time stamp on the post had some commenters online suggesting it may have originated in the US, and therefore was sent after the explosion took place.
A source on Tuesday afternoon confirmed that suggestion was correct, saying the tweet would have been posted at 11.32pm or later UK time and that there "were no tweets responding to the supposed prediction until then".
On Tuesday morning Twitter users were scrambling to identify the account holder and speculating about what, if any links, the user had to the incident.
The attack was later claimed by IS and the suspected bomber was identified by authorities as Salman Abedi. Raids were being conducted across the city by police on Tuesday.
Greater Manchester Police told HuffPost UK they had received numerous inquiries about the tweet but were not in a position to offer any guidance or comment on its veracity.
People with information relating to the attack can call the anti-terror hotline on 0800 789 321.
The Twitter post read: "Are you forget our threat? This is the just terror". The hashtags Islamic State and Manchester Arena were also used.
The second read: "We have more."
A new account, with a slightly different handle, was later activated and began circulating pro-Isis propaganda.
Twitter suspended dozens of accounts overnight, but other pro-Isis supporters posted messages across Telegram and other secured messaging systems, MailOnline reported.
One message on Twitter posted by a user called Abdul Haqq said: "It seems that bombs of the British airforce over children of Mosul and Raqqa has just came back to #Manchester."
Others shared messages encouraging so-called 'lone wolf' attacks as well as videos threatening the west and the United States.
A video is also circulating in which a man claims "this is just the beginning" before showing a piece of paper with Manchester and the date written on it.
A Twitter spokesperson said he was unable to comment on accounts suspended due to the terrorist attack.
"Our policy is not to comment on individual accounts for privacy and security reasons. However, we always endeavour to support law enforcement as per our guidelines and will continue to support the investigation of the UK authorities as and when required."
The spokesperson said between July 1 and 31 December 2016, Twitter suspended 376,890 accounts "for violations related to promotion of terrorism".
Of those suspensions, 74% consisted of accounts surfaced by internal, proprietary spam-fighting tools, the spokesperson said.
Grande, who was not injured, tweeted after the attack saying that she was "broken".
"From the bottom of my heart, I am so so sorry. I don't have words."
The incident sparked a nightlong search for loved ones as frantic parents tried to locate their teenage children, and groups of friends scattered by the explosion sought to find one another.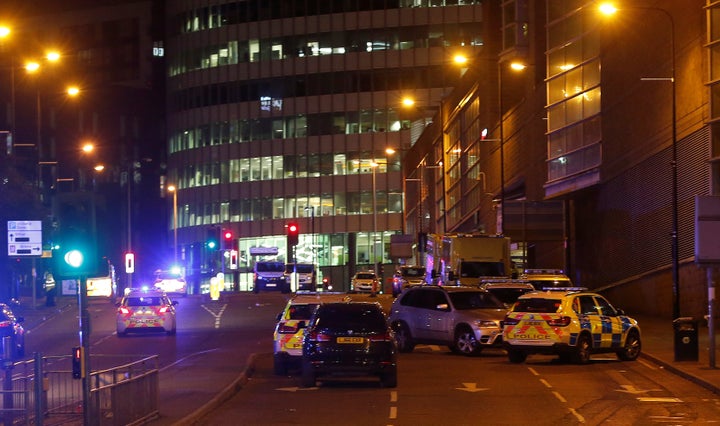 Taxi services offered to give stranded people rides home for free, and residents opened their homes to provide lodging for others who could not get home because public transport had shut down.
Twitter and Facebook were filled with appeals for information about people who had not been accounted for.
Home Secretary Amber Rudd called the incident "a barbaric attack, deliberately targeting some of the most vulnerable in our society - young people and children out at a pop concert."
The emergency number for those who are concerned about loved ones or anyone who may have been in the area is 0161 856 9400.
"As I turned around, boom, one loud noise," she told Sky News. "A gentleman said 'run!' so we ran."
Outside, she said, "you could smell the burning."
The attack is the deadliest in the UK since four British Muslims killed 52 people in suicide bombings on London's transport system in July 2005.