Parts of Manchester have been flooded after a thunderstorm hit the city on what in some parts of the UK has been the hottest day of the year.
Photos on social media show the city's airport and high street submerged in inches of water.
Manchester City has announced tonight's Champions League Group C match against Borussia Monchengladbach at the Etihad Stadium has been postponed due to adverse weather conditions, reports the Press Association.
The match will now take place tonight [Wednesday] at 7:45.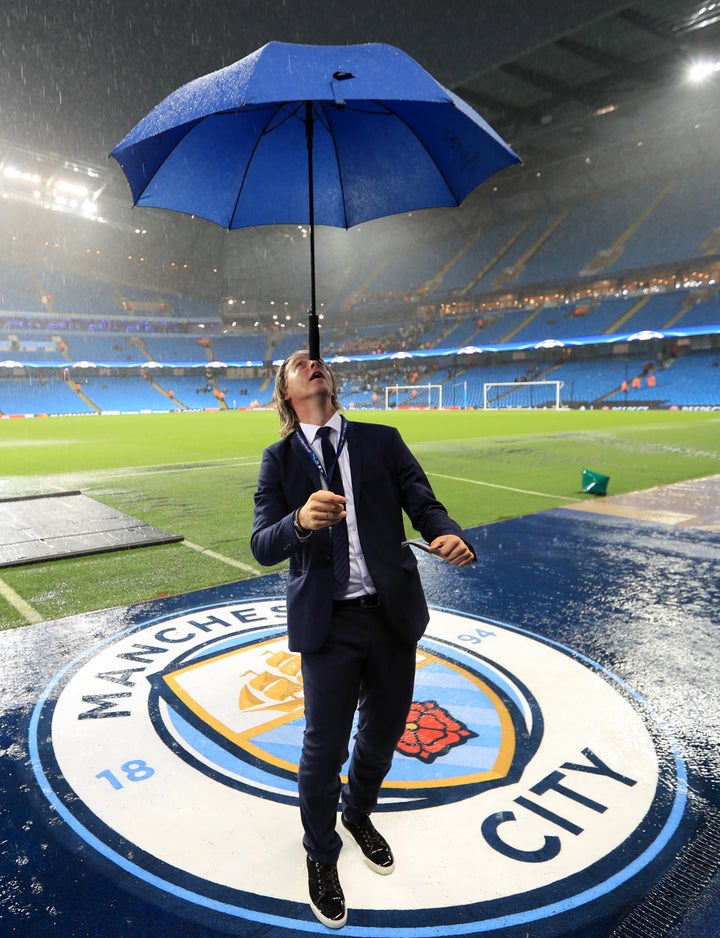 Flights to the city's airport have also been affected.
Piccadilly train station also sprang a leak.
The Met Office had warned an inch of rain could fall across Northern England and southeast Scotland, causing flash flooding.
Leeds has also been hit by thunderstorms.
Undeterred, some people appear to be still working out in flooded gyms.
Despite the adverse weather up north, Tuesday is the hottest day of the year so far with a temperature of 34.4C recorded at Gravesend and the warmest September day since 1911, the Met Office has said.
Earlier, a temperature of 32.2C was recorded at Heathrow, the highest in September since 1949. But 34.4C was recorded at Gravesend.
As the temperature soared in the southeast, a storm hit the south coast, including Bournemouth, with thunder, lightning and rain lashing the beachfront where just moments early people had earlier been enjoying the sun.
Meteorologist Mark Wilson said "there has been a lot of rain in a very short space of time" in the North West - along with "a lot" of thunder and lightning.
"Prestbury has had 32.4mm of rain in an hour - which is pretty exceptional," he added. "The warning we put out does talk about the risk of up to 30mm in an hour.
"There are some torrential downpours passing through parts of the country at the moment but they will ease probably in the next two hours."
Wilson said the band of rain and thunderstorms looks set to push eastwards into Yorkshire and up to Scotland over the course of the night.
On Monday morning, the Met Office declared a Level 2 heat-health alert, warning of a high chance that temperatures would hit certain temperature thresholds for at least two days and the intervening night.
#Heatwave trended on Twitter and that hashtag was won by this dog on a lake in New Brighton in Merseyside.