WHAT WE KNOW SO FAR:
22 people are dead and 59 injured in a suicide attack at a pop concert at Manchester Arena.
Children are known to be amongst those killed.
The explosion is being treated as a terrorist incident by police
The lone male attacker, who died in the blast, was carrying an improvised explosive device which he detonated.
It is not known if he was acting alone or as part of a larger network and has not been identified.
A 23-year-old man has been arrested in connection with the attack.
Georgina Callander named as first victim killed.
The blast took place in the foyer area as a concert by US star Ariana Grande finished at around 10:30pm.
The identities of those killed or injured have not been confirmed, and no arrests have been made
Footage from the arena show scenes of chaos and confusion.
Theresa May said the attack was "among the worst terrorism we have experienced in the United Kingdom"
All General Election campaigning has been suspended.
Travel services in Manchester have been disrupted.
Manchester's Arndale shopping centre was evacuated later in the morning although the incidents are not believed to be related.
At least 22 people have been killed and a further 59 injured after a suicide bomber struck an Ariana Grande concert at Manchester Arena on Monday night.
Police have confirmed a number of children are amongst the dead.
A lone male attacker, who died in the blast, was carrying an improvised explosive device which he detonated in the foyer area of the Arena at around 10:30pm.
Anyone seeking information on anyone who may have been in the area should ring the following number: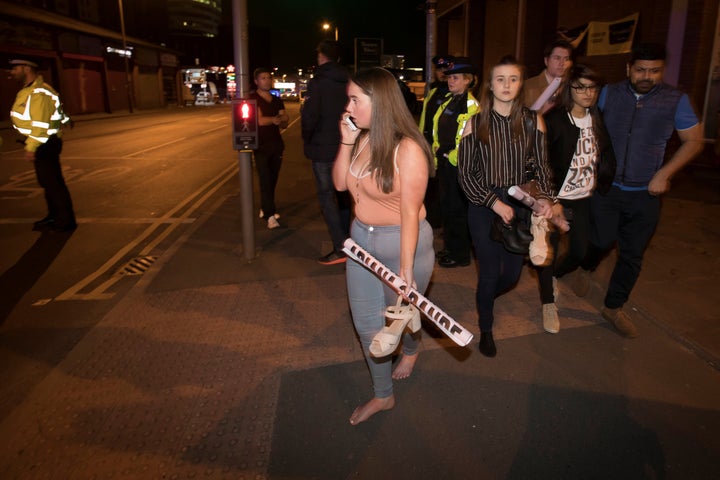 Greater Manchester Police Chief Constable, Ian Hopkins, said in a statement this morning:
"We have been treating this as a terrorist incident and we believe at this stage the attack last night was conducted by one man.

"The priority is to establish if he was acting alone or as part of a network.

"The attacker, I can confirm, died at the arena. We believe the attacker was carrying an improvised explosive device which he detonated causing this atrocity.

"We would ask people not to speculate on his details or share names.

"Terrorists will attempt to disrupt our lives and sow mistrust and fear in our communities.

"We have a long history here in Manchester of our communities standing together during difficult times.

"In the coming days we will be working very closely with community leaders to address any concerns or issues that our community may have."
Grande, who was not injured, tweeted after the attack:
One fan at the concert described how the explosion hit the venue as fans were leaving the building.
"I and my sister, along with a lot of others were seeing Ariana Grande perform at Manchester Arena, and we were all exiting the venue when around 10.40-10.45pm-ish a huge bomb-like bang went off that hugely panicked everyone and we were all trying to flee the arena.

"It was one bang and essentially everyone from the other side of the arena where the bang was heard from suddenly came running towards us as they were trying to exit Trinity Way and that was blocked so everyone was just running to any exit they could find as quickly as they could.

"Everyone was in a huge state of panic, calling each other as some had gone to the toilet whilst this had gone off, so it was just extremely disturbing for everyone there."
The incident sparked a nightlong search for loved ones as frantic parents tried to locate their teenage children, and groups of friends scattered by the explosion sought to find one another.
Taxi services offered to give stranded people rides home for free, and residents opened their homes to provide lodging for others who could not get home because public transport had shut down.
Twitter and Facebook were filled with appeals for information about people who had not been accounted for.
Home Secretary Amber Rudd called the incident "a barbaric attack, deliberately targeting some of the most vulnerable in our society - young people and children out at a pop concert."
Jenny Brewster said she was leaving the concert with her 11-year-old daughter when the blast hit.
"As I turned around, boom, one loud noise," she told Sky News. "A gentleman said 'run!' so we ran."
Outside, she said, "you could smell the burning."
Manchester's Mayor, Andy Burnham, said:
Britain's terrorist threat level stands at "severe," the second-highest rung on a five-point scale, meaning an attack is highly likely.
There was no immediate claim of responsibility. Online, supporters of the extremist Islamic State group, which holds territory in Iraq's Mosul and around its de facto capital in the Syrian city of Raqqa, celebrated the blast.
One wrote: "May they taste what the weak people in Mosul and (Raqqa) experience from their being bombed and burned," according to the U.S.-based SITE Intelligence Group.
The incident is the deadliest terror attack in Britain since four suicide bombers killed 52 London commuters on three subway trains and a bus in July 2005.