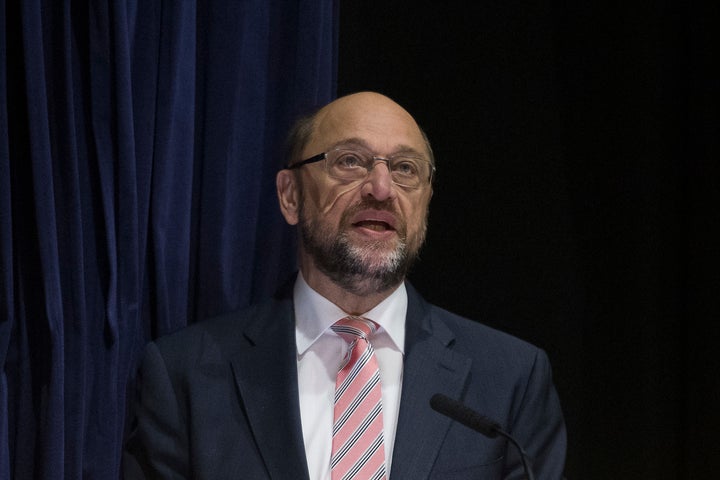 Brexit Britain must accept free movement if it wants to remain in the Single Market, European Parliament President Martin Schulz insisted today
At a speech at the London School of Economics this afternoon, Schulz said there would be no "a la carte" option for a post-Brexit UK when it came to negotiating its relationship with the EU.
The German MEP was speaking the day after he met with Prime Minister Theresa May to discuss the negotiations, but claims he is no clearer on what the UK wants from Brexit than when he arrived.
Schulz also claimed he had "no personal responsibility" for the Brexit vote, despite being one of the key players in negotiating a new deal with David Cameron for the UK's EU status.
Speaking this afternoon, Schulz said: "I am convinced that the best possible deal with the EU is membership of the EU. Any other arrangement necessarily entails trade-offs - there will be no à la carte menu on offer for the UK.
"I also see a clear majority in the European Parliament for insisting that the fundamental freedoms are inseparable, i.e. no freedom of movement for goods, capital and services, without free movement of persons.
"I refuse to imagine a Europe where lorries and hedge funds are free to cross borders but citizens cannot. I cannot accept any hierarchy between these four freedoms."
Schulz also used the platform to again call for the UK to trigger Article 50 – the formal EU exit process – as soon as possible.
He suggested Brexit needs to be completed by spring 2019, when the next round of elections to the European Parliament are due to take place.
When asked by the Huff Post UK if he felt any responsibility for the Brexit vote, Schulz replied: "My personal responsibility is that I did not interfere here and fight.
"I see no deliberate personal responsibility for the result of the vote in a country 45 years wavering if it should be a full-fledged member or a half-member or a member with a lot of exceptions and never clarified what it wanted to be at the end."
Schulz then claimed he did feel "individual responsibility for the so-called agreement" between Cameron and the EU ahead of the referendum, which was ultimately rejected by UK voters.
The European Parliament President's comments once again highlight the UK may need to choose between immigration control and Single Market membership.
Related