Anti-terror police were called to a catholic school in Doncaster following threats made against "infidel" pupils on social media.
McAuley Catholic High School, in Cantley Lane, was placed on alert on Monday after the school was told "we have our sights set on you".
The message, uploaded to social media sites Facebook, Instagram and Snapchat, read: "We have our sights set on you, and by Allah we will kill every single infidel student at this school #McAuleySchoolMassacre."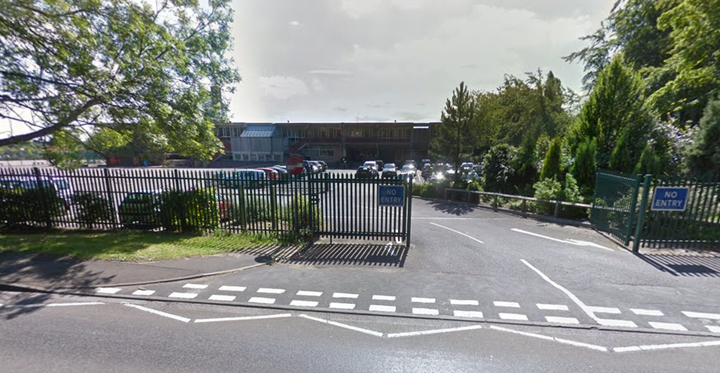 Staff at McAuley Catholic High School said that the incident is being investigated by the police.
There was an increased police presence at the school and students and parents were advised not to reply to any unsolicited emails or social media posts.
The school said in a statement: "The matter that has been reported is currently being investigated by the police.
"At this time pupils and parents are advised to not reply to any unsolicited emails or social media and to report anything of concern to the school/police.
"A continued police presence will be provided whilst the investigation continues and a specialist officer will be in school tomorrow should advice be required.
"At this time both the school and local authority, together with the police see no reason to advise pupils to remain away from school and there is no information that would require the school to close."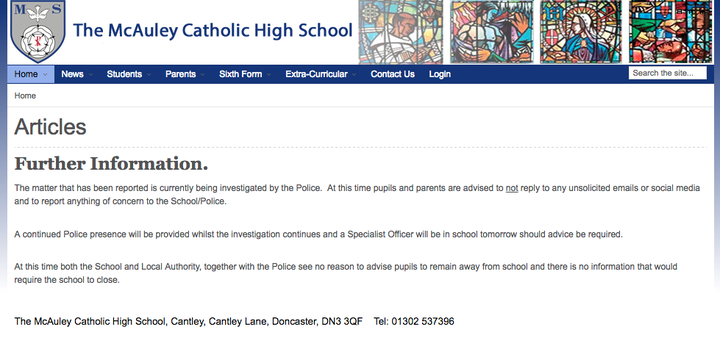 Shanie Varley pulled her 15-year-old daughter out of school after she learned about the incident and criticised the school for not letting parents know about the threat sooner.
Varley told the Yorkshire Post: "I found out when Alisha phoned me panicking because she'd seen it on Facebook, but no-one was explaining what was going on.
"The post had been seen and then sent on through Snapchat and then Facebook so all the kids knew but the parents weren't told.
"As soon as I got off the phone with her I contacted the school, who said that police were there and that it was 'nothing to worry about'.
"But she's my daughter and I didn't feel safe so I got her dad to pick her up and bring her to work with me where she's been doing revision."