Mum-of-one Stephanie Velinor works to support her five-year-old son. She never thought she'd make history this week by becoming the first person to walk out on strike at a British McDonald's. "I should have a plaque somewhere," she says.
Yet Velinor, who walked out during her shift at the firm's drive-through restaurant in Crayford, south east London at midday yesterday, joined around 14 colleagues on a picket line outside the store just after dawn on Monday.
"I believe that we will win," the group chants in front of a crowd of around 40 supporters and journalists, the Golden Arches shining behind them, "If we don't get it, shut it down."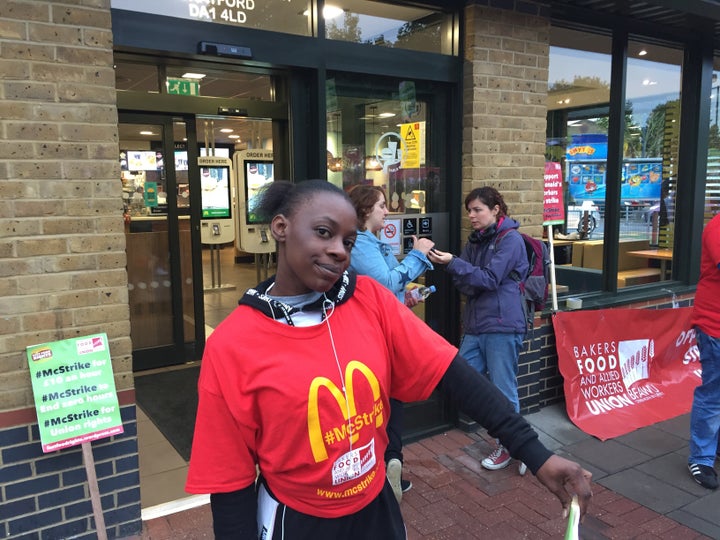 The workers, who are all on zero-hours contracts, are part of the Bakers', Food and Allied Workers Union (BFAWU) which has organised around 40 staff at Crayford and in Cambridge.
They are demanding a £10 an hour minimum wage, union recognition, and for zero-hours deals to be scraped altogether.
But for many of those on Monday's picket line, it's working conditions and internal processes which have become - unexpectedly - intolerable.
"Things seemed to change," Kayleigh Logan, 23, tells HuffPost UK holding a placard outside the store. "My mum passed away in January and the manager just thought I went on holiday. The way I was treated was really bad. I went into hospital because of the stress of it."
"There is proper bullying going on here," he tells HuffPost, interrupted by passing cars blaring their horns in support. "The conditions have become really bad. There's discrimination. Hours are cut if you're not a manager's favourite."
HuffPost is awaiting response from McDonalds about allegations of bullying and poor working conditions.
"The fight for £10 an hour is great and it would help us all, but it won't make working here any better," Baker continues.
"We've had bosses tell us this strike is a joke. But it's not a joke," he says gesturing to the colourful crowd of supporters. "For everyone to come here and show them we have support is just incredible."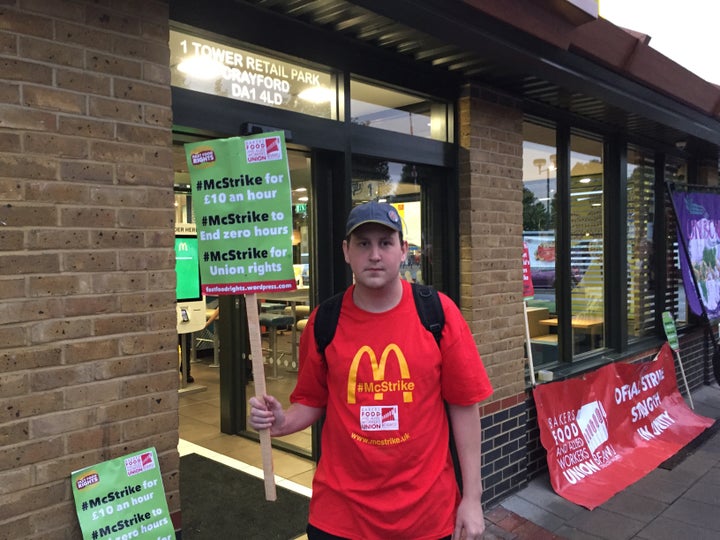 The burgeoning crowd, including members of the Socialist Party and a local Momentum branch, has given the striking staff a real morale boost.
"I am so surprised," Velinor, 26, says. "Look at everyone who has come. I'm so chuffed. I am happy."
Though for hardened commuters passing through this retail park on their way into London, the crowd's message as yet to cut through.
"We thought maybe it was anti-meat or something," one customer, who declined to be named, tells HuffPost while clutching a McCappucino. "We did think we might get a bit of stick, but we didn't," his colleague says.
Meanwhile inside, five managers huddle around one of the restaurant's small tables, appearing absorbed in serious discussion, but were not authorised to talk to the press.
It's the first they've had to contend with such action, in Britain at least. The strike is part of the '#FastFoodGlobal' workers' movement.
In the US, McDonald's has come under pressure as part of the 'Fight for $15' campaign.
Supporters say that campaign has resulted in more than 10 million US workers being on a path to $15 an hour and wage increases for 20 million workers since 2012.
But it's led some to suggest the movement has simply quickened the drive towards automation - already present in UK stores where touch-screen tills take orders and payments.
Walkouts are planned for other countries, including Japan and New Zealand.
Monday's strikers have received the support of Labour leader Jeremy Corbyn, shadow chancellor John McDonnell and other senior Labour and Trade Union figures.
Corbyn published a post offering solidarity to the striking workers:
"I want to thank the Bakers' Union for the work that they've done. We have heroes and heroines we don't thank enough," McDonnell told a vibrant rally at Westminster on Monday. "Yes, this is the first McDonald's strike, but let's make it clear: nobody wants to go on strike.
"This was completely unnecessary if McDonald's, first of all, treated its employees with respect, recognised the union, paid a real living wage and recognised the union.
"We expect them now to recognise the union and get round the table."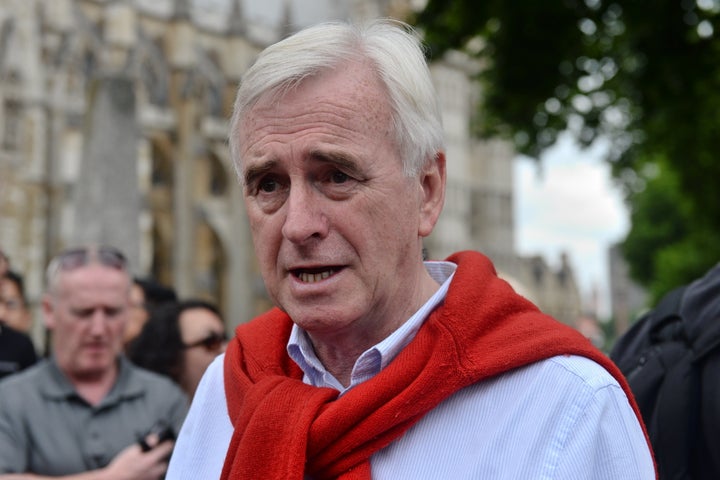 When asked about the strike, Prime Minister Theresa May's spokesperson said: "I haven't asked her view on this."
McDonald's said in a statement: "We can confirm that, following a ballot process, the BFAWU has indicated that a small number of our people representing less than 0.01% of our workforce are intending to strike in two of our 1,270 UK restaurants. As per the terms of the ballot, the dispute is solely related to our internal grievance procedures and not concerning pay or contracts.
"As announced in April this year, together with our franchisees, we are providing our people with the option of a guaranteed hour contract, and all restaurants will have these contracts in place by the end of 2017. McDonald's UK and its franchisees have delivered three pay rises since April 2016, this has increased the average hourly pay rate by 15%.
"We are proud of our people at McDonald's, they are at the heart of all we do and we work hard to ensure that our teams are treated fairly. Our internal processes underpin that commitment."