Meghan Trainor was dubbed by Rolling Stone Magazine 'the world's unlikeliest rock star'. Despite this dubious praise, she sold over a million copies of her debut album and picked up a handful of major awards, including a Grammy, since her breakthrough hit 'All About That Bass' became one of the world's most popular songs in 2014.
Her second album 'Thank You' has just been released, but she's also found time to record two original songs for 'Snoopy and Charlie Brown: The Peanuts Movie'. To mark the home entertainment release of the hit film, Meghan spoke to HuffPostUK about the timeless appeal of the main dude Snoopy, and facing her confidence challenges like Charlie Brown...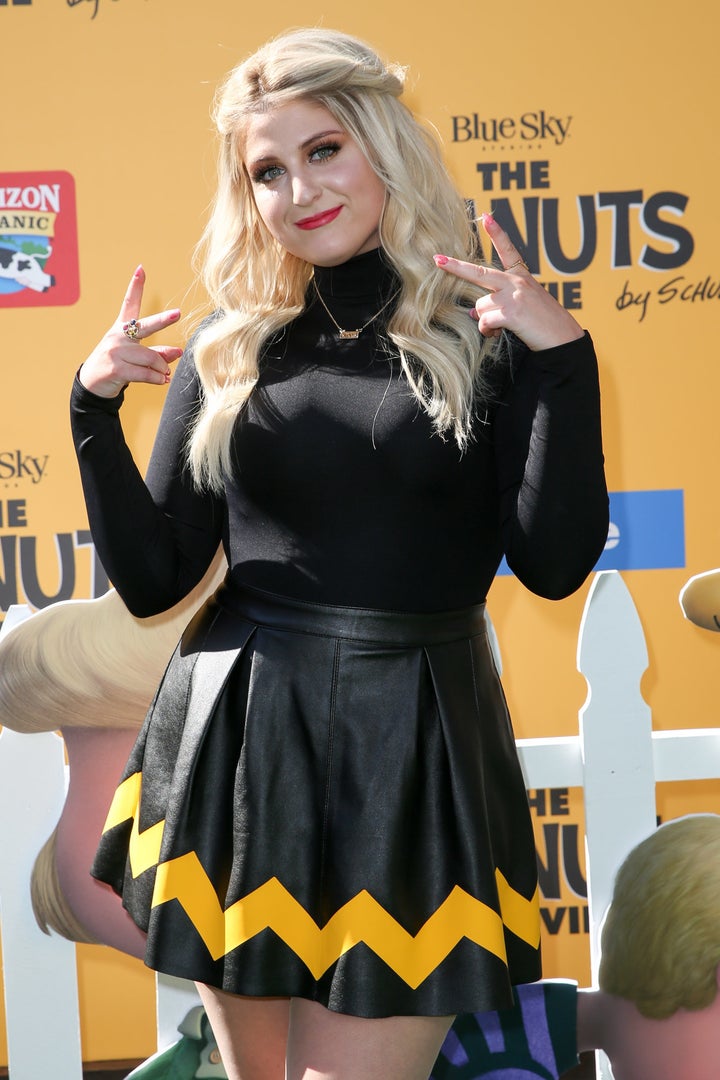 Q: How did you get involved in THE PEANUTS MOVIE?
A: Fox asked me whether I would be interested in doing a song for the film, because they liked my confidence and my empowering 'self-love' songs and they said 'we want something similar for this movie.' They wanted something that would help people to feel confident, and that would help Charlie Brown to feel confident. Then the director (Steve Martino) showed me some clips of the movie, which were amazing. They showed me how Charlie Brown learns how to dance, so I knew right away I was going to write a dance song and I wrote 'Better When I'm Dancin'.
Q: How exciting has it been for you?
A: Being a part of the PEANUTS movie is a big deal. I was terrified and honoured. When I told my grandmother, she was pumped! I told my cousins and they were pumped too. I still have to pinch myself. It's not real, but it is real! It's unbelievable.
Q: How did you come up with the concept for 'Better When I'm Dancin'?
A: I came up with it when I was on my tour bus. At one point I got sick on tour; I had a show to do and I was miserable. But I noticed that when I was on stage and I had the crowd there and I was dancing, I felt much better, I forgot that I was sick. I wrote the song on my ukulele, and then I sent it to them and they loved it. It's a feel-good song.
Q: What is it do you think about the song that connects with the theme of the film and with Peanuts?
A: It's fun, it's upbeat and it can play in the dance scene in the film because it is an actual dance. It's really nice and it's easy to remember.
Q: What about the other song, 'Good To Be Alive'?
A: That was another family thing for me. I went home to Nantucket (in Massachusetts). I finally got to chill with my family after my first tour and I was really appreciating life and being in the moment. I was appreciating that I could be with them all and that they were all healthy and happy and that I was in my own bedroom. I was pacing back and forth and I made the beat. I thought: 'what's a good, happy song that talks about being alive and how awesome it is right now?' I was like; 'it feels so good to be alive …that's it, right there!' I wrote it and I produced it with my younger brother, Justin, and then I brought my entire family into my bedroom. That's where I recorded it. I had them sing the chorus and the backgrounds. Isn't that cute? We videotaped the whole thing. It was like a Partridge Family gathering. It was great.
Q: What do you enjoy about the Peanuts gang?
A: "They are adorable and quirky and fun and real, just like life. That's why I think the cartoon has been so big and so popular for all ages. My grandmother and my parents watched PEANUTS. All generations love it; kids nowadays love it and immediately relate to the comic strip, because it's about the struggle of Charlie Brown and what he goes through and how he overcomes all his challenges.
Q: What was it like going to watch the movie and hearing your own song
A: "It was the first time ever that I've had a song in a movie. It was amazing. I was in the theatre, my whole family was with me and we were eating popcorn and enjoying the movie. But I remember my heart was pounding out of my chest because I knew my song was coming up. I didn't know exactly when it was coming up, but I kept saying 'all right, it's going to be here soon!' Then when it finally happened, truthfully, I wanted to stand up and dance, but I kept my cool. My brothers and I were dancing in our seats. It was very emotional. I cried when I walked out of the theatre. It was definitely a special moment for me and my family."
Q: Which characters do you like particularly and relate to in the film?
A: "I love Charlie Brown obviously, everyone can relate to him, but Sally, his little sister was cracking me up in the film. She is a star; she is amazing and adorable. Growing up I loved Snoopy. Snoop's the main dude, he is hilarious. Lately I've been watching the older Charlie Brown specials and Snoopy is the funniest. He doesn't even have to talk and he's hilarious. That's impressive.
Q: How much do you identify with Charlie Brown?
A: I definitely identify with him. I've had confidence issues just like Charlie Brown, of course I have, and that's how I got started as a musician. That's how I got to be a pop star, because I was working on my self-love in my music and the world reacted to it in the best possible way, which helped me out. So I know just how Charlie Brown feels and I think everyone knows how he feels at some point in their lives. Everyone feels insecure at times.
Q: The film's about friendship and family and love and big dreams. How much do those themes resonate with you?
A: Well, they do because those themes are all the reasons why I'm here now. If I didn't have a great family, with loving parents who have supported me since I was really young, I would not be able to live out my dreams. To have a good family makes a big difference. I live with my two brothers and they are my best friends and I truly believe if I did not have them in my life, then I would not be here. My friends and the people who surround me are really important. That's why I related so much to this movie. Charlie Brown and Snoopy are 'homies'. Without Snoopy's love I don't know where Charlie Brown would be!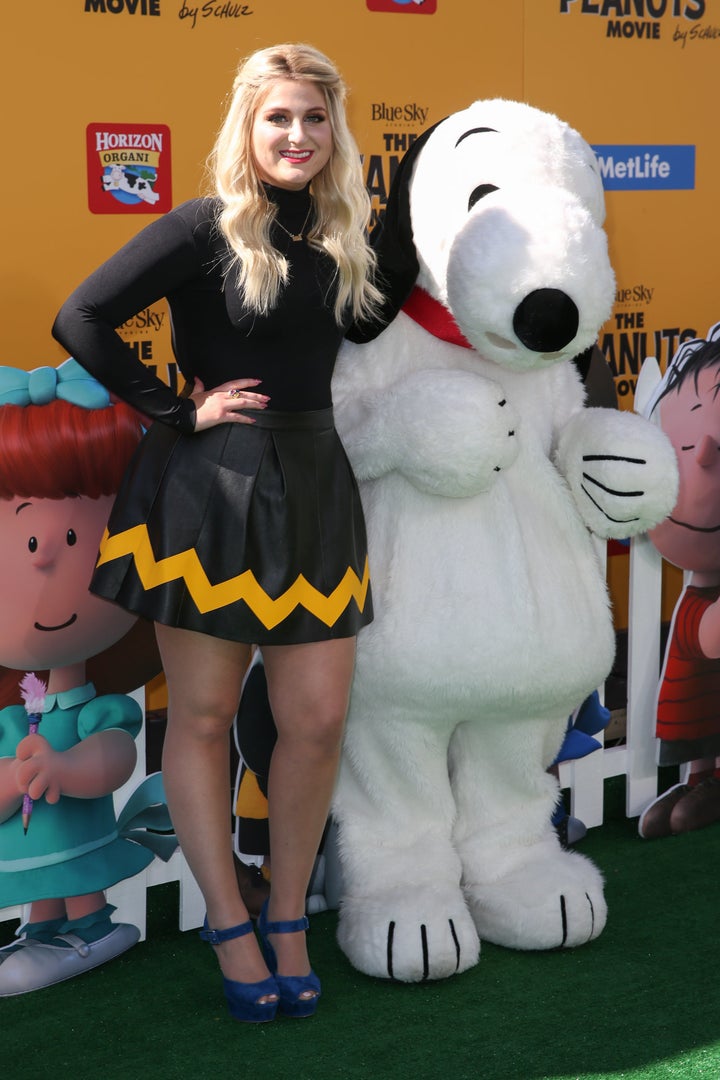 Q: Do you have a dog yourself?
A: I just bought a little puppy, her name is Biggie. I called her Biggie because she's so small and the name seems right for her.
Q: Can you talk about your trip to Blue Sky Studios in Connecticut to meet the filmmakers and animators?
A: Going to Blue Sky was probably the coolest thing I've ever done .. ever. It was like a dream come true. I walked in and I thought they were just going to sit me in a room and show me some clips of the movie. But I got to meet everyone who worked on the movie. I got to see how they make the characters with clay and then transfer them to the computer. I got to see how they worked on the dance moves on the computer and how difficult it is and how one week's work gives you about three seconds of a movie. Those were all the questions I'd had [about animation] since I was six years old. I've always wanted to know: 'how do they do this?' I knew it took years, but I didn't know it took all those people to make a film like this.
Q: Your career is amazing and you are still so young. How did you make it happen?
A: It took hard work, dedication, passion and honesty. I don't really know how it all happened. I think you just can't give up even if you have the craziest dream ever, like I did. I remember growing up and how I always wanted to be a pop star, but that was like saying 'I want to be a firefighter.' You think as a kid, 'that's what I am going to be,' and you are full of confidence, but it doesn't usually happen. Then when I got into my teens I became a little more insecure. You get picked on and bullied, and I would always think, 'no, I'll never be a famous pop star, I don't look like these stars do.' I stopped trying for a while, but eventually all my dreams did come true.
Q: Of course your fantastic song, 'All About That Bass', has become a massively popular anthem and has given girls and young women such confidence. Did you have any idea of the effect it would have in relation to self-acceptance and body image?
A: It helped me tremendously, especially when the world accepted it and made it a hit and really gave their vote for it. That was very cool, to have everyone's support. I didn't know how much it had affected people until I had my live shows and I would meet and greet people and they would come up to me. Mothers would say 'you saved my daughter's life; your song affected her so much that she is not depressed and miserable anymore. She is happy and can smile again.' Hearing words like that really affect me as a songwriter. I just want people to enjoy the music, but if they can also take something from it and if the music can help them in their personal lives, that's even better.
Q: Do you think it's helped in terms of attitudes and self-esteem?
A: I do think so. It's definitely created movement in that direction. People couldn't stop talking about it so I hope it helps girls. So far, from what I heard, it has helped girls and I've got a lot better about my appearance myself. It's crazy because you can see that in photos of me. I was comparing pictures of me nowadays to pictures of me from high school the other day. My younger brother (Justin) and my older brother (Ryan) were sitting with me looking at the photos. My older brother said: 'this is a young, insecure Meghan and this is a confident, beautiful Meghan,' even if I didn't have 'glam' [makeup] on in the picture, you can just see that I am a confident person and you can see how my face is lit up and how much happier I am, compared to when I was insecure and I hated myself.
Q: You mentioned your family. What was it like filming your music video with them for 'Better When I'm Dancin'?
A: Having my family in the music video was my favourite part. It didn't feel like a long day of work. It just felt like I was dancing with my dad and my cousins and I've never been happier on set. It was honestly the coolest thing ever. I was so happy they let me do it. It was magical.
Q: How have your parents inspired you?
A: They're special. A lot of parents get divorced nowadays but my parents are strong and they love each other and I don't see them ever breaking up, and that's something my brothers and I really look up to and find inspiring. We want to find partners that we can spend our lives with, just like our parents did. Also, the amount that our parents love us is ridiculous. Everyone, all my friends, see it. They always say, 'wow Meghan, no one loves anyone more than your mother and your father love you.'
Q: How much have they encouraged your career? I believe you started playing music with your dad in church?
A: Yes I used to sit next to him at the organ, he still plays for our church. That was our thing. I would go every Sunday with him and watch him play and help him out. There were a lot of bonding experiences that were musical and emotional with my family. My mother and I were the 'car ride singers', you know, we would jam some Billy Joel and Wilson Phillips and that was our bonding time. There was always music and love with our parents. It was very special.
Q: You are a role model to many young people. Who are your own musical role models?
A: I love great songwriters. Bruno Mars started out as a songwriter and I respect that the most. I respect true artists who create everything themselves and decide what they want to say to the world. Those are my idols.
Q: Returning to the film, Snoopy is a dreamer in the film. What are your dreams? You've achieved so much so young.
A: My biggest dream right now is Number One to win a Grammy and Number Two, to start an acting career. That's a big dream of mine. I'm going to get an acting coach very soon. And another dream is to have a beautiful family of my own one day and to be happy.
Q: Finally, what advice do you have for young people in terms of going for their dreams?
A Don't ever stop dreaming even if people tell you that you'll never make it. When I had a publishing deal and I was literally being paid to write songs, I still had people telling me, 'well, you should go to college, you should teach music because you're so good at it and that's probably all you'll get to do,' but I kept going and then finally I became really famous and everyone came back and said 'oh, we knew you'd make it!' So you might not have everyone on your side all the time, but prove them wrong and prove to them why you're supposed to be here!
'Snoopy and Charlie Brown: The Peanuts Movie' is available to own now on Digital HD™ and on Blu-ray™ and DVD, courtesy by Twentieth Century Fox Home Entertainment.