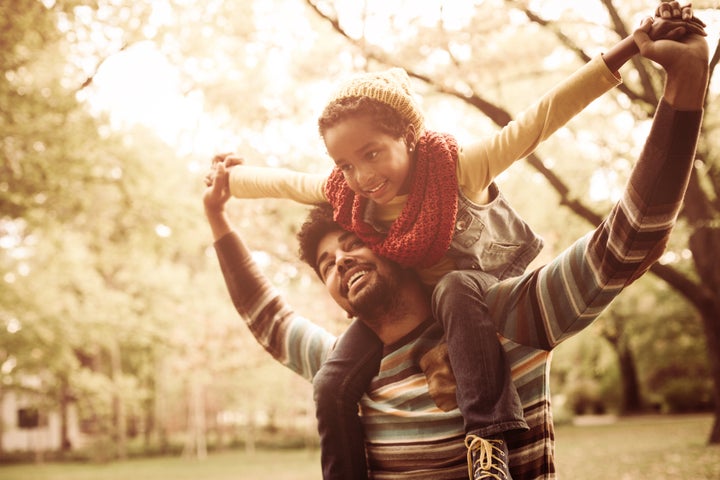 Peppa Pig is political. The parenting hat trick. The paternity gap.
I enjoyed making up new buzzwords and catchy phrases in the course of writing my latest book, Dads Don't Babysit.
But behind each one is an important point about the role men play in their families' lives and some serious solutions to change things and genuinely make life better for everyone. Actually everyone. I know, it's quite the ambition.
Let's start with Peppa Pig, the kiddie entertainment behemoth. If you have kids it's likely they watched the series, if you're about to have kids you're going to be introduced to Peppa and her family whether you like it or not, even if you hate children and never want a family the chances are you've been forced to listen to an episode of Peppa Pig played on an iPhone on a busy bus or train. When it comes to silencing fractious children it's invaluable.
However the patriarch of the pig family is a buffoon and it's this that bothers me. Because Daddy Pig is not alone.
Think of dads on TV and the chances are he's fun, active and inept.
Homer Simpson is surely the most famous father on the planet. And yet he's also probably the worst example of a dad.
This matters. Kids trying to make sense of the world and their place in it see these shows and swallow the stereotypes. Adults do too. Men get the message that looking after your children full time is odd.
Culture is catching up. Two recent hit shows featured dads that do the majority of the childcare. These were Kevin in BBC comedy Motherland who was wet and pathetic and Joe Miller in Broadchurch who killed people. The message is clear. Only weirdos look after their own children.
And this is a shame because of the parenting hat trick.
Men who engage fully with family life score three times (and I don't mean in the bedroom, though equal partners have a better sex life).
Secondly, their partners benefit. Women who enjoy equal parenting are in line for better mental health and if they don't need to take so long out of the workplace to look after a baby because their other half is doing their share then they won't be hit by the lifelong pay penalty that accompanies taking 12 months of maternity leave.
Thirdly, the kids benefit. Children whose dads are fully engaged in family life grow up smarter, happier, less likely to get in trouble with the authorities and – my personal favourite – have a less gendered outlook on life.
There's a fourth benefit – the economy could benefit to the tune of half a trillion quid from a more productive workforce and more women returning to work. But 'the parenting hat-trick plus one other thing' wasn't so catchy.
And yet the paternity gap still exists. This is the term we coined for the difference between what men say they want and the reality.
Polling data shows a witheringly small number of people think mum should do most of the parenting. Most folk think it should be shared. A growing number of men, particularly among millennials, yearn for a better work life balance and are keen to trade a higher salary for more time with their family.
Yet in the vast majority of households it's the woman that takes on most of the childcare, and all the other domestic tasks, and the man goes out to work full time and brings in the lions share of the income.
Luckily myself and my co-author David Freed are solutions guys. We know how to close the gap and present in Dads Don't Babysit a manifesto for a more engaged fatherhood and roadmap of how to get there.
We want to see men's paternity leave entitlement boosted to match women's – up from just a fortnight to six weeks at 90% of full pay. That means he's not missing out on time with his baby and she's not expected to deal with a newborn full time after just a fortnight.
We want shared parental leave publicised and expanded including a 'use it or lose it' element especially for men to encourage them to use their entitlement.
Flexible working should be encouraged. Men aren't discriminated against much but remarkably a woman asking for a flexible working arrangement to fit around her childcare needs is likely to be accepted while a man doing the same will be turned down.
We want Ofcom to monitor kids' telly for poor role models like Daddy Pig and, perhaps our biggest ask, The Simpsons should be banished to a time in the TV schedules when kids won't be watching.
And we achieve all this by men stepping up and taking three simple steps – act, talk, agitate.
Act by modelling the alternative. Use your entitlement. It's appalling that up to a third of new dads don't even use the full fortnight of paternity leave they are currently allotted. And if you're leaving work to collect the kids from nursery say so, don't pretend you've another meeting offsite or a dentist appointment. Every man who does so makes it easier for others in their workplace to do the same.
Talk to your partner before your child arrives about how you're going to split the childcare when it does. Afterwards talk to your male friends honestly about parenting. Avoid falling into the banter trap that revolves around the drop off in your sex life and talk up the joy of making and raising your own people.
And agitate. David Lammy, chair of the All Party Parliamentary Group on fatherhood in parliament, told us that people who care about change must 'get in their MPs face'. Email them, ask them to support measures that will improve dads lot when it comes to parenting.
When women fought for the vote a century ago they had to struggle just to be heard and in the struggles since that's not changed. Men have no such worries. That's not fair but it's how it is.
Male voices get listened to in the corridors of power.
It's time to speak up for equal parenting, and a more equal world.
James Millar is a journalist and author. His latest book Dads Don't Babysit by James Millar and David Freed is published 14 September by Ortus.