Men are notoriously bad at opening up and showing emotion - and it's costing lives.
New research shows that there's a persistent gap between how men and women view mental health. One third (31%) of guys say they'd feel embarrassed about seeking help for a mental health problem. Meanwhile just 34% say they'd feel comfortable talking openly about their feelings.
And with suicide being the the leading cause of death among men under 45, it's more important than ever.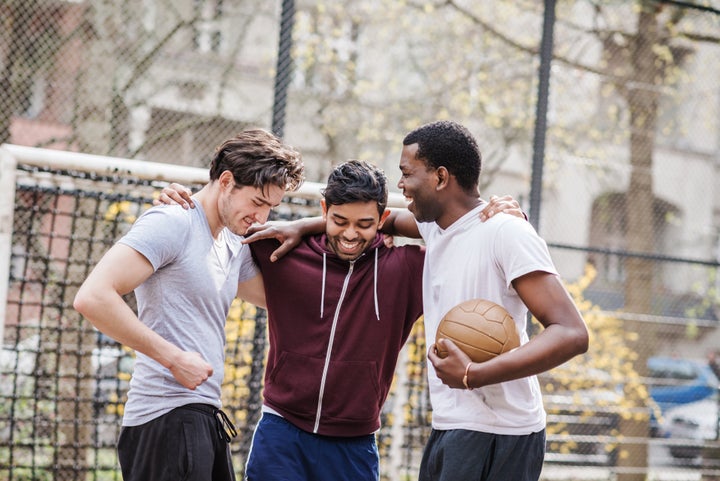 One of the men who appears in the campaign has spoken about just how vital friendship is in recovering from a mental illness.
Matthew Williams, 42, from Middlesbrough first experienced depression when his ex-wife suffered a miscarriage. Shortly after, he suffered a breakdown at work.
In 2013, he experienced a second depressive episode that lasted four months.
"I wouldn't wish how I felt on my worst enemy," he said. "I had been facing some pretty big pressures in my life and I didn't recognise who I was and didn't have the ability to smile and laugh – as if a surgeon had cut it out."
The club support officer for England Boxing said that his two close friends, Craig and Simon, helped him through it.
"I'm very lucky to have two lifelong friends who have been a huge support to me when I was ill," he explained.
"I've always talked to Craig about everything. Simon, while we had never really talked a great deal about personal things, showed me he cared in other ways, by getting me out of the house regularly to play darts, giving me a short break from everything that was going on in my head."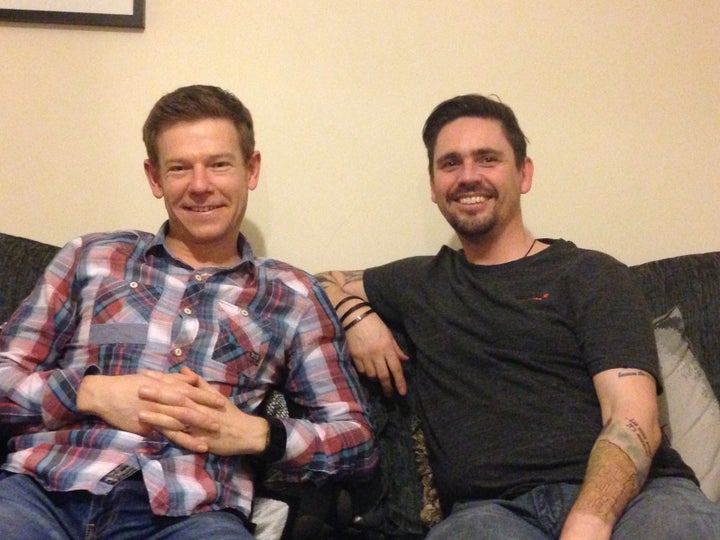 His friend Craig Wood said he was in "complete shock" when Williams - who he'd known since they were boys - opened up about his mental illness.
The pair hadn't seen each other in a while, but had planned to visit Leeds Festival together. When Williams went to pick up Wood, his friend immediately knew something was wrong.
"He looked like he had not slept for a week, his eyes were empty and expressionless, and he struggled to reply when I asked him how he was," Wood recalled. "I simply got a shake of the head and a garbled 'not good'.
"On the drive down, Matty proceeded to tell me about the dark place he was in. He found it difficult to speak and string a sentence together, and I found it hard to find the right words.
"Here was my mate who I thought I knew as well as anyone, the life and soul, the one with the all the wisecracks, the one with the 'gift of the gab', and he could hardly speak, never mind describe how he was feeling."
For Williams, it was vital that his mate was there to listen to him. And this is something that Time To Change hopes to encourage more of among men.
According to research conducted for its new campaign, there are a number of barriers preventing guys from opening up about mental health. Firstly, men feel less knowledgable about it as a whole, and have more negative attitudes towards it than women.
They are also far less likely to report their own experiences of mental health problems, are unlikely to discuss these problems with a professional and are more likely to say that mental health problems are the result of a "lack of self-discipline and willpower".
Williams said he believes men are often scared to admit they are struggling as it comes across as a sign of "weakness". And he's not wrong, in fact one in five (18%) admit they see others showing emotion as weak.
"I think men worry about how admitting to mental illness will affect their future, for example their job and their relationships," he explained.
"It helps that more men in the public eye are beginning to talk about their experience of mental health problems. Even so-called 'macho men' like Ricky Hatton, Tyson Fury and Frank Bruno have all spoken candidly about their struggles with depression.
"The more of us that speak out, the more normal it will become."
Jo Loughran, director of operations at Time to Change, said they hope the campaign encourages men that being in their mate's corner doesn't have to be "difficult or awkward".
"Breaking the cycle of men feeling unable to reach out has never been more urgent," said Loughran.
"We need to help men realise they can make a real difference, even change someone's life."
Useful websites and helplines:
Mind, open Monday to Friday, 9am-6pm on 0300 123 3393
Samaritans offers a listening service which is open 24 hours a day, on 116 123 (UK and ROI - this number is FREE to call and will not appear on your phone bill.)
Get Connected is a free advice service for people under 25. Call 0808 808 4994 or email: help@getconnected.org.uk