Warning: some may find the images in the article graphic.
A mum has spoken of her horror after a tiny 'bruise' on her daughter's chest turned out to be a life-threatening infection.
Sarah Parkyn's four-year-old daughter Jazmyn was hospitalised for a month following her diagnosis with meningococcal B, which can lead to meningitis and sepsis.
Jazmyn, from Renmark in Australia, had to have 15 skin grafts to remove the dead tissue the illness left behind.
Her parents, Sarah Parkyn, 32, and Aaron Parkyn, 35, are now campaigning for vaccinations against meningococcal B – the strain of the disease that almost claimed their daughter's life – to be added to the immunisation list.
Currently the jab is only available privately in Australia – something they say they were never told by doctors.
"When doctors told us Jazmyn had meningococcal B, it was a complete shock," said Mrs Parkyn.
"She was completely up to date with her immunisations, but we had no idea that this didn't include being covered against the B strain."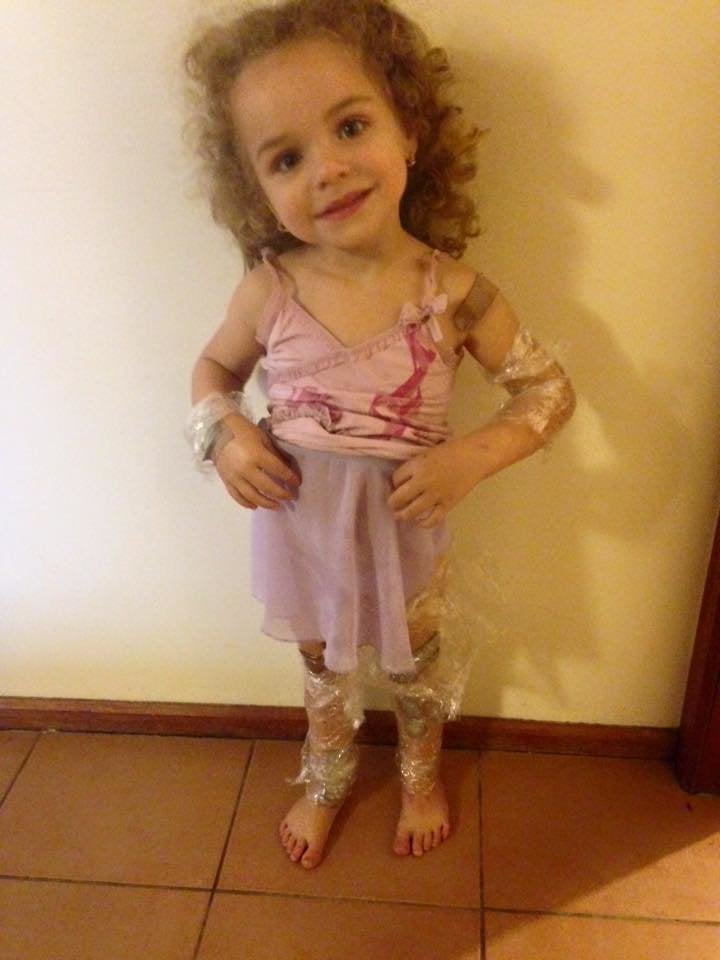 In the UK, the Men B vaccine currently offered protects babies against infection by meningococcal group B bacteria, which are responsible for more than 90% of meningococcal infections in young children.
"At the moment in Australia, you have to pay for it privately, which we would have done had we known," Mrs Parkyn explained.
"All those times we'd been to the doctors to discuss immunisations, and nobody ever mentioned it.
"This disease can cost people their lives or limbs, or cause major scarring. Shouldn't that be enough of a reason to put it on the national immunisation programme?"
Prior to contracting the illness, her parents said Jazmyn had appeared fit and well.
In August 2015, her mum said she woke late at night with a fever.
As the family had previously been suffering with the flu, Mrs Parkyn initially put her daughter's symptoms down to that.
But the next morning, the toddler appeared groggy and lethargic.
Then, when her mum tried to pick her up, she began to scream in pain.
"She couldn't stand anything touching her legs. She just kept screaming," said Mrs Parkyn.
"I noticed a couple of marks on her legs, but it ljust ooked like a heat rash."
Concerned, Mrs Parkyn took Jazmyn to her GP.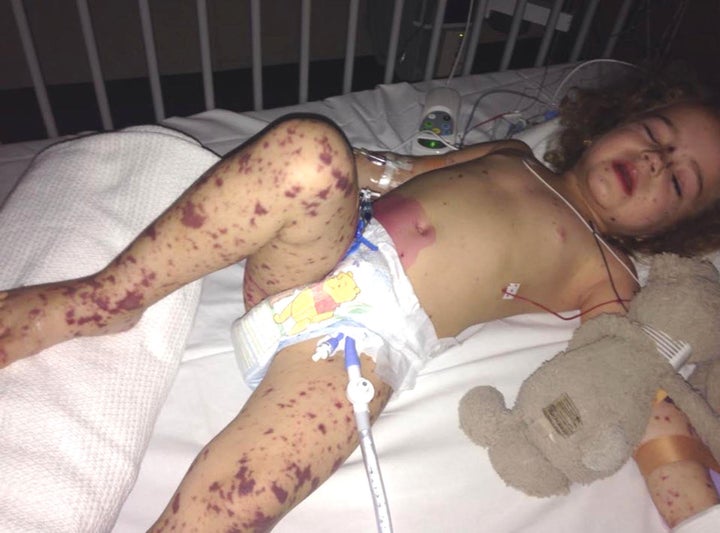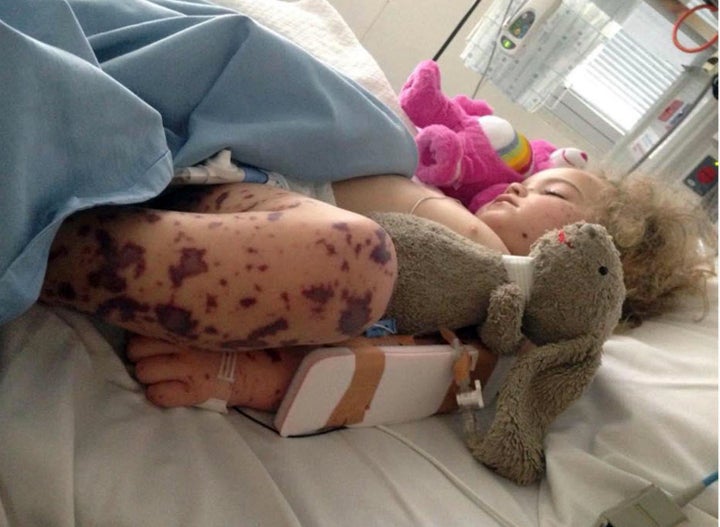 While assessing her, the doctor noticed a tiny bruise-like spot on her chest, and immediately told them to go to hospital.
There, she was given fluids to try and bring down her 40 degree temperature.
Just hours after she had arrived, she suffered a terrifying seizure.
From there, doctors officially diagnosed her with meningococcal B and she was rushed to Adelaide's Women's and Children's Hospital.
In that time, dark spots began to spring up all over her body.
"The morning we got to Adelaide, Jazmyn only had one tiny spot on her chest – but by 10pm that night, they were everywhere," her mum explained.
"Slowly, the medicine started to work. I remember saying to the nurse, 'Is she out the woods now?' But she replied, 'Not quite' and told me that, with this disease, things can take a sudden turn for the worst.
"That's when it hit home how serious things were. It was really scary to hear."
Eventually, having grown a little stronger, Jazmyn was moved out of intensive care and sent to another ward to recover.
There, she underwent a series of scans and blood tests to assess if there was any major organ damage – which thankfully all came back clear.
In total, she remained in hospital for four weeks.
She also had to undergo a series of skin grafts, during which flesh was taken from her upper thigh to cover the deep welts of dead tissue the meningococcal had left behind.
"I thought the spots on her legs were just bruising, and that they'd go away," said Mrs Parkyn.
"But they were actually dead tissue. She's had about 15 skin grafts in total, but she's a very tough, resilient little girl."
Now, Jazmyn has recovered.
She regularly returns to hospital in Adelaide where she attends a scar clinic to make sure her legs are healing.
Her parents have recently sent off a petition to Australian parliament urging them to introduce a vaccine against strain b as standard.
"People seem very glad to hear our story," said Mrs Parkyn, who is also mother to Rihanna, nine and Elise, five.
"We get people telling us they thought they were fully vaccinated, but have now realised that strain B isn't covered.
"The word is getting out there. We just want to make sure nobody else goes through what we have.
"We'll always be grateful to the GP that first saw Jazmyn. If he hadn't seen that bruise on her chest and realised what it meant, this could be a very different story."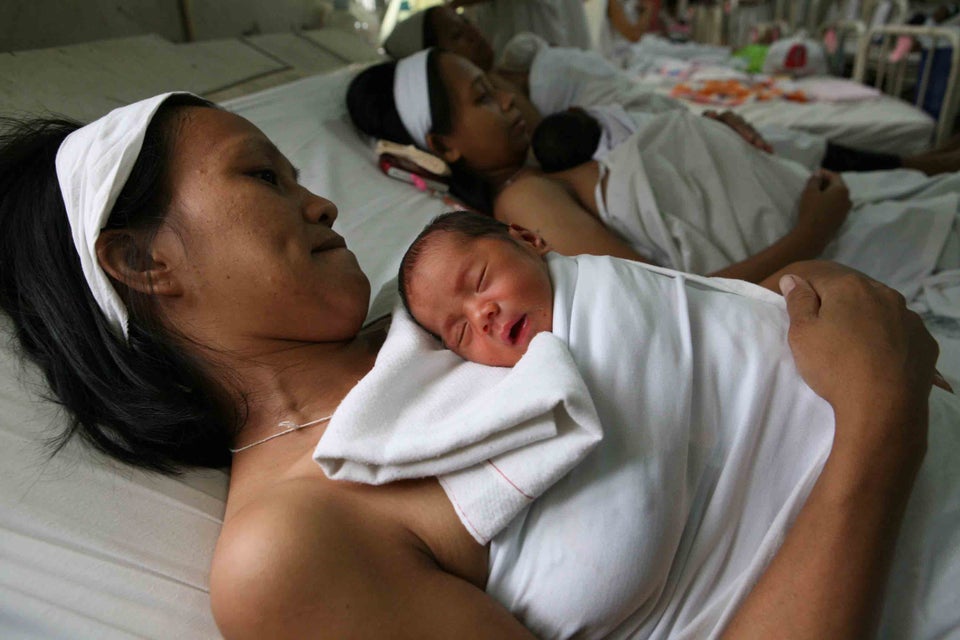 10 Reasons Why Maternal & Child Health Matters