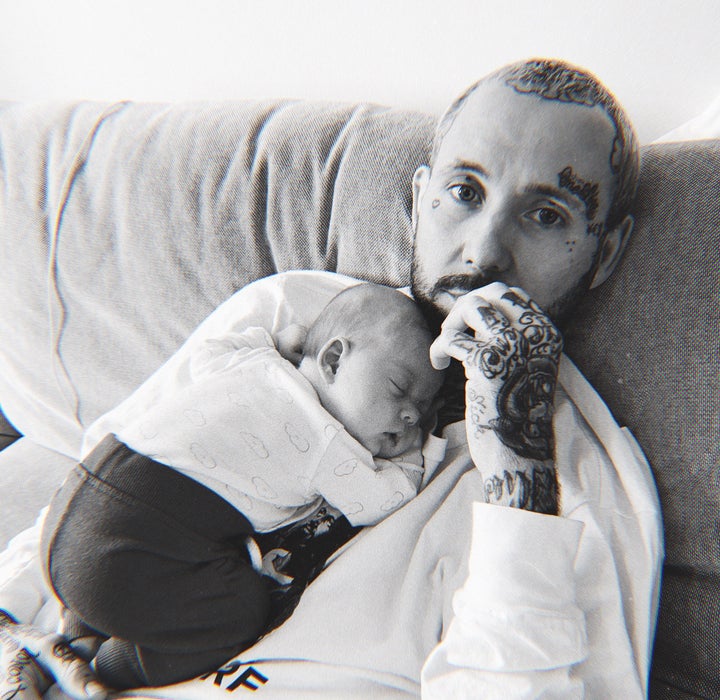 Metal dads are awesome – partly because if you've been in a metal band you've already got loads of parenting practice in. Both involve loads of screaming, sleepless nights and pushing service station bathrooms to their absolute limits.
There's also something inherently brilliant about seeing a dude who is covered in tattoos, wearing an Eyehategod shirt and pushing an adorable little kid on a swing, or wiping candy floss off the Bolt Thrower patch on his 'battle vest' after a lovely day out at the seaside.
So, HuffPost UK spoke to four bona-fide metal lifers who are as comfortable changing nappies as shredding; as familiar with Sleeping Beauty as Slayer.
'Even my son's teachers have embraced it'
Wez Four is the frontman of Dripback and dad to Luca, six, and 10-month-old Lucy. He lives in Sweden and is also a tattoo artist.
My wife and I are the only heavily-tattooed parents at daycare and there can be weird looks. I used to be a bit cautious of the teachers – I didn't want any prejudice towards me to rub off on how my child was treated.
But once they realised how bright my kid is, and how well we get on, they've embraced it and often ask how the band's going.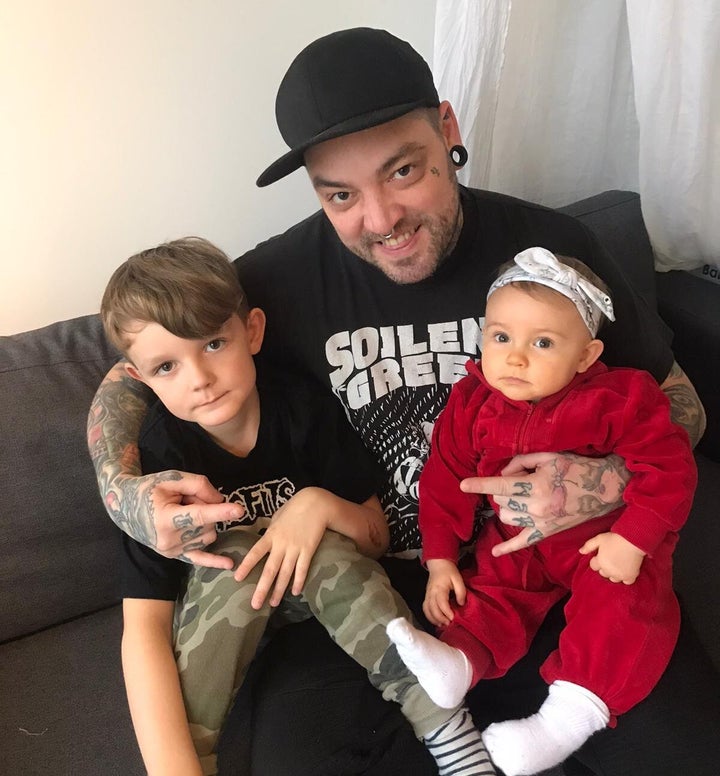 Sundays have always been about vinyl for me. Ever since we brought my son back from the hospital, he'll sit on my knee and we'll listen to a bunch of grindcore vinyl doing air-drums. My daughter likes Pig Destroyer and Nasum, but Horse Bastard makes her cry. My son has really attached himself to Pantera's Cowboys From Hell and Kill 'Em All by Metallica. He's listened to Dripback but his verdict on our new album is "it's not all that".
Things that were never on my list of things to do? I've pretty much memorised all the Pokémon and I've got really into this show on Netflix, Larva, about these two bugs that just fart and vomit on each other. I'm obsessed with it. And I'm even back into Teenage Mutant Ninja Turtles.
Luca's had a drum kit since he was two. We got him a really tiny one, which he trashed, and now he's got a children's drum kit. I can't play drums, so it would be nice if we could tour like one of those weird Christian family bands with bad haircuts. That's the dream.
'I think we've kept our kids fairly grounded'
The first time my son met Marilyn Manson, Manson took him aside and said, "Your dad's never told you this, but I'm your real father".
Harry's been to Reading Festival every year since he was a bump. I see way more bands going on tour with their kids now, too, especially at festivals. When I was in A, people would be amazed to see a little kid with me. Now there are so many people with their kids and high-end ear defenders. It's kind of cool.
I've got into loads of music through my son. I got into Yung Lean by being told to go upstairs and make him turn his super-loud music down. I was like: "Can you turn this down a couple of notches; also, it's wicked, who is this?"
Harry's into metal as much as he is into hip-hop, while Lola's obsessed with Billie Eilish and Charlie XCX, but if you put an Against Me! record on she'll know every word. Billie Eilish played Reading, so we watched it from the side of the stage and Lola was stoked. But I think we've given our kids a fairly good grounding, where neither of them have ever been like, "Well, of course I'm meeting Dave Grohl, that's just the way it is". They've been like: "This is sick".
My mum and dad were super supportive of my drawing and music, but when I was at school, those things weren't seen as ways of actually making a living. I guess my kids are growing up in a way where certain things that didn't seem possible when I was a kid seem a bit more possible to them – that you can try and do things you're passionate about as a career.
There might be a Marilyn Manson print here and there in our house, but we're not going, "Ooh, would you like some more blood in your goblet?"
'My daughter's made me a Peppa Pig fan'
Deez Nuts frontman and solo artist JJ Peters is dad to Joseline, six, and six-month-old Misha. He lives in Australia.
The biggest adjustment since becoming a parent has been learning to balance the chaos of my professional life with getting home to what really counts. I'm lucky to have a fiancée who balances her work with mine so we can share the weight of taking care of the kids while getting our jobs done. Having a newborn and operating on no sleep was easier after years of sleeping very little on tour.
I've looked kind of 'crazy' and heavily tattooed for so long I've become oblivious to people's strange looks, but I do sometimes get scrutinised more then other people – like when I'm flying alone with my daughter. That bums me out.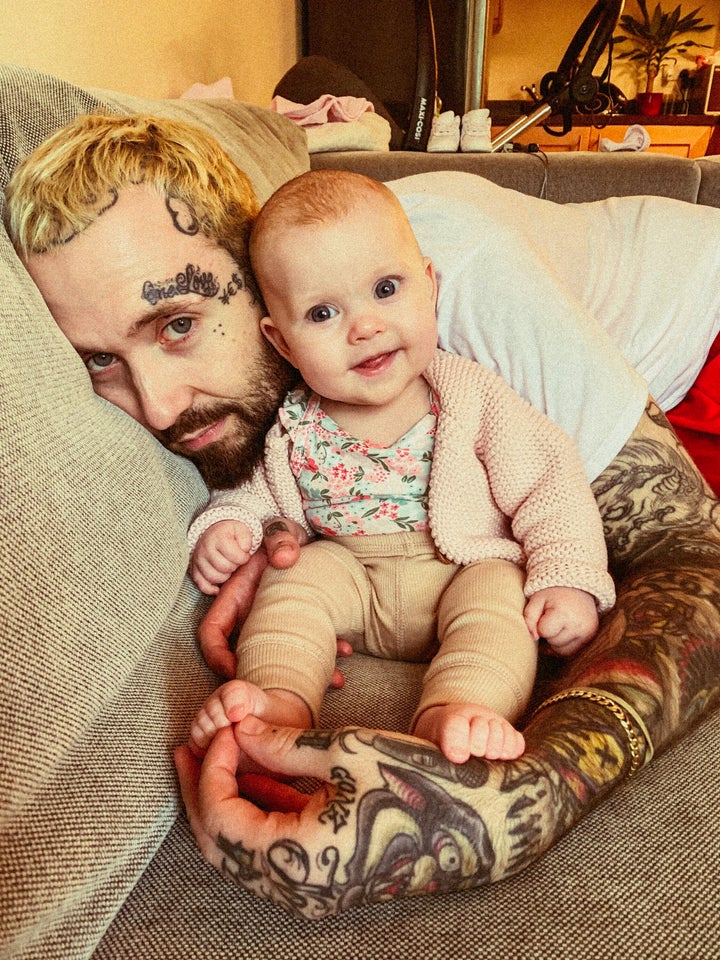 My six-month-old loves this kids YouTube music channel Little Baby Bum on repeat, which is like a form of audio torture for an adult – but my six-year-old loves Billie Eilish, which I think is super dope.
She's seen me play, and our new song Crooked Smile was the first one she actually liked. She said she wanted to start a band after she heard it, which was sweet. And, thanks to her, I became a fan of Peppa Pig.
I'm raising my kids vegan, and nobody in my world questions it. I'm doing the right thing for their health and the planet. It's 100% easier than it was when I was a child – back then vegetarianism was still seen as strange, while now it's commonplace. In school I failed Home Economics for not putting meat on the pizza we were taught to make. I don't think that would happen today.
In the process of teaching your kids everything from the ground up, they inadvertently teach you new things constantly. You learn about yourself, about life, and about how important little moments of joy are in the big picture. My kids make life worth living.
'I now say "flip an egg" instead of swearing'
I was never homesick on tour before becoming a father – that's completely changed. Now, if we suddenly heard the last three days were cancelled, I'd think "Awesome, I can get back to Annora!" – before remembering that cancelled gigs aren't great news.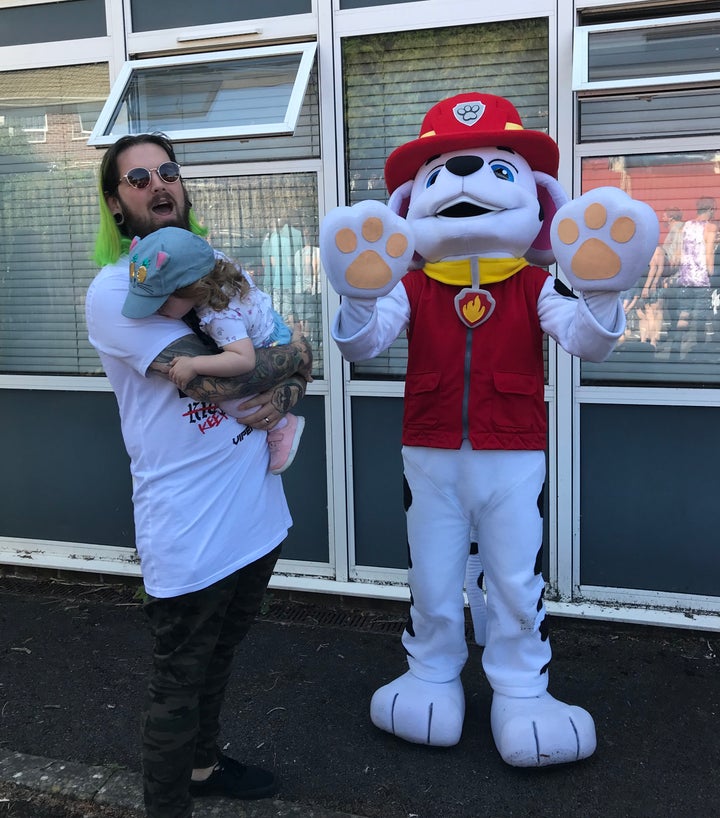 My daughter loves music, and we do a lot of music-oriented play. We were doing bath-time the other day and she asked about a tattoo on my leg. I said it was Lady Gaga, and she said, "Like Radio Gaga?" and started singing the Queen song. I've no idea where she heard it. I also heard her singing Good As Hell by Lizzo, which she must have just heard on the radio.
She picks up lyrics amazingly quickly but she's completely ambivalent about my band. You'd think a kid would hear metal and either love it or hate it, but she listens to it as what Daddy and Uncle Dan and their friends do. She knows it's us but doesn't think of it as music.
I love her mispronouncing little things. She loves the song Lucy in The Sky With Diamonds, and I told her it was by The Beatles, and a few days later she asked me to play the song by The Bugs. And, in trying not to swear, I started saying "Flipping heck", which she turned into "Flip an egg", and I say that now, too.
The most useful parenting skill I've picked up from being in a band is not growing up. You remain in your twenties a lot longer in terms on mentality. You're dealing with younger fans, in a world without structure, so it isn't a huge disruption to suddenly have your days dictated by a toddler.
Interviews by Mike Rampton.