Coronavirus has changed everything. Make sense of it all with the Waugh Zone, our evening politics briefing. Sign up now.
According to The Sunday Times, the prime minister missed five meetings of the emergency Cobra committee as the scale of the threat grew.
The newspaper also claimed the government missed a series of opportunities to try and lessen the impact of the outbreak in February and March.
Speaking to Sky News' Ridge on Sunday programme this morning, Gove said Johnson had in fact been giving "inspirational" and "clear leadership.
"There are one or two aspects of the Sunday Times report that are slightly off-beam," he said.
The Cabinet Office minister refused to issue a "point by point" rebuttal of the story, but defended the PM's leadership.
"The prime minister took all the major decisions. Nobody can say that the prime minister wasn't throwing heart and soul into fighting this virus," he said.
Gove added that Johnson, who is recovering from hospital treatment for coronavirus, was "in cheerful spirits".
Jon Ashworth, Labour's shadow health secretary, said Gove's description of the story as "off beam" was "possibly the weakest rebuttal of a detailed exposé in British political history".
The Sunday Times quoted a senior Downing Street aide, who was not named, as saying of Johnson: "There's no way you're at war if your prime minister isn't there.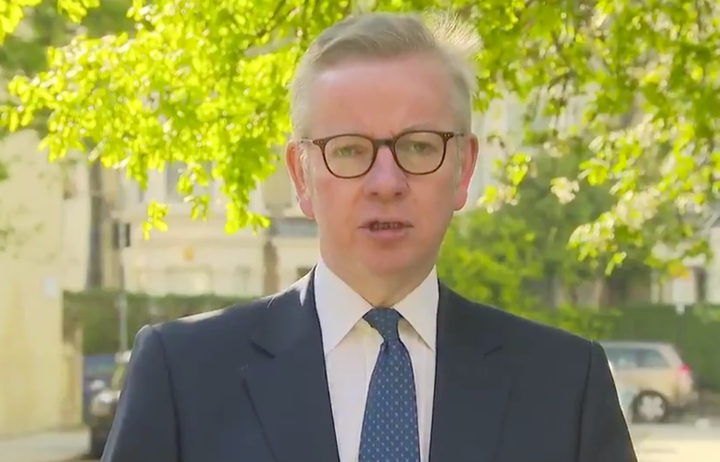 "And what you learn about Boris was he didn't chair any meetings. He liked his country breaks. He didn't work weekends.
"It was like working for an old-fashioned chief executive in a local authority 20 years ago. There was a real sense that he didn't do urgent crisis planning. It was exactly like people feared he would be."
Johnson was treated for Covid-19 in intensive care at St Thomas' Hospital in London earlier this month and is now recuperating at his country estate Chequers.
The comments came as controversy continued to grow over the insufficient levels of personal protection equipment (PPE) for frontline NHS staff, and criticism that not enough people were being tested for the killer virus.
Healthcare staff treating positive patients have been given guidance that they should wear long-sleeved disposable fluid-repellent gowns but, because of shortages, they have just been advised they could be asked to reuse PPE or wear aprons.