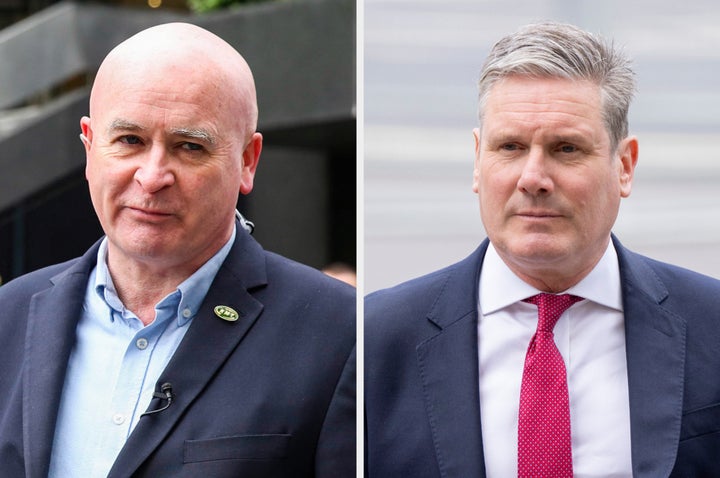 Transport union boss Mick Lynch has warned the Labour Party risks becoming a "bland version of the Tory Party" as he accused Keir Starmer of conducting a "purge" of left-wingers from the party.
The RMT transport union boss was asked about comments by former shadow chancellor John McDonnell when he appeared on ITV's Peston programme.
The close ally of Jeremy Corbyn had accused the Labour leadership of allowing a "right-wing faction" to become "drunk with power" and attempt to "destroy" the left of the party.
Pressed on whether he backed Starmer, Lynch said: "I don't have confidence in him."
He went on to vow that his RMT union, which is not affiliated to the Labour Party, would "prod and pressure" Starmer to deliver for working people "rather than delivering the agenda of the Daily Mail or the Telegraph, or being a bland version of the Tory Party".
Starmer has been accused of trying to squeeze out left-wing voices in candidate selection in recent months.
The union chief told Peston: "The left is being purged and we need a balance.
"We've got people in the centre, people in the traditional right have got their place and the people on the left should be able to put their ideas forward.
"Many of the ideas that John McDonnell put forward during the last couple of election campaigns have come to fruition, such as broadband being something that everybody in the country needs — people need digital access."
He continued: "That we can control the power of the utilities companies and that our water companies are completely corrupt, as we've found out in the last couple of days, and that public ownership is good in and of itself.
"Those kinds of ideas have come back. Keir Starmer needs to be putting some of those ideas forward in terms of housing, funding our NHS and turning this country around so that people can believe in him, rather than triangulate around what he thinks Middle England thinks.
"He needs to deliver for working people — that's his job, and he needs to show that he is going to get on with it."