Mike Ashley, the founder of Sports Direct, has a new hands-on job at the company, and critics of the beleaguered boss aren't amused.
Ashley is devastated after the surprise resignation of its CEO Dave Forsey on Thursday.
Ashley will move into the CEO role himself after Forsey stepped down, and said he feels like he has "lost his right arm", prompting comedian David Schneider to joke that "according to Sports Direct rules, [that] is not a reason to pause working."
The sports retailer has faced a torrent of criticism over subjecting workers to "appalling" conditions, where MPs claim some weren't paid the national minimum wage.
Others claimed they were offered contracts in exchange for sexual favours.
The founder's right-hand man had given his "entire working life" to Sports Direct for over 30 years.
Ashely will take over as CEO with immediate effect. "I feel like I have lost my right arm, he said, "but I do hope to have the opportunity to work with Dave again in the future."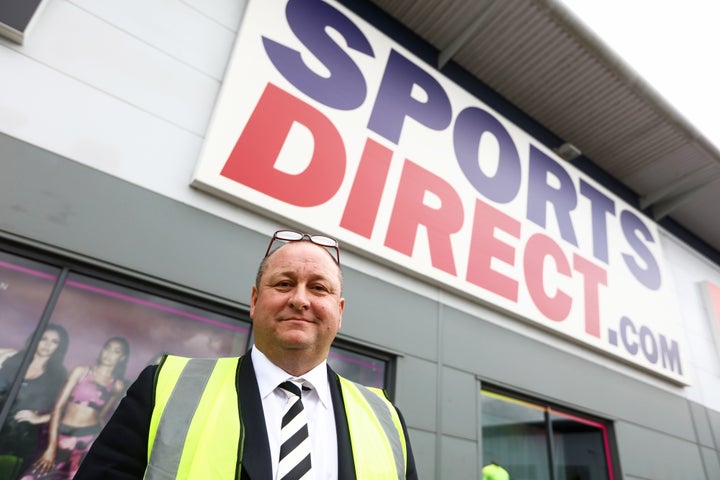 One commenter online joked that Ashley showed "great versatility" by moving into the CEO role, calling him the "James Perch of the board room" in reference to the Queens Park Rangers player who is known for being able to switch position.
Sports Direct's employees are treated like "commodities" instead of human beings and it operates more like a "Victorian workhouse" than a high street chain, a damning report from the Business Committee said.
George Salmon, an Equity Analyst at financial services company Hargreaves Lansdown, said: "After the inquest into working practices and a shareholder rebellion at this month's AGM, it is perhaps unsurprising that there has been some changes at the top of Sports Direct.
"Dave Forsey is the man to go, resigning as Chief Executive. There's no prizes for guessing who has stepped in to pick up the slack, with Mike Ashley replacing him with immediate effect.
"It's not clear how much of a change in direction this will actually be for Sports Direct. Indeed, with Mike Ashley now officially back at the top of the tree after stepping across from Executive Deputy Chairman, many will see this as welcome clarification of the company's leadership."
Forsey said he had "given my entire working life to the company" which had given him "amazing opportunities and experiences".
A statement from Sports Direct on Friday said: "The Board of Sports Direct announces that Dave Forsey resigned yesterday as Chief Executive and as a director of the Company.
"The Board has appointed Mike Ashley as Chief Executive with immediate effect. Mike Ashley will continue to be supported by the existing executive management team, and Dave Forsey has agreed to facilitate a smooth handover of his responsibilities."