A row over free speech has erupted after a talk by alt-right journalist Milo Yiannopoulos at his former secondary school was cancelled over fear of protests.
Yiannopoulos, an editor at far-right news website Breitbart, had been set to speak to sixth form students at Simon Langton Grammar School for Boys in Canterbury on Tuesday.
However, the talk was cancelled after the Department for Education's Counter Extremism Unit consulted with the school over safety concerns and the "threat of demonstrations at the school".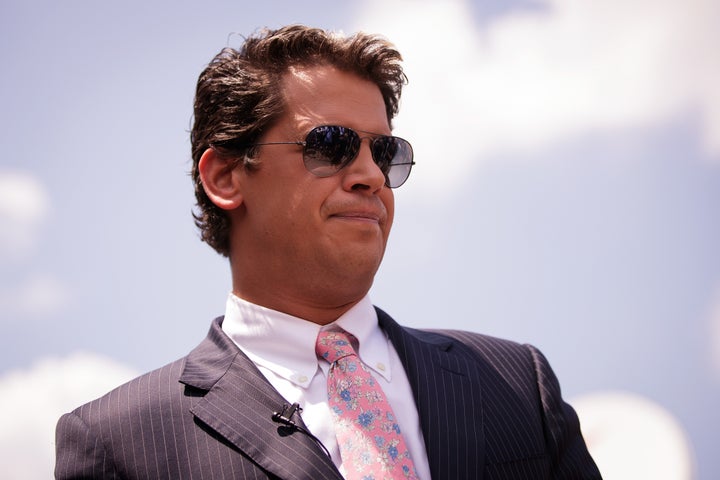 Yiannopoulos is a controversial figure. In the past, the 32-year-old has equated feminism with cancer, called Islam the real culprit of rape culture and said women who are offended online should just "log off".
But the decision of the Kent secondary school to cancel the journalist's talk has caused a major row over free speech.
The school said that more than 200 sixth form students had signed up for the event, with their parents' permission.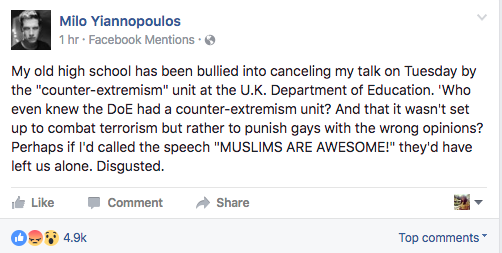 "My old high school has been bullied into cancelling my talk on Tuesday by the 'counter-extremism' unit at the UK Department of Education," he said.
"Who even knew the DoE had a counter-extremism unit? And that it wasn't set up to combat terrorism but rather to punish gays with the wrong opinions?"
The journalist added: "Perhaps if I'd called the speech 'MUSLIMS ARE AWESOME! they'd have left us alone. Disgusted."
A student at the school named Barnaby said that despite disagreeing with Yiannopoulos' opinions, he also felt the decision to ban his talk was "wrong".
"I feel the old adage applies: 'I disagree with what you say, but I will defend to the death your right to say it'."
Facebook user Sandy Starr added: "I'm convinced that the Counter-Extremism Units of this world will have occasion to rue the day when they used state power to shut down views deemed unpalatable.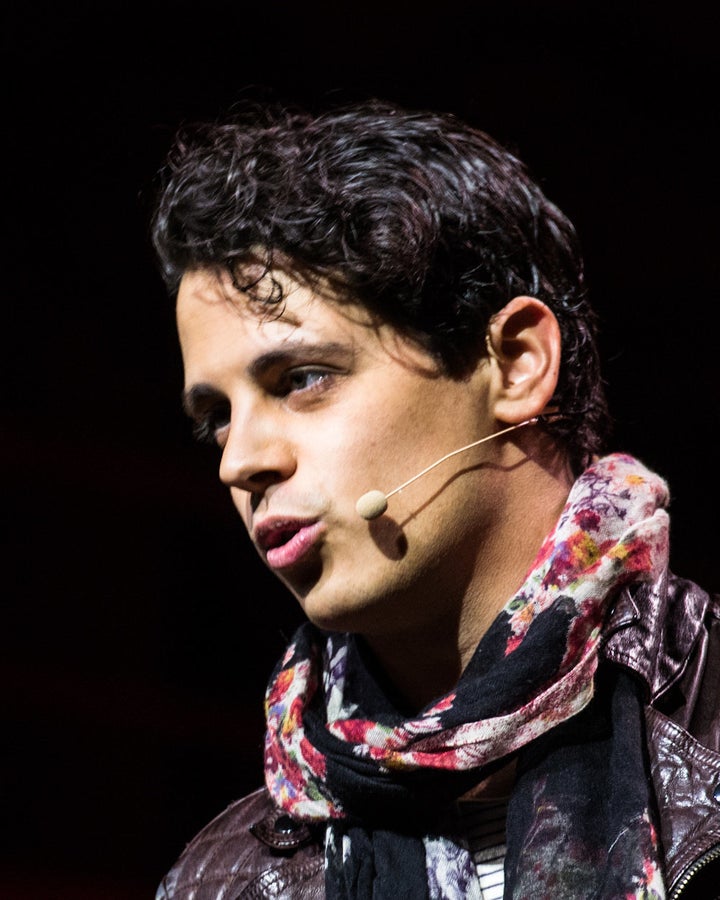 "If there's a reason why Milo and his colleagues have clout and infamy, it's precisely because you treat them like this. You bloody fools."
However, others have said there is no place for extreme views in Britain's schools.
"Inviting Milo to talk is not an example of 'supporting free speech' it is actively encouraging him to spout his far-right views to young men," Kit Caless and Gary Budden wrote.
"Simon Langton School is actively permitting and encouraging a proponent of hate speech to speak in their grounds."
The announcement of Yiannopoulos' appearance also led the National Union of Teachers to complain that he should not be given a platform, accusing him of being against "the British value of tolerance" and encouraging racism and sexism.
The grammar school, which expelled Yiannopoulos when he was a student there, said objection to the talk had come "almost entirely from people with no direct connection to the Langton".
"The staff and students of the school were overwhelmingly in favour," headteacher Dr Matthew Baxter said.
"While disappointed that both the pastoral care and intellectual preparation we offer to our students has been called into question, we at the Langton remain committed to the principle of free speech and open debate and will resist, where possible, all forms of censorship."