Students due to hear a speech from alt-right journalist Milo Yiannopoulos have written an open letter saying by cancelling the talk, those who disagree with his views have "vindicated him".
Yiannopoulos, often called a "poster boy for the alt-right", has made headlines in the past for comparing feminism to cancer and calling Islam the culprit of rape culture.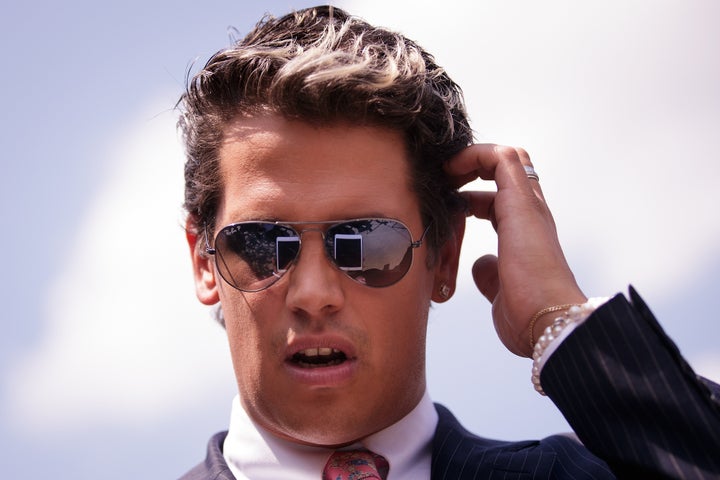 Yiannopoulos' Twitter account was also shut down earlier this year after he incited his followers to send racist and demeaning comments to Ghostbusters actress Leslie Jones.
Kent pupils have said they want the talk to go ahead, saying they "do not need to be protected from so-called 'indoctrination'".
In an open letter, the students wrote: "Our goal is not to support Milo, but to pursue the truth and interrogate rhetoric.
"If we do not, as a society, give the unpopular opinions a chance to be expressed, we are no better than the authoritarians that our liberal democratic society despises."
The sixth-formers, who had signed up for Yiananopoulos' speech with their parents' permission, said they wanted to confront the journalist's views with "cogent and incisive questions".
"By attempting to silence him, those who disagree with Milo have vindicated him by giving him national press coverage and reinforcing his accusation that our society is against free speech," the pupils added.
The letter has been signed by 221 students at the school.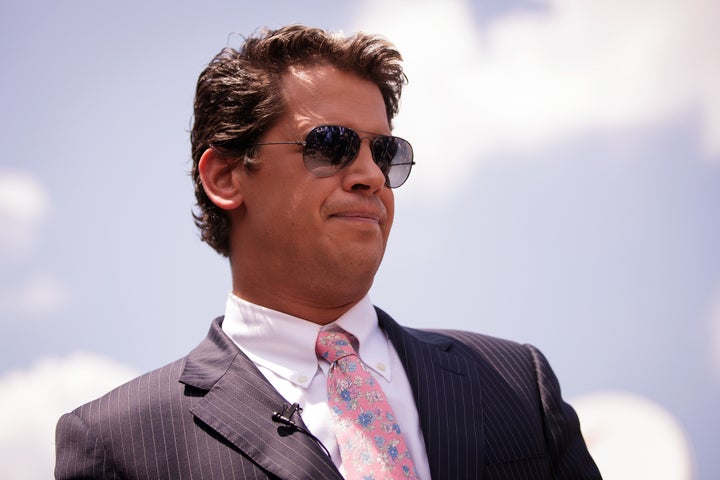 Former Langon pupil Daniel Appiah, who organised the open letter, said students wanted to prove that "we are not children anymore" after the head of the Kent Teacher's Union suggested they were not ready to challenge Milo's views.
"At a time when they want to get young people interested in politics, they should be championing us, not condemning us," Daniel added.
Parents at the school have also shared their outrage at the decision to scrap the speech.
Dr Joanna Williams, an education writer and academic with two sons at the school, told the Daily Mail that the talk was cancelled "thanks to a handful of busybodies with no connection to the school.
"We are all very disappointed. My sons are no Milo fans – they wanted to be able to challenge Milo's views. Langton sixth-formers would have been more than a match for him.
"Banning bad ideas does not make them go away. The censors have granted Milo more publicity than he would have got if his talk had gone ahead."
Yiannopoulos has been vocal on social media since his speech was cancelled, saying he was "disgusted" by the news, adding: "Perhaps if I'd called the speech 'MUSLIMS ARE AWESOME!' they'd have left us alone."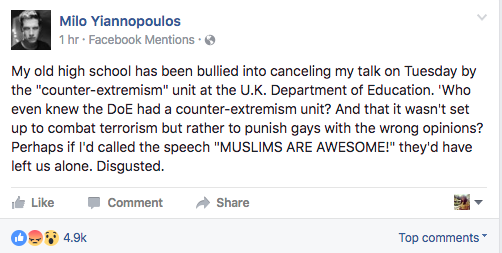 In a second post written yesterday he criticised the government's anti-extremism unit, saying it should "focus on terrorism, not harassing homosexuals".