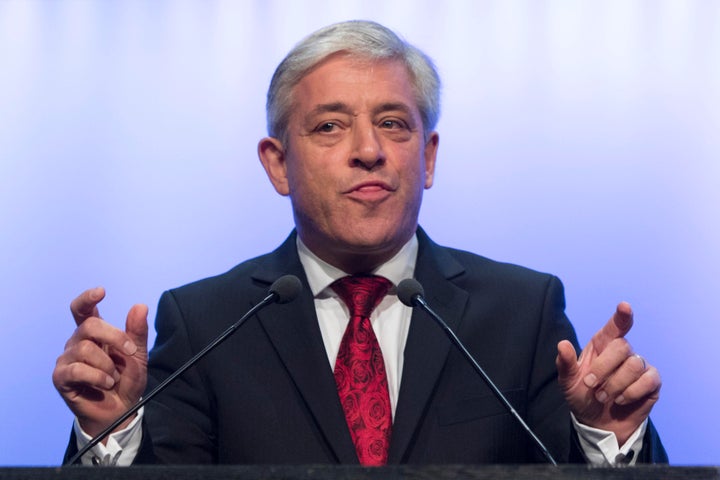 Ministers are supporting a move to oust John Bercow as Speaker of the House of Commons, the Tory MP behind the move has claimed.
James Duddridge tabled a no confidence motion following Bercow's decision to ban Donald Trump from speaking in parliament.
Tory MPs are also unhappy with the Speaker, who is supposed to be political neutral, for revealing his voted 'Remain' in the EU referendum.
Duddridge told BBC Radio 4's Today programme: "Ministers have been on the phone to be over the weekend, as well as backbenchers and people of all political parties, saying they will vote with me in the lobbies against Speaker Bercow. Enough is enough, we need a new impartial Speaker.
"You must not speak on policy issues; he's broken that rule, broken his employment contract with members of parliament. And if he doesn't, a vote will go ahead."
David Lidington, the Leader of the Commons, said on Sunday there would be a "strong" reaction from many MPs to Bercow having revealed which way he voted in the referendum.
Bercow was already under fire from some for branding President Trump a "racist and sexist".
The parliamentary website states the Speaker "must remain politically impartial at all times" - and many Tory MPs believe he has broken that rule.
Any vote of no confidence in Bercow will have to wait until the Commons returns from recess on February 20.
Bercow's spokeswoman said that how the Speaker cast his ballot in the Brexit poll, or Strictly Come Dancing, had no impact on his ability to deal fairly with all MPs.
"Mr Bercow voted in the EU referendum, along with millions of others. The record shows that he has rigorously facilitated the raising of concerns of those on both sides of this argument, as he does on every other issue," she said.
Opposition MPs have dismissed the idea there is cross-party support to get rid of Bercow.
Labour MP Gareth Thomas said "Bercow has helped improve parliamentary scrutiny of government" and should stay in post.
In 2014, when the issue of whether or not to hold a referendum on the EU was a key topic of political debate, Bercow publicly backed the idea of a vote. He told The Huffington Post that Britain's membership of the EU would be "fundamentally insecure" without an in/out referendum.