Security has been stepped up for Friday prayers after five mosques in Birmingham had their windows smashed on Thursday morning.
Police and counter-terrorism officers launched an investigation into the attacks and released CCTV footage showing a hooded man smashing the window of Faizul Islam mosque in Aston, and then turning away and out of sight.
It comes as West Midlands Police were called at 2.32am on Thursday morning to reports of a man smashing windows with a sledgehammer at a mosque on Birchfield Road.
They were also alerted to a similar incident at a mosque on Slade Road in Erdington, and soon after police discovered damage at places of worship on Witton Road in Aston and Broadway in Perry Barr.
By late Thursday morning, police said they had opened a fifth investigation after pictures were circulated on social media of smashed windows at the Mosque and Muslim Community Centre on Albert Road in Aston.
While a motive has not yet been established, officers are treating the attacks as linked.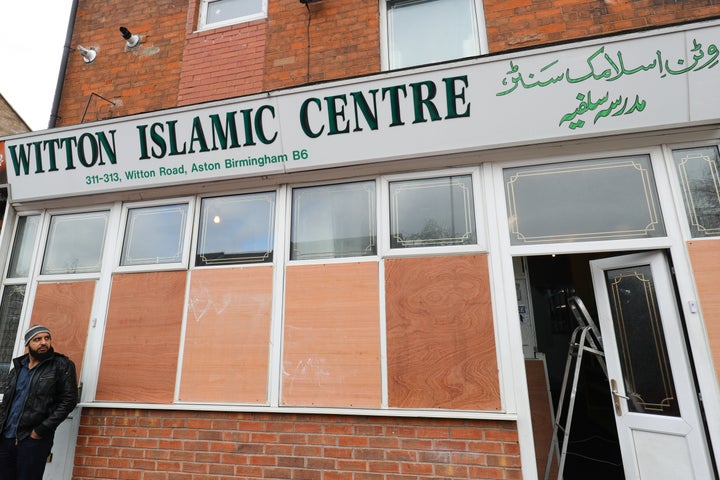 Scotland Yard say that since the Christchurch terror attack in New Zealand, officers have increased patrols and have been working closely with local Muslim communities and faith leaders to reassure people and provide security advice.
Commander Mark McEwan said: "This has specifically taken into account Friday prayers and vigils in response to the attack in New Zealand.
"There continues to be no intelligence linking the appalling events in Christchurch with the UK, however we understand how some people will be feeling concerned and vulnerable. The Met's absolute priority it to keep the public safe."
Home Secretary Sajid Javid called the attacks "deeply concerning and distressing". He said: "Let me be clear – hateful behaviour has absolutely no place in our society and will never be accepted."
Local Labour Councillor Majid Mahmood told HuffPost UK that during the attack on the Witton Road mosque, the vandal hit one of the windows with such force that they lost grip of the hammer and it landed inside the mosque.
Mahmood said the attacker then returned half an hour later with another implement and finished off smashing the remaining windows.
Mahmood said the weapon recovered from inside was now with the police.
He said the muslim community had come together on Thursday, with many coming to help clean up the broken glass.
But he added they had felt vulnerable since the terrorist attack in New Zealand, and said on Thursday that officers needed to increase patrols in the area.
"We need protection, it's a scary time at the moment we have the mainstream media and right-wing politicians spreading islamophobia, it's very a challenging time," he said.
West Midlands Police Chief Constable Dave Thompson said: "Since the tragic events in Christchurch, New Zealand, officers and staff from West Midlands Police have been working closely with our faith partners across the region to offer reassurance and support at mosques, churches and places of prayer.
"At difficult times like this, it is incredibly important that everyone unites against those who seek to create discord, uncertainty and fear in our communities."
Birmingham Ladywood MP Shabana Mahmood urged people to remain calm and said: "The attacks on three mosques and a school across Birmingham are both frightening and heartbreaking."
She added: "Events such as these underscore how much work there remains to be done to confront the normalisation of hate speech and Islamophobia in our political discourse, in our media and across our society."