A mum has told of the frantic moment she gave birth while on the toilet before having to pull her newborn son out of the U-bend after he arrived unexpectedly early.

Gemma Williamson, 24, had gone into the loo after suffering stomach pains but was caught completely unaware that little Harvey Lee was about to make an appearance.

The youngster had to spend seven weeks in hospital after arriving 11 weeks early with a twisted umbilical cord.
Mum-of-one Gemma spoke of her dramatic delivery as little Harvey celebrated his first birthday on 27 December.

She said: "I went into the town centre on Boxing Day 2015 for the boxing day sales. But I suffered stomach cramps walking round town so I headed back home. Later that evening I went for a bath to see if it would ease the pain but it never did so I went and laid in bed watching television.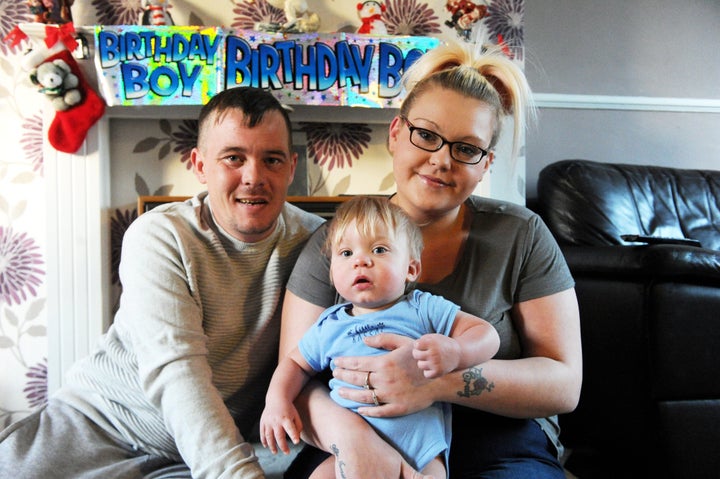 "I drifted off to sleep but I got woke up with sharp pains in my stomach making me wanting to go to the toilet.

"When I sat down on the toilet my waters broke and my baby sack was hanging between my legs.

"I was really scared and tried to pull it out not knowing what it was but it made the pains a lot sharper so I sat back on the loo.

"I then strained and my waters went again and I screamed for my partner as my baby's head was there.

"He came flying out of the bedroom and was running around looking for a phone to call for an ambulance.

"My baby had landed head first in the actual toilet so I picked him out of the loo. I was worried he would drown in the toilet."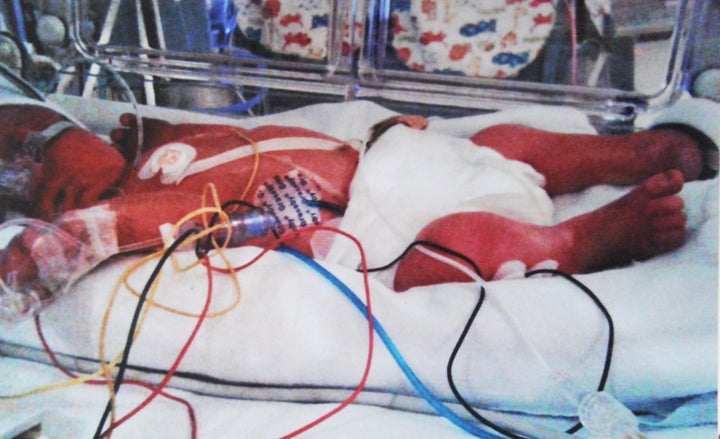 Gemma, from Hull, East Yorks., said she feared Harvey Lee was not going to make it after he didn't appear to be breathing.

She said: "I really didn't think Harvey Lee was going to make it. I was really panicking. He had to fight for his life at that point and nearly died.

"I then had to turn him around as he wasn't making any noises or anything.

"The ambulance and paramedics turned up and sorted us out and cut him from me and took him straight to the hospital.

"When we arrived at they hospital they announced that Harvey Lee was all well and that the only thing wrong with him is that he was cold.

"But he had to remain in hospital for seven weeks as he was born premature."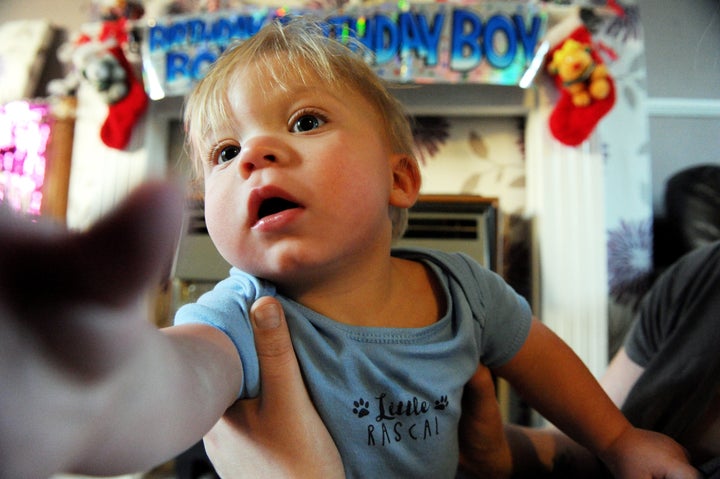 Gemma, who lives with Harvey Lee and his dad Kevin Thompson, 31, had only gone to see her midwife a week before Harvey Lee was born.

The full-time mum said: "I went for my 28-week measurements at the clinic.

"The midwife was concerned that they had my dates wrong so she tried to ring Hull and East Yorkshire Women's and Children's Hospital.

"I got the scan and everything was fine even though the baby was laid in place ready.

"So they sent me back home and said they would send me another appointment to go for another scan in a week and half."

But Gemma didn't make it to any appointments as, weighing 3lb 3oz, Harvey Lee was born at 29 weeks.

She added: "It was the scariest moment of my life."

Gemma said the stress of Harvey's birth has led her and Kevin, who was working for Willerby Caravans when their son was born, to think twice about having more kids.

She said: "It was my first child so it was a scary experience anyway. But he is now a healthy and happy child although he can be a bit of a menace.

"He is standing up now and is close to walking. I am delighted now and over the moon with how Harvey Lee has come on.

"I'm not sure if we will have any more children but I certainly don't want to go through that again."