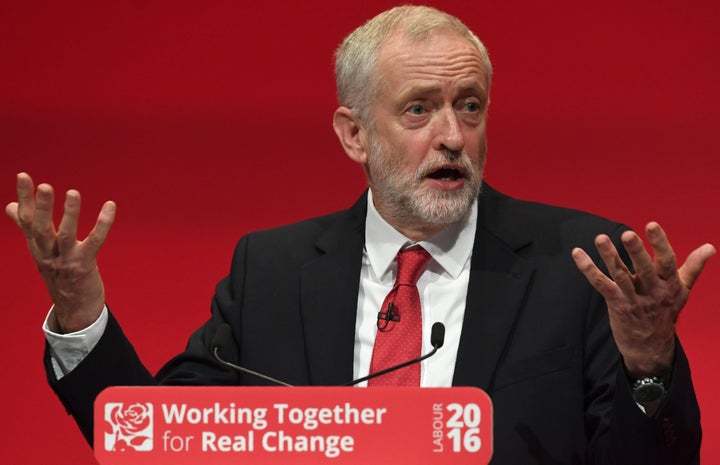 Senior Labour MPs have expressed anger over the party's new boundary proposals, which would allow Jeremy Corbyn to keep his seat of Islington North at the expense of other MPs and the number of winnable seats in London.
In a private meeting on Tuesday, senior MPs said the plans would be "laughed out of court".
One asked "Aren't we meant to be winning more seats?", while another said the proposals would make "three black MPs scrap over" Tottenham.
Fears of deselection have been mounting among Labour MPs since the Boundary Commission released plans to cut the total number of seats from 650 to 600.
Labour plans to challenge the move, and has drawn up alternative boundary plans.
Corbyn was due to move to the new seat of Finsbury Park and Stoke Newington following the commission's changes. However Labour's counterproposals would keep his current seat, and endanger other senior MPs.
Their new plans would abolish the seat of Leyton and Wanstead, currently occupied by John Cryer, chairman of the Parliamentary Labour Party (PLP).
During the meeting, which was not attended by Corbyn, or his supporters Diane Abbott and Emily Thornberry, a senior MP asked "Aren't we meant to be winning more seats?"
Another MP said the plans ran counter to the rules of drawing up constituency boundaries, and said: "I want to support it but I can't. I fear we will get laughed out of court."
According to a source, a third "asked pointedly why Islington North was being protected" under the party's counterproposals, but "received no real reply", and was told simply that "these are the options on the table".
They also pointed out the plans were making "three black MPs scrap over" Tottenham.
"Tottenham is as old as the Roman Road. At the time it is being rebuilt after the London riots, why are Labour's proposals splitting it right across the middle and making three black MPs scrap over what remains?", the MP said.
The constituency of Tottenham would not be touched by the Boundary Commission, but Labour's counter-plan would divide it into Tottenham South and Stoke Newington, and Tottenham North and Edmonton.
This would pit David Lammy, MP for Tottenham, Diane Abbott, MP for Stoke Newington, and Kate Osamor, MP for Edmonton, against each other.
In the packed meeting, which according to a Labour source "remained very calm", MPs also expressed concerns about the newly elected MP Rosena Allin-Khan. The Boundary Commission would keep her Tooting constituency, but Labour's new proposals would abolish it.
A representative of Thornberry said she "was prepared to fall on her sword" in order to allow Corbyn his Islington North seat. Under this plan her constituency of Islington South and Finsbury would be split, whereas it would be kept intact by the Boundary Commission's plans.