Two Muslim women bravely confronted and shut down a man who claimed the biggest problem facing Britain was the "invasion" of Muslims, who he labelled "cockroaches".
Kalsoom Naqvi and Tayiba Hussain claim they were walking towards Sidwell Street Tesco, in Exeter, when the man made racist comments towards them, "while looking into my eyes with pure hatred".
Naqvi wrote on her Facebook page that she was walking past "this horrible guy" when he decided to make some "very funny, intelligent and educated bomb jokes (something of the sort a primary child might say)."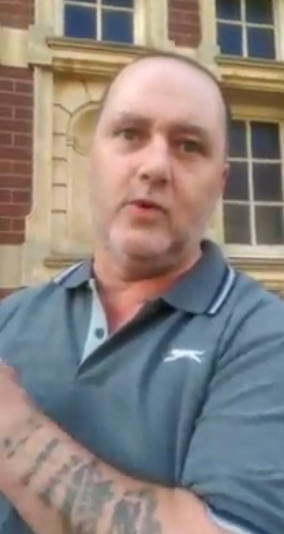 She claimed the man said, "I hear a trigger going off... Kaboom", a comment he followed up with remarks that included, "go back home" and "this is not your country".
The pair later confronted the man on video and asked him to repeat his comments in the hope "people like him will think twice about humiliating themselves in broad daylight".
The women begin by prompting the man to repeat the comments they claim he made earlier, but when he doesn't respond, they change tact, asking the man why he is bothered that they live in England.
The man then says: "Where are you from, because you're not from England."
When the pair tell him they are in fact British, then ask him where he is from, the man becomes fiercely patriotic. He says: "I'm from fucking England, born and bred."
The man seems to struggle with the concept that the Muslim women were born in England, but then goes on to explain to them the "biggest problem" the UK is currently facing.
"Muslims absolutely invading this country, like cockroaches. You're like cockroaches," the man says.
Naqvi then asks the man to explain why he was so offended by her walking past him. The man then gestures at her headscarf and says: "If I was in your country we'd all have to wear (gestures around his face)... Why won't you take that off?
Naqui retorts: "Do you even know what country I'm from?
A short time later the man walks off.
Video of the confrontation has been shared more than 1,000 times and has prompted dozens of comments supporting the "gutsy" way the women confronted their abuser.
Didi Ellis said: "This needs to be done every single time. Share and expose."
Zareen Zaidi wrote: "Unbelievable really gutsy of you hun to stand there are record this considering the situation. (sic)"
Another Facebook user wrote: "Nobody should be allowed to casually make comments like that. Next time a white guy asks if you've got a bomb, ask them if they chill with Jimmy Saville on Friday nights. (sic)"
Wisam Buti added: "Kaaaalll you're so brave!!! I'm sooo sorry you had to go through that! No one deserves to be treated like that just because of ignorance. (sic)"
Another person wrote: "This video made me angry and hopeful at the same time.
"You are our future and for that I am thankful. You have no responsibility in representing women or in representing your faith, but in both you just did an awesome job."
"This man represents only a small group of people. However, the people who just stand by represents the majority of people. This saddens me more than what this man did.""
Naqui has since spoken to the police about the incident. In a subsequent post on Facebook she implored others to speak up against racism.
She wrote: "Please, please, please never stand by and watch as this happens to someone else. I can't even begin to express my gratitude to those that intervened - think it really showed the idiot that he was (mostly) alone in his ignorance."
Her friend Tayiba Hussain added: "I agree. Don't ever be afraid to confront someone like that. And always remember that evidence is key. Record what is going on.
"This man represents only a small group of people. However, the people who just stand by represents the majority of people. This saddens me more than what this man did.
"This could have been any one of them and no one in turn would have spoken up. We should intervene when we see something like this in our country. I for one will stand up even if it means that I will be a lone voice."