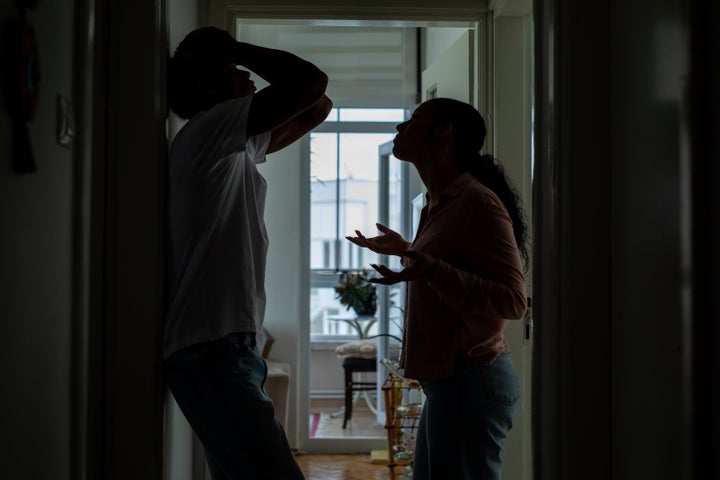 You're reading Between Us, a place for parents to offload and share their tricky parenting dilemmas. Share your parenting dilemma here and we'll seek advice from experts.
Parents have a lot to juggle in their own lives, as well as their children's lives. So it's no surprise then that when tweens (and teens) start to act out, it can feel like you're teetering on the edge.
"My child is ruining my marriage. My eldest is almost a teenager and this year has been tough on her. She's lost a lot of friends in school, has had to deal with a new sibling taking our attention and she's got a rare pain condition. We have tried so hard to be supportive. We've tried giving her advice, attention, space, support, solutions and bent over backwards to be kind to her. It's been hard though because she's responded with an attitude that stinks and acting like she doesn't care.

"I'm honestly at a loss because I don't know what to do and me and my husband have had so many rows about her and her behaviour. We've just had a huge blow up and I honestly don't know if we can come back from this. He's so angry that she's gone to do nice things today after speaking to me like shit and I was cross too and things were said that blew up. I can't stop crying. I feel awful. I've failed as a mother and a wife."
So, what can they do?
1. Be kind to yourself
Counselling Directory member Jenny Warwick says that, first and foremost, parents in this position need to prioritise themselves. "You have not failed as a mother or wife," she says. "This is the time when you need to be kind to yourself.
"Remember, you won't be able to help others if you feel drained and exhausted. Taking breaks for self-care is not selfish; it's necessary."
Family Lives, a charity supporting families, recommends that parents take time to relax; treat themselves occasionally; talk about their concerns with friends, partners or online forums; and learn techniques for coping with low mood, sadness and depression or anxiety.
2. Know that the tween period is really hard for all involved
According to parenting expert Sarah Ockwell-Smith, this is because they are much more emotionally exhausting, not to mention less rewarding than, say, the toddler years when your child still relies on you for so much and is learning a lot, too.
Warwick agrees that this period can be "particularly tricky" to manage for parents. "Part of being a tween is finding independence and forging their own path, resulting in a strong push away from their parents," she explains.
"As far as you are concerned, this has come out of nowhere and feels personal. However, recognising this as a typical part of preteen development can make the emotional burden easier to bear."
On top of that, she acknowledges it sounds like the daughter is going through a lot – navigating shifts in friendships, coping with a pain condition and a new sibling.
But while this might contribute to her behaviour, "none of this gives her an excuse to be rude", adds the counsellor.
If your child appears to be particularly struggling mentally, it might be worth speaking to your GP or a mental health charity – like The Mix, YoungMinds and Relate – for further advice.
3. Remember: your daughter still needs you
When your child is pushing you away, it might be tempting to just let them – especially when their attitude towards you leaves little to be desired – but Warwick suggests the daughter needs her parents now more than ever.
That said, the way to offer support to her is very different at this stage in her life than when she was younger, she suggests.
"Helping her find solutions is much more effective than jumping in to fix things for her. This can be a hard change in approach for parents to make, but it is the way forward," says Warwick.
At the same time, you need to prioritise yourself and help your daughter recognise that your life doesn't revolve around her, suggests the therapist.
4. Carve out time to be with your partner
When you welcome a new child, your relationship can instantly be put on the back-burner – add wider family discord into the mix, and things get trickier.
It will undoubtedly put pressure on a romantic relationship. And, to top that off, children can sense any tension, which might prompt further behavioural changes.
"You and your husband need to be on the same page regarding parenting," says Warwick. "It sounds like you have a lot on your plate, too, with a new child."
Verywell Family recommends parents try the following tips to help get back on the same page:
Determine what the consequences are for your children breaking rules in your home and stick to them.
Create parenting rules together and if you don't agree on some of them, talk it out. Then share these rules with the wider household.
Back each other up in front of the kids and don't disagree with each other in front of them.
Listen to each other, compromise where you can, and remember you're on the same team.
Warwick's advice to this parent is to give the relationship some care, "as it's much easier if you are in this together". This means taking time to be together as a couple to maintain a connection.
"Doing this lets you devise a plan of action together and establish agreed-upon boundaries for your family," she adds.
Help and support:
Mind, open Monday to Friday, 9am-6pm on 0300 123 3393.
Samaritans offers a listening service which is open 24 hours a day, on 116 123 (UK and ROI - this number is FREE to call and will not appear on your phone bill).
CALM (the Campaign Against Living Miserably) offer a helpline open 5pm-midnight, 365 days a year, on 0800 58 58 58, and a webchat service.
The Mix is a free support service for people under 25. Call 0808 808 4994 or email help@themix.org.uk
Rethink Mental Illness offers practical help through its advice line which can be reached on 0808 801 0525 (Monday to Friday 10am-4pm). More info can be found on rethink.org.