Putting the phrase "third time's a charm" to the ultimate test, president Donald Trump is visiting the UK this week to celebrate – or possibly lambast – 70 years of the Nato alliance.
He and his wife Melania will be in the UK from 2-4 December for the gathering of Western leaders, as the snap general election campaign intensifies ahead of the 12 December poll.
So, what's Trump been up to lately, as the UK has been consumed by the upcoming vote? Oh y'know, not much – just tweeting stuff like this...
But anyway, the visit is bound to throw up more than a few newsworthy moments so here are nine things to look out for.
1) Pre-departure shots fired
So who will the president have a pop at this time? It's difficult to say but Sadiq Khan is a regular target of Trump's Twitter attacks so a resurrection of this long-running feud is a relatively safe bet.
Who else is likely to be in the crosshairs? Jeremy Corbyn.
Trump has already fired shots in the Labour leader's direction with some less-than-complimentary commentary last month, but come to that in more detail later.
The president arrives in the UK at 10pm on Monday 2 December so keep an eye on his Twitter feed over this weekend for any pre-emptive strikes.
2) Endorsements
It's no secret that Trump is a fan of Boris Johnson, having previously bestowed upon him such dubious titles as "Britain Trump", and no doubt he will assume an endorsement one week before the general election is something the PM would welcome with open arms.
Given Trump's popularity in the UK, this is exceedingly doubtful...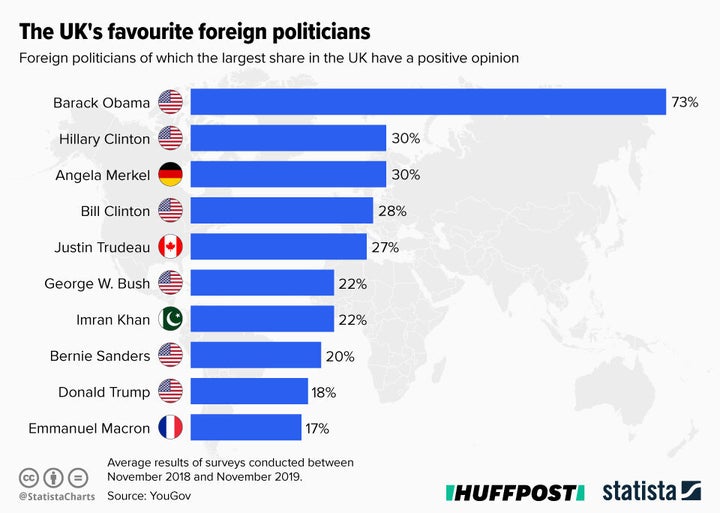 Trump's last comments on Johnson came in an interview with Nigel Farage last month in which he described the PM as a "fantastic man" – and the "exact right guy for the times".
As for Farage, he'll no doubt be angling for any publicity that might help his ailing Brexit Party get more than the *checks notes* zero seats it is currently projected to win next month.
Granted, Farage announced the party would not contest any of the 317 seats won by the ruling Conservative Party at the last election but a drubbing is still one of the safest bets of the election.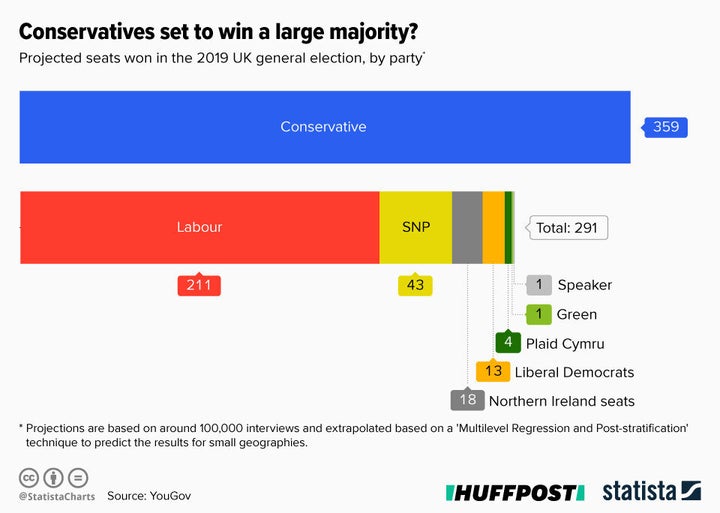 3) Snubs
While Johnson can expect nothing but praise, Jeremy Corbyn will not be looking to the president for any form of ego-boosting.
In the same interview with Farage, Trump said: "Corbyn would be so bad for your country, he'd be so bad, he'd take you on such a bad way.
"He'd take you into such bad places."
4) Protests
Anti-Trump protests appear to have peaked early in the UK – his second visit failed to mobilise the hundreds of thousands seen the first time around by quite a margin.
And next week any prospective protestors have chilly winter temperatures and a distinct lack of sunlight after 4pm to contend with.
If you're determined to make your voice heard though you do still have some options.
5) The Queen
One of the highlights of Trump's tenure as president was the moment he walked in front of the Queen, who had to point him in the right direction.
He appeared to have learned his lesson second time around although at one point it did appear like he'd greeted Her Maj' with a fistbump.
He later boasted about having "automatic chemistry" with the Queen, and praised her as a "spectacular woman".
Buckingham Palace will be hosting an evening reception on 3 December to greet Nato leaders so keep an eye out for any breaches of protocol.
6) Notable absences
7) The press conference
Trump and Johnson will hold a joint press conference on Wednesday 4 December at around 13:45 which is bound to result in some of the most memorable moments of the visit.
The president has a habit of speaking his mind at such events and generally doesn't give a toss who he offends.
Previous Trump press conference highlights include:
Quoting Elton John for no reason whatsoever
So in short, absolutely anything could happen.
8) The Nato summit
Yes, this is the reason Trump is here in the first place. This year marks the 70th birthday of the North Atlantic Treaty Organisation, established in the wake of World War 2 and consisting of 29 North American and European countries.
The president has regularly expressed concern that many Nato members are not providing sufficient financial support for the military alliance.
A White House statement said: "Seventy years after its founding, Nato remains the most successful alliance in history, guaranteeing the security, prosperity, and freedom of its members.
"President Trump looks forward to meeting with the other Nato heads of state and government to review the alliance's unprecedented progress on burden-sharing, including adding more than 100 billion dollars in new defence spending since 2016.
"The president will also emphasise the need for the Nato alliance to ensure its readiness for the threats of tomorrow, including those emanating from cyberspace, those affecting our critical infrastructure and telecommunications networks, and those posed by terrorism."
9) The exit
It'll all be over on 4 December and the UK can get back to arguing about Brexit and the general election.