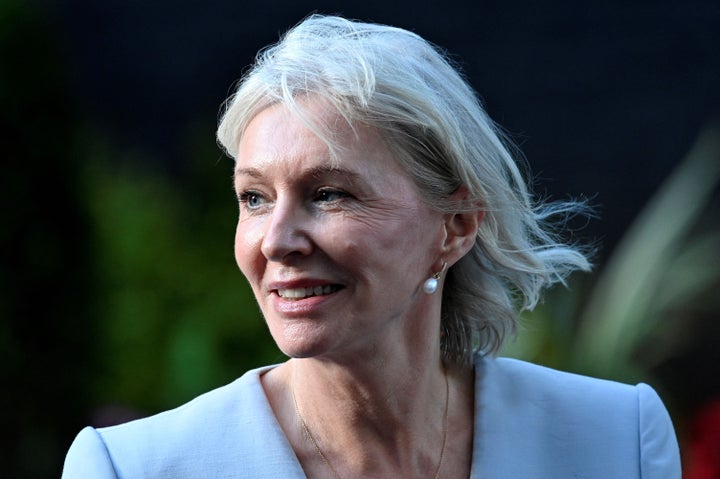 Rishi Sunak will lose the next election, Nadine Dorries has said, as she stepped up her attacks on the prime minister.
The former culture secretary also suggested she might not even vote Tory.
Dorries announced on Saturday she was finally actually resigning as an MP, more than two months after she first said she would do so.
It means a by-election will soon take place in her Mid Bedfordshire seat, with both Labour and the Lib Dems hopeful of overturning her 24,664 majority.
In an interview with TalkTV on Sunday afternoon, Dorries was asked if the Conservatives could win the next general election with Sunak as leader.
"I have to say my answer to that question is no, I don't think so," she said. "It's very unlikely."
Dorries - a close ally of Boris Johnson - said: "The Conservative Party is broken."
And asked if she would vote Tory, Dorries suggested she might not. "You are asking me a question I don't want to answer," she said.
Dorries dramatically announced in June she was quitting parliament "immediately" after she was denied a seat in the House of Lords.
But she delayed her formal resignation, preventing a by-election from taking place before the summer.
It means Sunak faces the prospect of another embarrassing defeat at the polls.
Dorries had come under increasing pressure to stand down from Tory MPs, frustrated at the fact she had remained in place despite not having spoken in the Commons chamber since June 7, 2022.
Sunak had said Dorries' constituents were not being "properly represented", while other Conservatives lined up to tell her to go.
In her resignation statement, Dorries attacked Sunak's leadership of the party. "What exactly has been done or have you achieved? You hold the office of prime minister unelected, without a single vote, not even from your own MPs," she said.
"You have no mandate from the people, and the government is adrift. You have squandered the goodwill of the nation, for what?"
"I don't think we are on track to lose that by-election. I think we've got a good candidate up there," he told Times Radio.