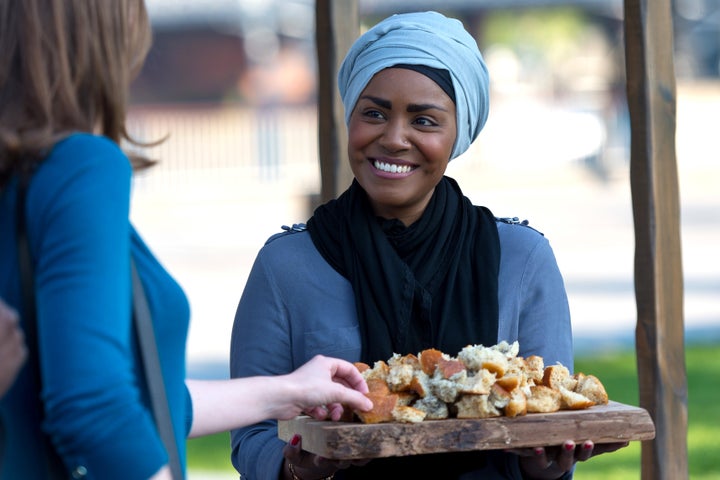 Nadiya Hussain has told of a shocking incident of discrimination she experienced whilst travelling on public transport.
The Great British Bake Off winner who fast-tracked her way to National Treasure status in 2015 was on a train next to a vacant seat when an unidentified man boarded.
The revelation prompted an outpouring of support as well as anecdotes of similar experiences from others, including another GBBO star, Rav Bansal and 2016 winner Candice Brown:
During a recording of Desert Island Discs, which aired on Radio 4 in August, Hussain said she often finds herself the victim of racism when "massive things" happen in the news.
She told Kirsty Young: "I've had things thrown at me and [been] pushed and shoved. I feel like that's just become part of my life now. I expect it.
"I expect to be shoved or pushed or verbally abused because that happens. It's been happening for years.
"I don't want my children to have a negative attitude to living in the UK. Yes there are those negative people but they're the minority.
"I love being British, I love being here and this is my home. I don't want my kids to grow up with a chip on their shoulder.
"All those things that have happened to me? Hey it happens and it happens to other people too, and we deal with it."
Meanwhile, the Great British public were queuing up to sit next to Nadia:
Despite the incident, Hussain's career has been going from strength to strength since being crowned GBBO Champion 2015.
Speaking in a statement issued by the corporation, Nadiya said: "Since winning 'The Great British Bake Off' I've been lucky to have had some amazing opportunities with the BBC. I believe that making it my home gives me the scope to work across such a unique range of diverse and interesting projects.
"I'm delighted to announce that I will continue making films for 'The One Show' as well as developing other exciting programme ideas. I never thought this would happen, but it is and I have to admit, I'm going to embrace it."