Giving children the chance to connect with nature has a wealth of benefits, from aiding their physical and mental wellbeing to understanding where the fruit and vegetables they eat come from. Luckily there are a number of ways to get children interested in their local green spaces, from visiting allotments to school and community gardening groups.
Allotments are famously coveted spaces – there are around 330,000 plots across the UK and many come with a waiting list – but a number of them will be open this weekend for National Allotment Week, running until 19 August.
People will be able to drop in, speak to regulars about what they grow and what advice they have, and take part in community events from barbecues to tombolas, at one of their local events.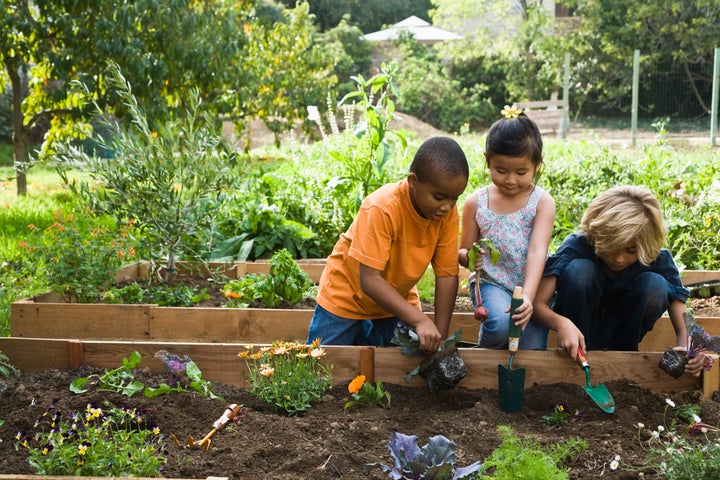 For families who may have access to a plot, the National Allotment Society says that the majority of sites welcome the opportunity for children to spend time there learning about how food is produced and being able to spend time outdoors.
The society suggests that providing children with a small area of a plot to look after can help them to feel independent, while using a raised bed will make the area easier for them to manage.
As children may find it hard to handle the small seeds that adults can easily plant, the society suggests going for larger seeds such as broad beans, sunflowers, pumpkins and potatoes instead, while growing herbs like mint, lemon balm and lavender will be good for the scents they produce – just make sure children wash their hands afterwards as some seeds and bulbs can be poisonous to eat.
And it's not just children who can benefit from allotments. A recent survey of the National Allotment Society's members found that just 30 minutes of gardening on a plot can burn 150 calories, while a properly managed allotment can produce enough food for a family's weekly shop. But even if you're not green-fingered enough to grow all of your own food, your allotment can still be a great place to be outdoors and see other people, as a quarter of members said they go to their plot to socialise.
"There is a wealth of scientific research that shows that gardening and growing can have huge benefits to children's development and health. An allotment is sometimes the only way children and their families can access space suitable for growing," Sian Creagh-Osborne, awards programme manager at food and farming charity the Soil Association told HuffPost UK. Creagh-Osborne works on the charity's 'Food For Life' programme, which works with hospitals, care homes, nurseries and schools to teach people about where their food come from and how it's grown and cooked, and to champion healthy food.
"At Food For Life we focus on ensuring children understand healthy sustainable food, so they want to eat it – and growing is a huge part of that," Creagh-Osborne said. She added that recent research from the University of the West of England found pupils who grew their own veg in school were more likely to increase their fruit and veg intake, become more aware of the links between food growing and the environment, and have better attention and attainment levels in school.
Schools can be a place for families and children to get access to the benefits of outdoor growing, too. Ingrid Chen, gardening lead at Columbia Primary School, said they started with just patch of grass over two years ago, and have "built and improved this garden with help from pupils, their families and more recently the wider local community".
The school is one of 69% of primary schools that take part in the Royal Horticultural Society's Campaign for School Gardening, which has been running since 2007 and provides free resources and support for getting children green-fingered.
"It's a fantastic resource to enhance classroom-based activities in all areas of learning, as well as a lovely opportunity for children to care for a green space and observe nature which many do not otherwise have. It's now a community hub, and hopefully the launch pad for the next generation of gardeners," Chen said.
Over 34,500 primary and secondary schools and youth groups are part of the campaign, and a significant number have said that gardening enabled young people to connect with nature, and had improved their mental and physical wellbeing.