Eleven people were injured after a car mounted the pavement and struck pedestrians outside London's Natural History Museum.
A huge police presence descended on the scene in Exhibition Road, South Kensington, which is also near the Science Museum and the V&A Museum.
London Ambulance Service said it treated 11 people "mostly for leg and head injuries". Nine of them went to hospital.
After nearly four hours of speculation about the cause - and fears it was terrorism - police said this was not the case.
Javert Borja, who is on holiday in London from Spain, was in the queue for the Natural History Museum when he noticed "at least" 30 people running past the entrance, including families and children.
"People were running scared," he said. "We didn't know what was happening, so we decided to go into the museum to be safer. We tried to keep calm... Museum workers didn't know anything either."
One picture showed a car crashed into two others.
Police said a man had been detained. They said they were called at 2.21pm to "reports of a collision".
Footage from the scene appeared to show a man being held on the ground by others.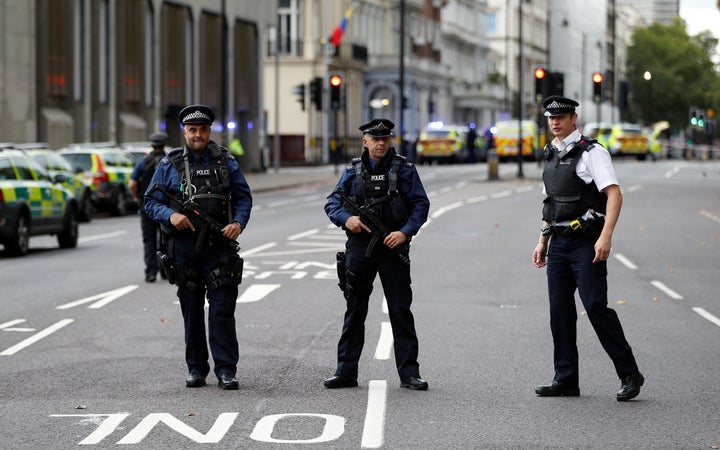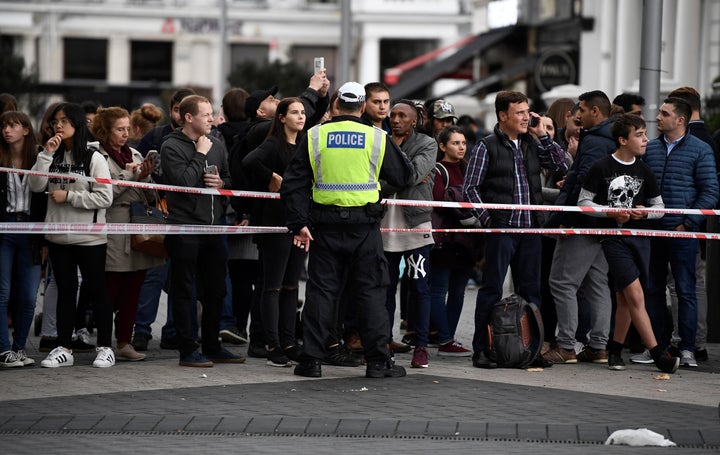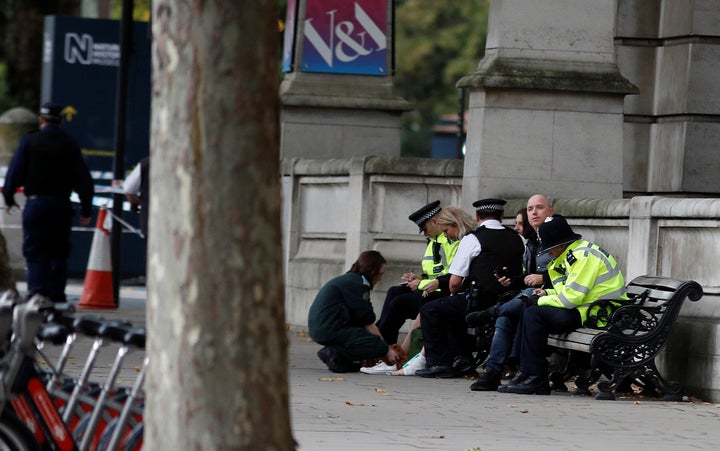 A police spokesperson said: "Whilst enquiries continue it is believed a car mounted the pavement and collided with a number of pedestrians.
"11 people were found at the scene with varying injuries and nine of them have been taken to hospital, and this includes the man that was detained by police. Their injuries are not believed to be life-threatening or life-changing.
"The man detained by officers is currently under arrest and is in custody at a north London police station.
"The incident is a road traffic investigation and not a terrorist-related incident.
Police tweeted they would release more information later.
The museum said there had been a "serious incident" and said it was working with police.
People were evacuated from the Natural History Museum and the nearby Science Museum.
Clifford Fleming told HuffPost UK he and his friends were evacuated and he saw "lots of police with guns and ambulances and a police helicopter".
Tom Smith, who was in South Kensington tube station shortly after the incident, said an alarm told customers to evacuate.
He said between 50 and 60 people ran into the station after the alarm.
"People were running and screaming and even running down the wrong escalator, so we assumed the worst and ran on the next Piccadilly train," he told HuffPost.
Downing Street said the prime minister was being "kept up to date on events".
Mayor Sadiq Khan said details were "still emerging" and he was in contact with Assistant Commissioner Mark Rowley, the national head of counter-terrorism policing.
Jeremy Corbyn tweeted that the reports were "very concerning".