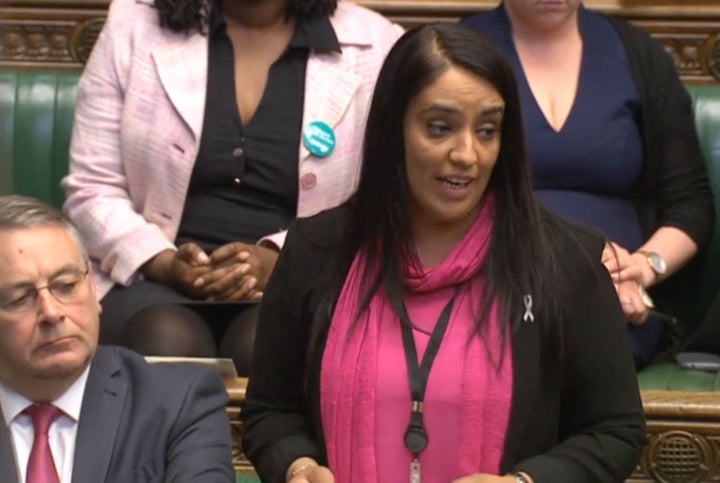 Naz Shah has been subjected to "trial by Twitter" over antisemitic Facebook posts, according to a Labour MP.
Yesterday Shah, the MP for Bradford West, was suspended from Labour for sharing Facebook posts about Israel.
Speaking on BBC Radio 4's Today programme this morning, Ealing Central MP Rupa Huq said there was "no place for any sort of racism in the Labour Party".
But Huq defended Shah and argued it was "easy to click those buttons like 'Share'. Shah, she said, had "a silly moment of sharing a silly picture which I'm sure she regrets."
Last night two peers warned the party now had a "problem" with antisemitism.
And shadow education secretary Lucy Powell said the party needed to "do more" to tackle racism in its ranks.
Speaking to Today, Huq said: "If it is career destroying it seems we are entering a phase where its trial by Twitter.
"As far as I know Naz Shah did not write antisemitic tracts or anything, she pressed 'Share' on a picture which was idiotic and foolish."
"I do think this does demonstrate the perils of social media. As far as I understand, this is before she was an MP, before she was a candidate even. She shared a post on Facebook. It's easy to click those buttons."
Hug added of Labour: "We completely believe in the right of Israel to exist."
Shadow cabinet minister Luciana Berger responded to Huq's interview on Twitter.
Shah has made a "wholehearted" apology for her actions both in a newspaper article and in the Commons.
Having initially deciding not to suspend her, Jeremy Corbyn removed the party whip from Shah on Wednesday afternoon amid pressure from other Labour MPs and David Cameron.
In a Facebook post in 2014, before she became MP for Bradford West, Shah shared a graphic which showed an image of Israel's outline superimposed onto a map of the US under the headline "Solution for Israel-Palestine Conflict - Relocate Israel into United States", with the comment "problem solved".
Guido Fawkes - which published the post - also pointed to another made before Shah was an MP which used the hashtag #IsraelApartheid above a quote saying "Never forget that everything Hitler did in Germany was legal".
"I think Labour does have a problem with anti-Semitism"
Also speaking on Today this morning, Powell said Corbyn "absolutely condemns and rejects antisemitism".
But she acknowledged there was a problem. "We have got to do more to ensure that people understand that antisemitism has no place either in the Labour Party or in British society," she said.
Pressed on whether Corbyn had taken too long to suspend Shah, Powell said: "Sometimes people want us to act immediately, sometimes it does take some time to establish the facts."
And she refused to say whether she would be happy to sit alongside Shah as a Labour MP in future. Powell said she did not want to "predetermine the outcome" of any investigation.
Labour peer Lord Levy, who was the party's chief fundraiser under Tony Blair, told BBC Newsnight there was a "serious problem".
"The lack of sensitivity when an MP talks about transportation of the largest Jewish community in the world, I think it just shows such ignorance," he said.
"The tweets and comments that she made on Hitler, I just begin to scratch my head in despair as to how people like this can enter our Parliament with such a lack of knowledge, such a lack of discretion and such a lack of sensitivity."
And Lady Neuberger, who is a Rabbi at the West London Synagogue, told the same programme: "I think Labour does have a problem with anti-Semitism. That's not to say that other parties haven't got problems with anti-Semitism, or that it isn't elsewhere. But Labour has a very particular problem, and a particular problem at the moment."