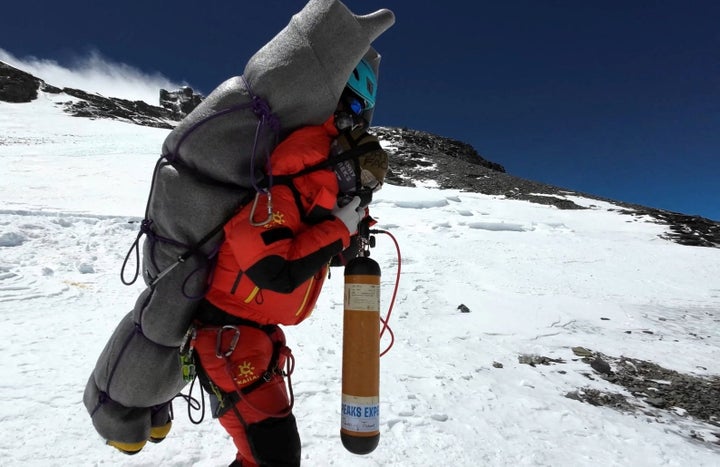 A Nepali sherpa guide just displayed superhuman strength and rescued a climber from Mount Everest's "death zone".
The best part? He did it by carrying the struggling climber on his back.
Reuters reported that Gelje Sherpa was guiding a Chinese client to the Everest summit when he saw another climber holding onto a rope and shivering from extreme cold.
In the death zone – around 8,000m high up and just 849m from the highest point of the world's tallest mountain – temperatures can drop below -30C.
Oxygen is extremely limited at the height, means some of the body's cells start to die, and judgement can become impaired. Severe altitude sickness becomes much more likely, as does the possibility heart attack or stroke.
That means getting to the top, once you're in the death zone, is a race against time.
So, persuading his client to abandon his own trip to the summit, Gelje went to rescue the ambitious climber, whose name has not been revealed.
He carried him 600m down the mountain, from the Balcony area to the South Col across six hours where another guide was able to assist.
Gelje explained: "We wrapped the climber in a sleeping mat, dragged him on the snow or carried him in turns on our backs to camp III."
A helicopter then lifted the climber down to base camp.
A Nepali government official said it was a "very rare" rescue, adding: "it is almost impossible to rescue climbers at that altitude."
At least 12 climbers have died so far this year between March and May, the climbing season for Everest, although another five are still missing.
The lucky climber was flown back to Malaysia last week.