Trust us when we say this is nothing short of game-changing. For a long time, many Netflix users have complained about one problem they had with the service - why can't we watch things when there's no internet around? Y'know, because binge-watching only when there's available WiFi simply isn't enough.
Now, you can download a selection of films and TV shows to enjoy while offline and there's only one issue - deciding what to watch first.
Fear not, though, as we've scoured the Netflix archives and found the films and programmes perfect for every (WiFi-free) occasion...
Thanks to the recent US election, the political drama has never been more pertinent. If you haven't already, now is the time to watch it. Then you can make hilarious quips about Frank Underwood and Raymond Tusk to anyone who'll listen.
Perfect for: When you have a really long flight and want to feel smart when you touch down.
2. 'Master Of None'
Aziz Ansari's comedy is a Netflix Original many may have overlooked. If you are one of these people, then please believe us when we say you need to rectify this mistake immediately.
Perfect for: When you think you've exhausted all of the service's originals, but have actually been sleeping on a total gem.
Everyone loves 'Shrek', right? Good. Glad we agree.
Perfect for: This is all about keeping the kids occupied in the car. Definitely not for you. Nope. Not at all.
Chelsea Handler's talkshow focuses on current affairs in an easy-to-comprehend format, so you can download last night's episode, and not even think about the fact you woke up too late to catch the headlines on 'BBC Breakfast'.
Perfect for: Brushing up on the news before work.
5. 'Peep Show'
A number of Channel 4 favourites have been given a permanent home by Netflix and most are on the list of shows you can download, which brings us to 'Peep Show'.
With the Christmas party season upon us, there's a strong chance many people will find themselves feeling a little less than fresh on the way to work. Which makes this…
Perfect for: Making yourself feel like a good person while on the way to work hungover. Whatever you did, Mark and Jez have definitely done worse.
It's not just TV shows that are on Netflix y'know, and this Oscar-winning movie is one of the best available to make offline now.
Perfect for: When TV simply won't do.
It's been three years since Walter White strolled across our laptop screens for one last time in the finale of this much-talked about show, so if you watched it first time around, you're in luck - we've reached the point where it's acceptable to watch the whole lot again.
Not seen it? You're also in luck - you've officially waited so long that your chances of encountering spoilers are pretty low.
Perfect for: Reminding yourself why we all got Netflix in the first place.
Don't close the tab. We can back this up. When was the last time you watched this blistering take on the pop music industry? Because here at HuffPost HQ, it's been a mainstay since Netflix added it to its collection earlier this year.
One thing that is all too often forgotten is that it's actually really funny. Seriously. The ladies also mastered the art of celebrity cameos long before the words, "What about an 'Ab Fab' film?" even entered Jennifer Saunders' mind.
Perfect for: Every. Single. Day.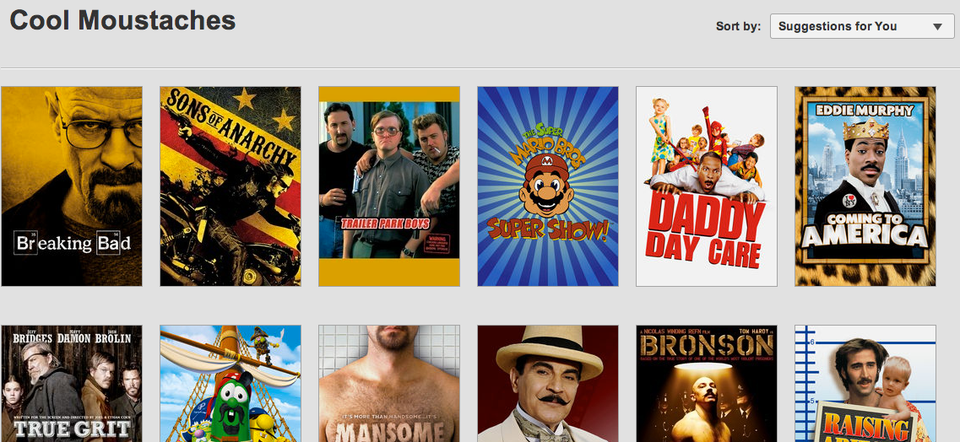 Weirdest Netflix Categories